Shapewear is not new to me. While I didn't always own it I have vivid memories of watching my Grandmother get ready for church in the morning, squeezing into something she called a "girdle". She said she wore it because it helped her look better in dresses, she compared it to my slip (you know that thing women don't wear anymore). Women may no longer wear "Girdles", but they definitely wear "ShapeWear". ShapeWear is a growing trend in enhancement undergarments and with the fashion industry vanity sizing everything it's almost a must.  Shapewear isn't a must for everyday wear, unless you absolutely feel it is, but when worn under certain outfits it can create the perfect silhouette that will turn heads.
I got over my shapewear phobia last year when I needed a slip to help me fit a dress. I'm not the size 4 that I was back in 2008 but I was afraid that wearing shapewear was going to automatically categorize me as being overweight. This was horrible thinking on my part and as I'm learning to accept that I'm a little thicker than before I know that Shapewear is more of my friend and not my enemy, especially if it would give me the extra smoothing out I needed to make sure the dress fit perfectly. Think of it as an instant Nip and Tuck without the surgery or the medical bills! What I like about shapewear is now it's more modern and comes in classic colors and styles to fit any women's needs. Just this last weekend Macy's was having a Buy 2 Get 2 Free deal on all Bali and MaidenForm shapewear so I made sure to stock up on what I feel are the the ultimate must haves for any woman's closet.
The Waist Slimmer
The Waist Slimmer
is perfect for those who want a flat stomach, to pull in the waist, to control back bulging and a little extra lift in the booty area.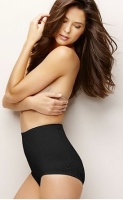 The Body Shaper
The Body Shaper
is a classic piece that has been reinvented to look more like lingerie than shapewear. The clean sleek and modern designs gives the wearer a smooth shape while controlling problem areas.  Depending on the fabric this type can be worn everyday.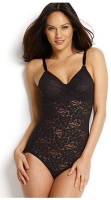 The BYOB Body Shaper
You've heard of BYOB but the last "B" doesn't stand for what you think. the "
Bring Your Own Bra" or "Wear Your Own Bra" body shaper
does everything the original Body Shaper does but it allows for the wearer to choose their own bra. This is great for if you need to wear a bra that adds a bit more padding or one lifts you up.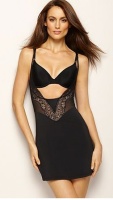 The Camisole
The Camisole
should most certainly be found in your closet. It's not only great for layering but it smoothes and shapes the midsection all while offering tummy control. If you wan't to wear a button down shirt but have a problem with that one button across your chest buckling then this is the shape wear item for you. It's one of those camisoles that' meant to be seen and can even be worn while doing Yoga or Pilates.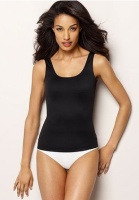 The Full Slip
When you dress calls for a little something underneath to counteract the fact that it's semi see through reach for the
The Full Slip
. It's definitely not the all white with the lace across the top that you wore as a child. The breathable panels make them perfect for wear in the hotter months and  it smooths and slims you while also concealing your goodies!
The Thigh Slimmer
The Thigh Slimmer
is one of my favorites. Perfect to pair under dress pants or even a skirt. The smooth the thighs out and allow for extra room in the leg area of pants that are contoured to fit closely around the upper thighs.
Do you wear Shapewear and aren't ashamed to tell it? What are some of your favorite pieces? If you're new to the shapewear game take the time out and really access what you need for your wardrobe, or take my list and go try on some. Yes try it on! Shapewear is not one size fit all because it has your correct cup size does not mean it will fit your body size.