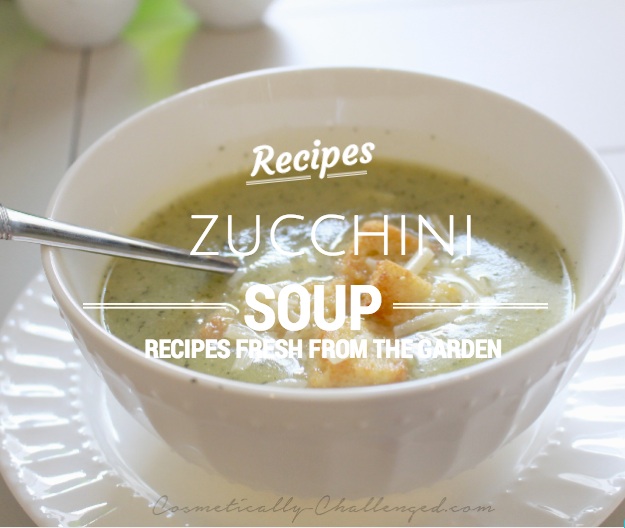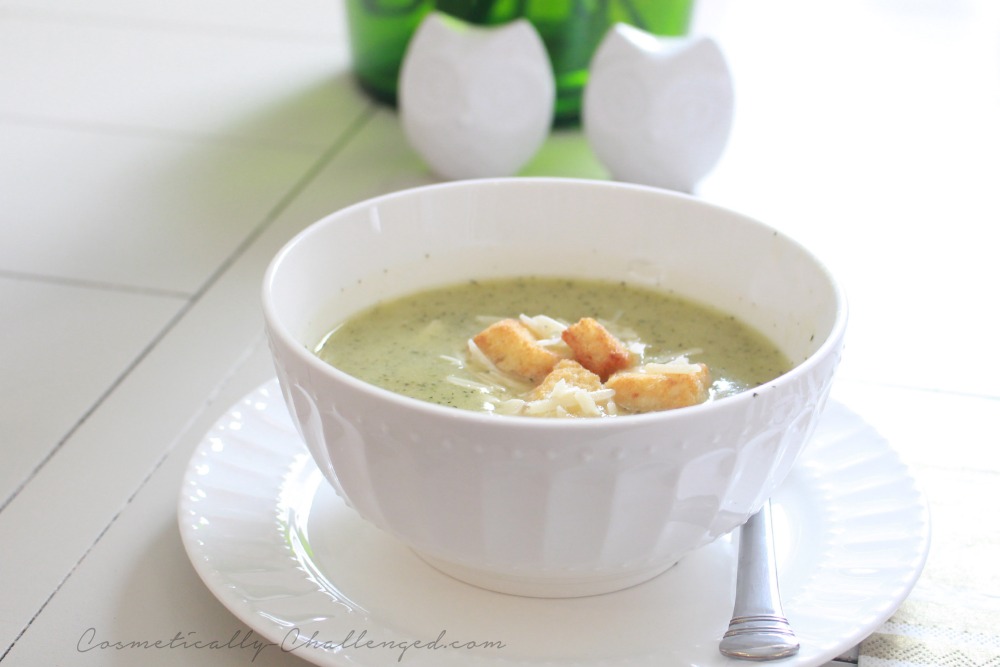 This summer was the first time I tried my hand at growing my own Zucchini and Squash and I'll admit it's been one huge lesson after another. Next year, I think I'm going to stick with Zucchini as it's proven to be a bit more prolific than the squash and we've been getting Zucchini that are absolute whoppers. One of my favorite recipes to make from all our Zucchini, beside the Zucchini Nachos has been Zucchini soup.  When I posted a picture of the bowl of soup on Instagram a while back it was received very well and people have been asking me for the recipe ever since.  Since Summer is almost over I decided to whip up a big batch of Zucchini Soup so that I could freeze some down and have some to take to work through the week.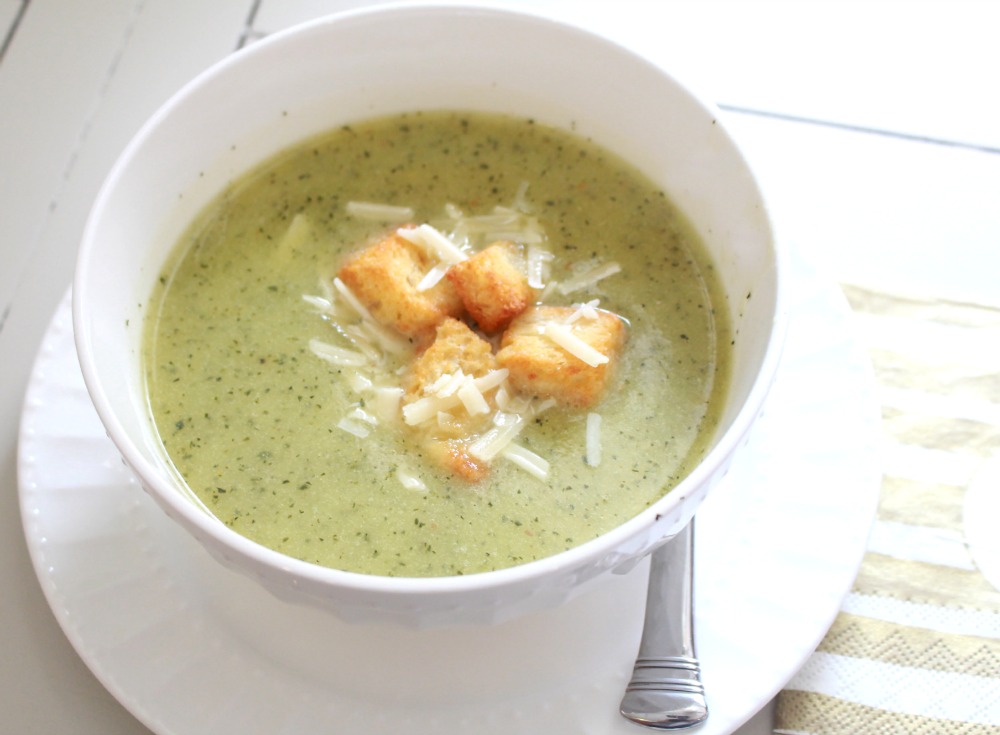 The recipe is very very simple. It only calls for five items and can be made to be entirely vegetarian if one so chooses.  I decided that I wanted to add a bit more flavor and so I used Chicken Bullion cubes to make my Chicken Broth. I love using these over regular chicken broth that comes in the box dispensers because I can make just what I need and not worry about wasting the unused portion. In this recipe I also added what I like to call my secret ingredient. It's really not a secret at all since I use it in almost everything, Bacon Smoked Sea Salt. Yes, Bacon Smoked Sea Salt. I picked up a couple of packs while visiting my hometown of Greenville South Carolina, from a store downtown called The Spice and Tea Exchange. I've looked all over for Bacon salt and this seems to be the only place where I can find it.  To top the soup off I add an asiago blend of cheese and a couple of Garlic and Butter Croutons. Since I was basically winging this recipe and basing it off of suggestions from people at work who've used a similar base in other soups I made my husband the judge on whether or not it would be a something that would be made in our house again After two bowls I knew that it was safe to say we had a recipe that would stay.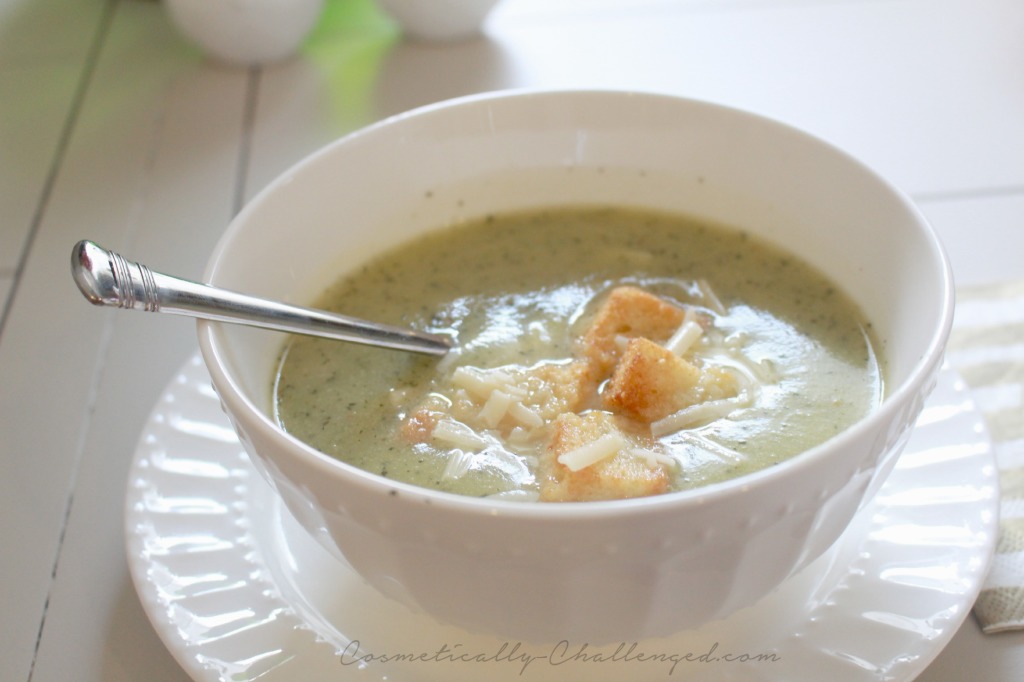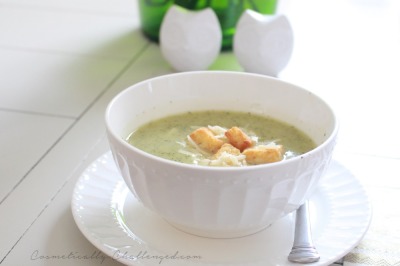 Zucchini Soup
2014-08-24 13:11:29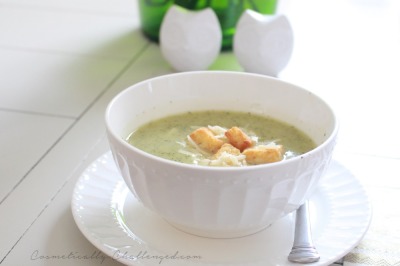 Serves 6
A delicious warm appetizing soup that can be made for a single meal or as made to accompany a heartier dish.
Ingredients
6 cups of water
3 Chicken Bullion Cubes (or Vegetable)
1 Extra Large Zucchini or 3 Smaller Zucchini
1 Large Onion
4 Garlic Cloves
1 1/2 cups of Plain Greek Yogurt
Garlic and Butter Croutons
Asiago, Romano, and Parmesan Cheese Blend.
Instructions
Bring water to a boil and add bullion cubes. One cube makes two cups.
Slice Zucchini length wise and remove seeds. It is okay to leave the skin on the Zucchini. Chop Zucchini into medium sized cubes. Chop Onion and garlic. Add to chicken broth and bring to a boil. Let cook for 10-15 minutes then lower to a simmer for 15-25 minutes or until Zucchini is soft.
Puree or Emulsify softened vegetables. Once smooth add greek yogurt and mix thoroughly. Add salt, pepper to taste.
Top soup with Garlic Butter Croutons and Cheese Mix.
Enjoy!
www.beingmelody.com http://www.beingmelody.com/