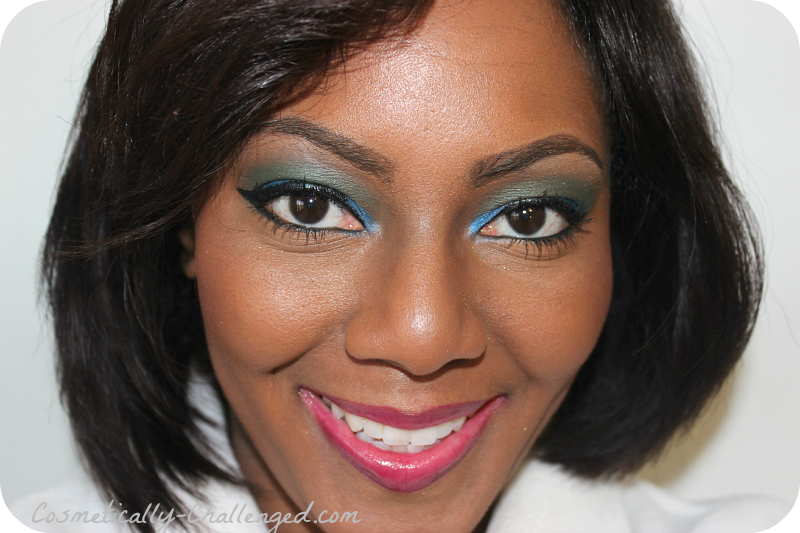 What is Highlighting and Contouring and why has it become so popular? Highlighting, uses light colors to draws an area forward and make certain areas of your face appear more pronounced while Contouring does the opposite. Contouring utilizes darker shades causing an area to appear pushed back. When these two techniques are used together they can take your everyday makeup to a whole new level! Highlighting is often times done underneath the eyes, down the middle of ones nose, on forehead and on the chin. Contouring is usually done around the perimeter of the face and along the sides of ones nose.
Often times people believe in order to achieve a Red Carpet highlight and contour you have to use a whole vanity full of products. The truth is in fact quite the opposite. To achieve my everyday higlight and contour look I tend to reach for products that have multiple uses, such as blushes, bronzers, concealers or foundations. Here is a typical roadmap for areas of your face that should be highlighted and contoured. The road map below shows some areas that I do not contour, While I am not the best at this, I feel I do a good job at achieving basic everyday highlighting and contouring.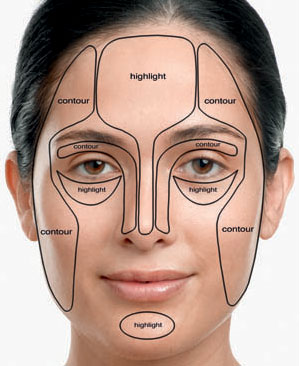 In this picture I've applied my normal foundation MAC MatchMaster in 7.5 and I've also shaped my eyebrows and covered my skin disorder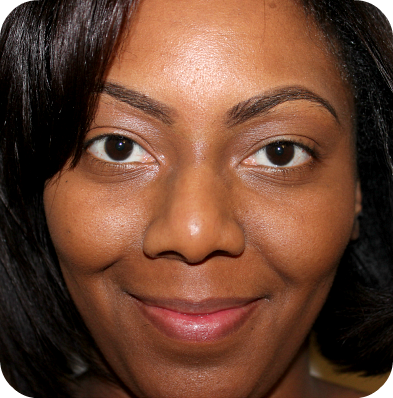 There are several products available for highlighting!  Cream and powder highlighters are available from many companies or you can opt to use a foundation two shades lighter then your current color. Using a Foundation Brush I apply MAC's Prolongwear Foundation in NC45  to the areas marked Highlight from the roadmap above.  If I want to add a bit of glow to the area I use Ruby Kisses "All over Glow"  or Miliani's "Body Bronzer"  right under the eyes and blend it in with my base foundation. Often times people will use a lighter powder under the eyes. The powder can serve two purposes, one as a "catchers mitt", catching eye shadow fall out that can easily be swept away and two it can serve as your highlighter.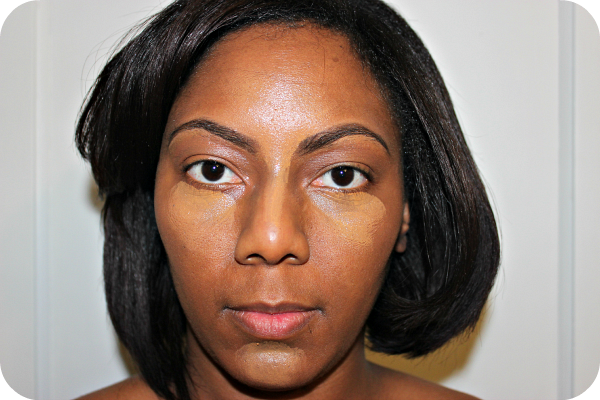 There are several products one could use to contour. If using foundation or powde, make sure that they are two shades darker than your skin tone. If you use a bronzer or powder eye shadow for this, be careful that it doesn't contain too much shimmer.  If contouring with powder I suggest using the Sleek Makeups Face Form, which is a palette that contains a Contour Powder, Highlighting Powder and a Bronzer. You can also contour with a darker matte blush. One very popular blush that is used to contour is MAC's "Blunt" Blush. I personally like to use MAC's  Richly Honed Pro sculpting Cream with their 163 brush.
After applying your high light and contour products the next biggest and most important step is to BLEND. You want to be sure to get rid of any lines of demarcation.  Afterwards set your face with a translucent powder of your choice and then apply the rest of your makeup as you normally would. This is my normal routine for highlighting and contouring if I were to wear it on a daily basis. I do not like to use a lot of product so I try to stick with one for each.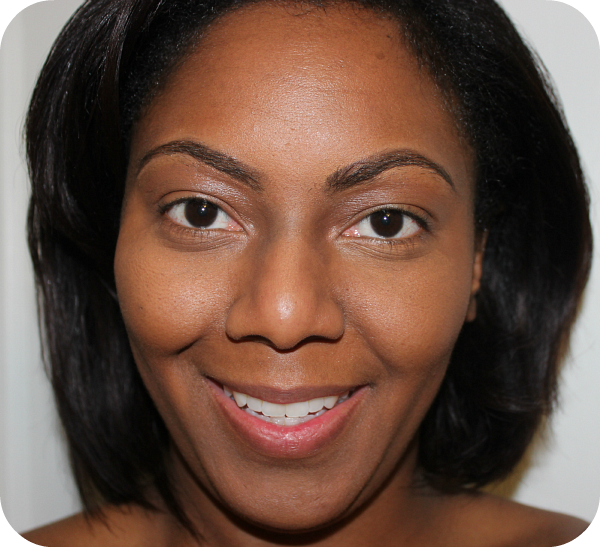 Highlighting and Contouring Blunders
In the picture below these women either used too much highlighter, used one that had too much luminosity, or just didn't blend at all!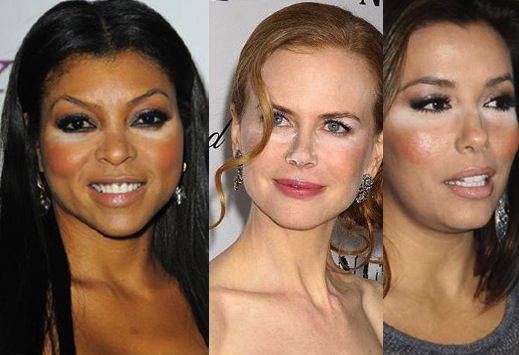 Here are a few pics where the contour was not blended in all the way. This is why BLENDING is stressed so much.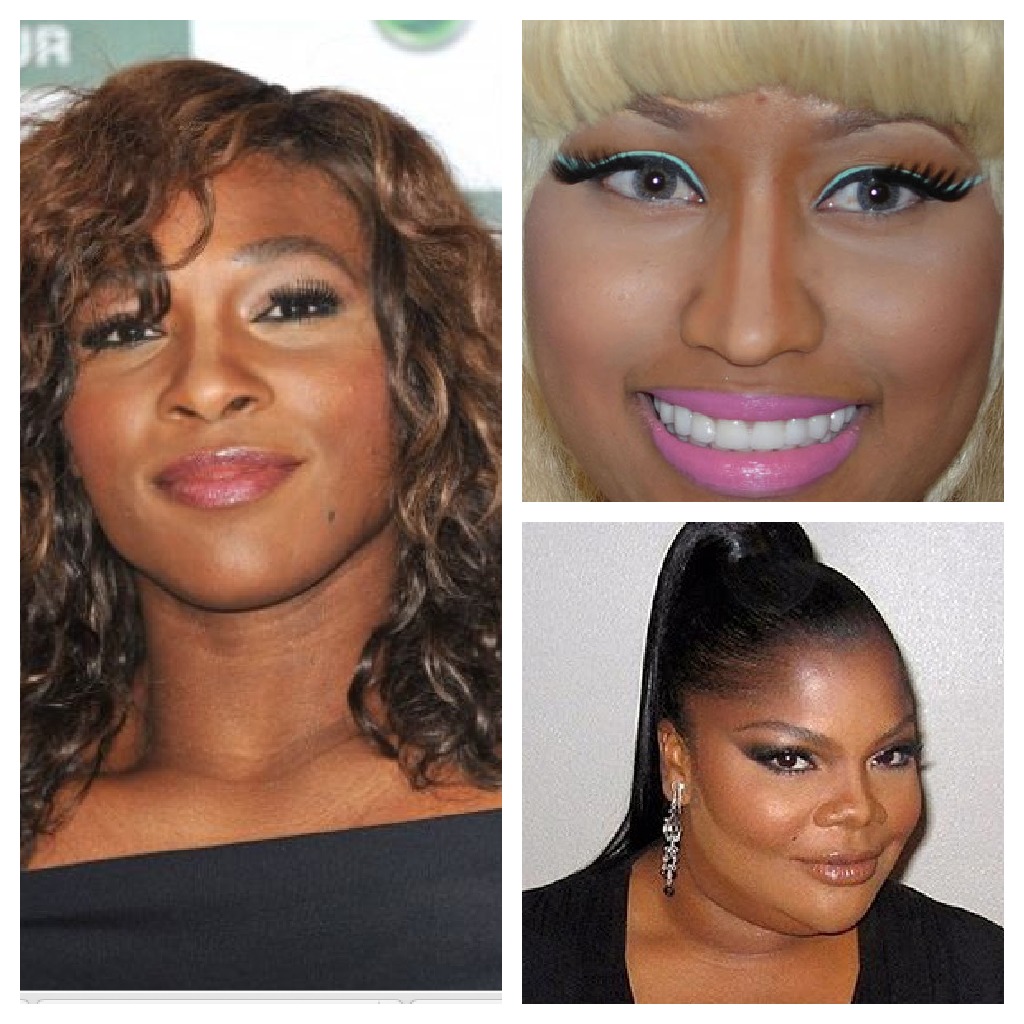 Have any questions on highlighting an contouring? Do you hate it? Do you love it? Lets chat about, just leave me a comment!