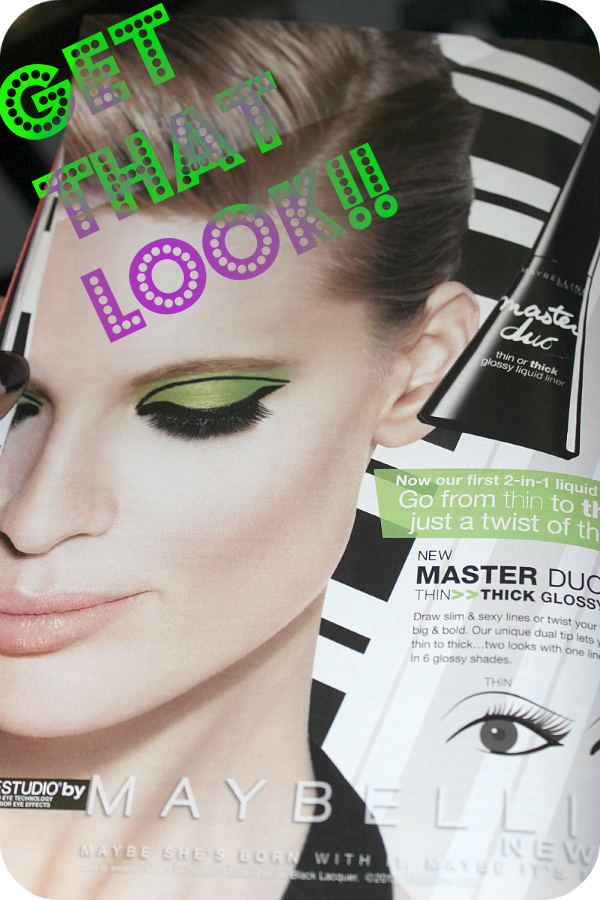 I eat lunch alone. This is not because I don't have any friends and nobody likes me, it is simply because I get to work between the hours of 10:30 and 11am. Most of my colleagues take lunch at 11:40 to beat the rush and since I've just arrived I don't feel comfortable taking lunch so early.. but anywhoo.. During my lunches of solitude I often timeS sit down with one of my many magazines and catch up on the latest and greatest things happening in the fashion and beauty world. Today I came across this ad for the Maybelline Master Duo liners. I've reviewed these darlings and I honestly love them. I've yet to spot them in stores but when I do am snatching up at least 2 more of the black liners. When I saw this ad I thought it would be cool to attempt this look on my own. I figured this way I could really get a feel for how theMaybelline Master Duo liners work as far as control and stability when lining.
For the green eye shadow I used the green from Makeup Forever's Flash Palette as a base then I topped it with a pigment from Magnolia Makeup in "Reptile'.  I then used the Maybelline Master Duo Liner in "Black Lacquer" and carefully tried to mimic the design seen on the models eye. I found this to be easy since I could use the wide side to create the thick line, then with a flick of my wrist use the thin side to create the thin line and to make the lines look smoother.
So how do you think I did? This was actually pretty fun, I think I might to incorporate this into a weekly thing! Maybelline Master Duo liners still get top slot in my book!