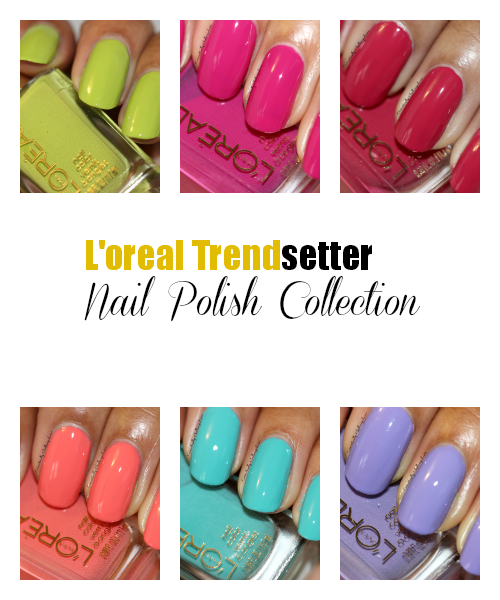 Have you seen these bright bold beautiful new nail polishes in your store yet? The L'oreal Trendsetter collection is a fun new collection with six eye popping fun creme spring shades and three metallic colors. The most exciting part about this new collection is the new flattened wide nail friendly brush! I almost died when I swatched the first color. The new brush actually allows you to cover your entire nail with only two strokes! No more are the days where us wide nail bed people have to struggle with almost four swipes just to cover our entire nail! Our prayers have been answered!!!! Okay enough of that rant and back to the actual polishes.
The L'oreal Trendsetter Nail Polish Collection gives us a nice taste of spring with side of summer served up in a ramekin. The colors aren't your usual boring soft spring pastel shades, but more of a modern twist with colors we can wear both spring and summer. This collection makes me think of the Estee Lauder Heavy Petals Spring collection but without the $20 price tag.  There are nine colors in the collection but I have the boldest ones swatched for your viewing pleasure today. All colors shown at least three coats. The first coat goes on kind of streaky, but once you add the second coat it's smooth sailing from there. I applied a third just to ensure I had full coverage.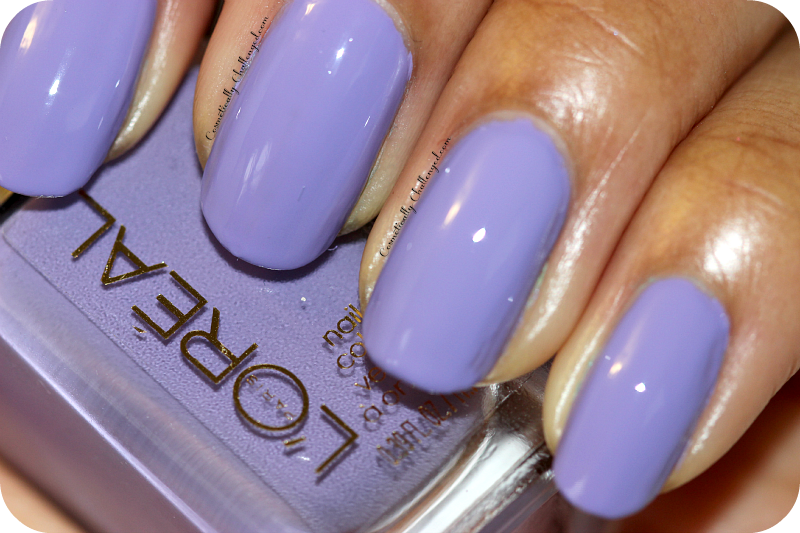 Royalty Reinvented is the softer more muted color of the collection. This is probably the most pastel out of all the colors.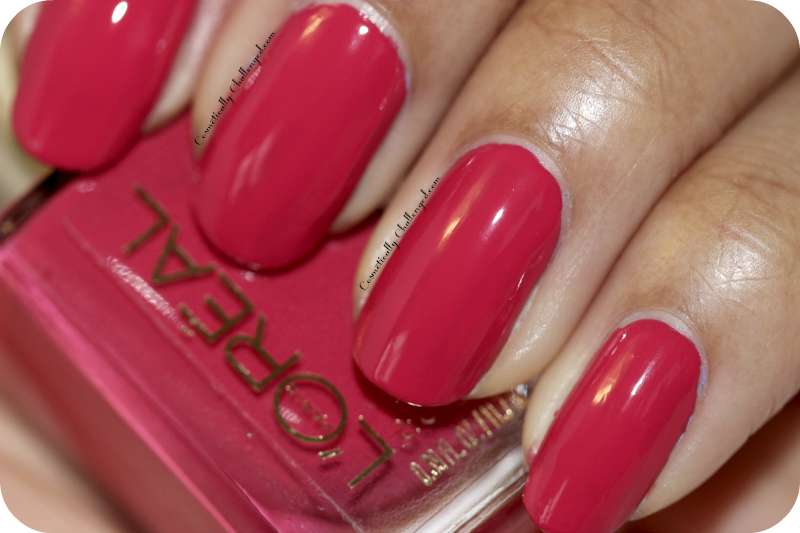 Crazy for Chic is a soft magenta rose colored shade. This is a great color if you're looking for red toned color but don't exactly want to commit to a Cherry Red.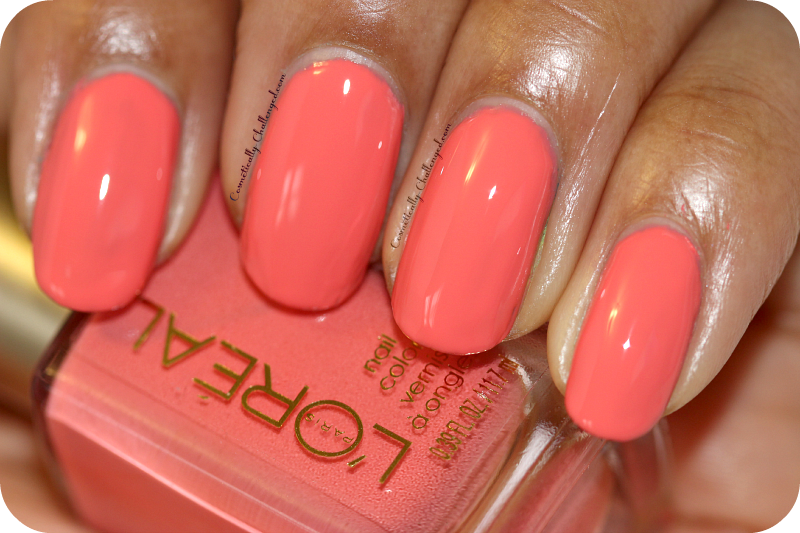 I squealed with joy when I swatched "Orange You Jealous?". This color is not exactly orange but more of a salmon or coral shade. This is definitely my top pick fron the collection!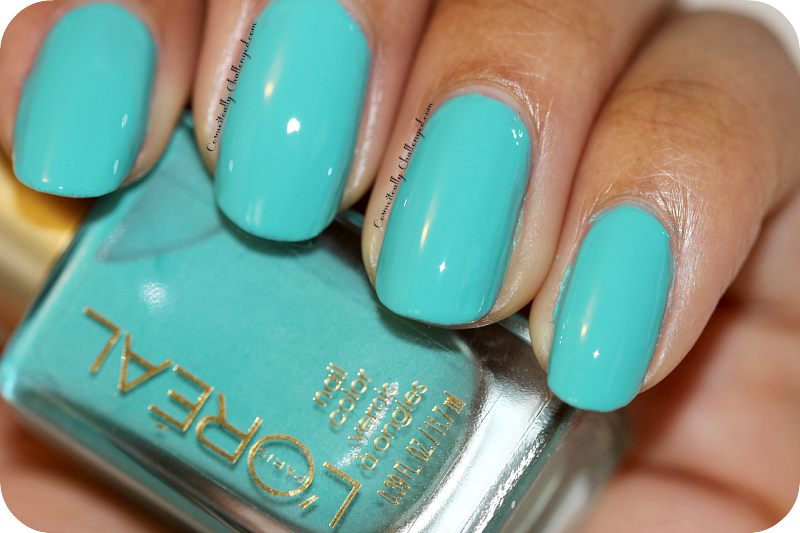 Not a Cloud in the Sky is a bright fun Turquoise. It does have a bit of green in the undertones but not so much that it takes away from the exoticness of the color. When I see this color I think of trips to Caribbean and a fruity cocktail in my hand.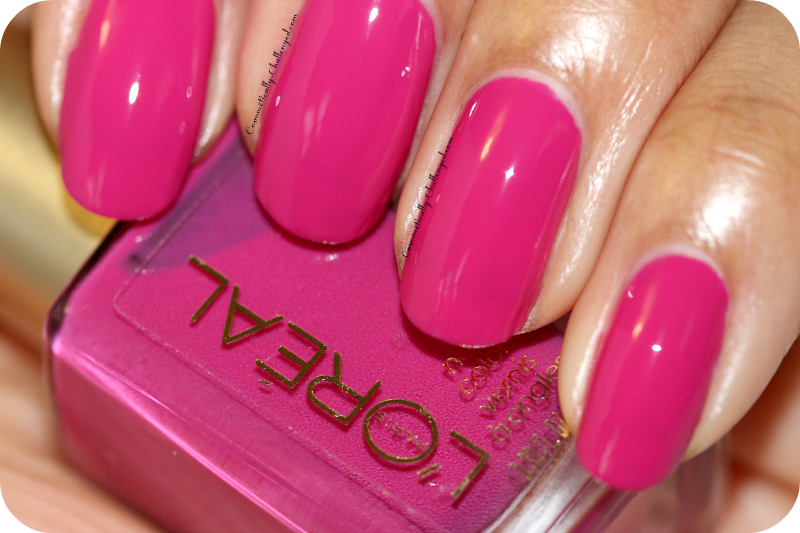 I just fell in love with this polishes name "Members Only".. If only I had a motorcycle and a leather jacket to pair with it. Members only is a an electric hot pink polish that is going to get tons of playing time on my nails!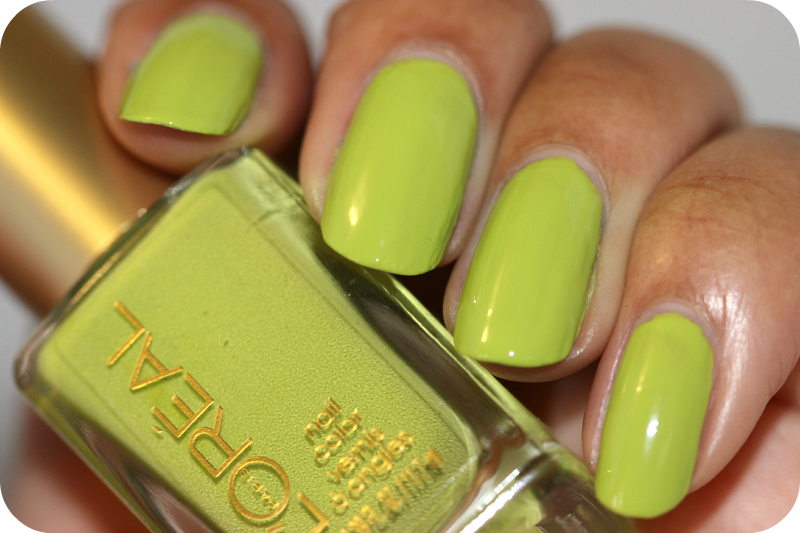 New Money is a brilliant lime green nail polish. While we know money is a darker green new money might be what we need to make a change in the economy!
My top picks from the L'oreal Trendsetter Collection are Orange You Jealous, Members Only and Not a Cloud in the Sky. I really thought that this collection was fun and a nice change from the normal pastel colors. This collection is available wherever L'oreal is sold and retails for $5.99 a bottle.
* This product was provided to me by a public relations company for consideration of review This in no way affects my thoughts and viewpoints of the product. For more information on my review policy please visit here. If you are interested in a review please feel free to contact me!