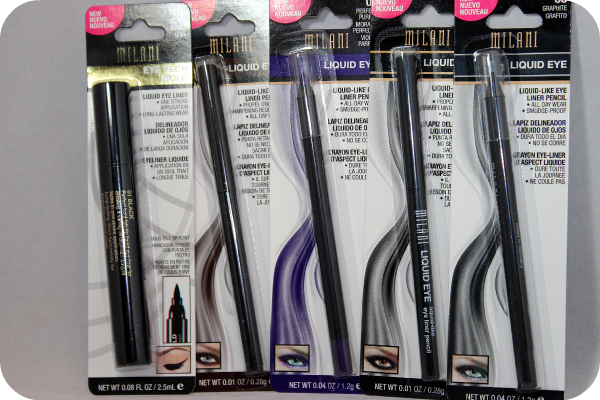 [button link="#" color="#ede7f0″ size="2″ style="3″ dark="2″ square="5″ ] Press Sample [/button]
Milani Liquid Like Eye Liner Pencils are quite unique. They're actually a pencil that has extreme smoothness an goes on almost liquid like. These pencils are great if you want to smudge out the edges and create a smokey eye. The pencils come in five different shades; Graphite, Black, Perfect Purple Brown and Aqua (not shown). Each pencil retails for $6.99
These colors are waterproof and  have great wearability, if you have oily eyelids they will start to smear after about 8 hours of wear.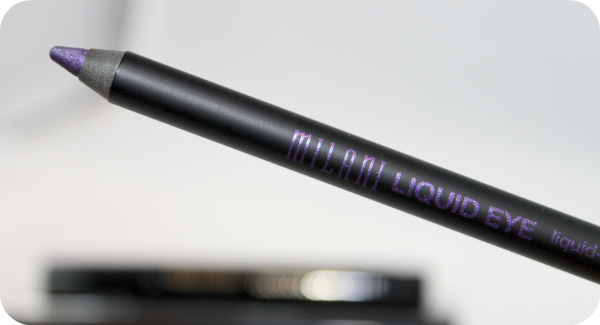 I'm also sharing the Milani Bold Tech Eyeliner  ($7.99) with you also. This is one fat eyeliner! The tip is thick with a pointed end so it makes transitioning from a thin to thick line pretty easy.  It almost reminds me of a velvet tipped marker. I do find that it doesn't give you a really dark line and you would probably need to line you eyes a couple of times if you want to get the a true black line. This would work great if you paired it with the Liquid Like Eye Liner Pencils. Use the pencils to create at thin line then make a thicker tail with the Bold Tech Liner.
Check out swatches of each below!