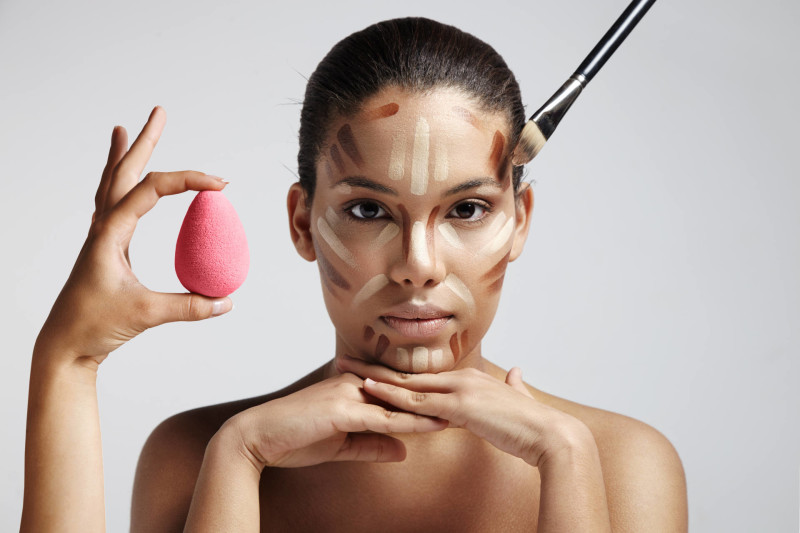 Just in case, you  were wondering highlighting and contouring's still very much a thing. At first, I was intimidated by the entire process. The method was super vague and there weren't that many products on the market yet I was captivated by the whole sculpting of the face idea. I immediately picked up the book "The Power of Contouring" by celebrity makeup artist Dynessa Myricks because I wanted to learn the proper way to do it.
When you contour your basically giving shape to your face and enhancing your features. When choosing a contouring product it's best to stick with a product that's matte as you want to create a natural but subtle shadow. 
Highlighting is the exact opposite. It's an art of makeup application that attracts light. It helps to illuminate features and draws one attentions to those areas. Highlighters come in many different shades, golds, silvers, and even rose gold. I shared some of my favorite highlighters in my "Must Have Bronzers and Highlighters for Every Collection." Some of the best places to apply a highlight is subtly below the eyebrows, your cupids bow, and along your cheek bones.
Now that the market has been saturated with products for Highlighting and Contouring how do you know what's best? If you're looking for more of a matte finish choose powders. If you're looking to recreate the gorgeous dewy faces that we see on runways chose a cream product. Since I was really into the whole Highlight and Contour thing I did a bit of research and came up with 11 products that will help you create the ultimate sculpted face.


Powder Products
Cream Products
6. LA Girls Pro Conceal: A lot of people think they have to spend a ridiculous amount of money to create a quality look. This is not true at all as Beauty Supply Store (BSS) and Drugstore brands like LA Girls, and even NYX and Jordana have great cream products that can be used for highlighting and contour.
7. Black Up Cosmetics Dual Ended Contour Stick $42: Black Up Cosmetics made its way to Sephora around last year. Their Dual ended contour stick was one of the first ones I tried. I was hooked immediately. I love to use this product when I'm going for a more heavily sculpted face. 
8. Stila Shade and Contour Palette $40: This is the perfect highlight and contour palette for someone with oily skin. It comes with a highlight and complimentary contour shade for a sheer, but long wearing cream to matte finish.
9. Pur Minerals Cameo Contour Dual Ended Contour Stick $39.50:  The Pur Minerals Cameo Contour Foundation Stick is another great easy to use highlight and contour product. I love how the product gives me a smooth and dewy finish and holds up well with my oily skin. This product comes with its own blending sponge making beginner friendly.
10. Anastasia Beverly Hills Contour Cream Kit $40: Like the Kat von D Shade and Light Contour Palette, the Anastasia Beverly Hills Contour Cream Kit is a palette made up of six shades that offer opaque coverage. Some shades are even ideal to act as color correctors. This Cream kit comes in four shades light, fair, medium and dark.
11. Beauty Blender $20: The Beauty Blender is the a must have product when blending liquids and creams. The key is to spritz it lightly with water. The Beauty Blender has a pointed side which is great for blending out the highlight under the eye and a rounded end for blending out your contour.
So what products do you use to Highlight and Contour? Are any of your favorites listed above, if not share it with me in the comments.