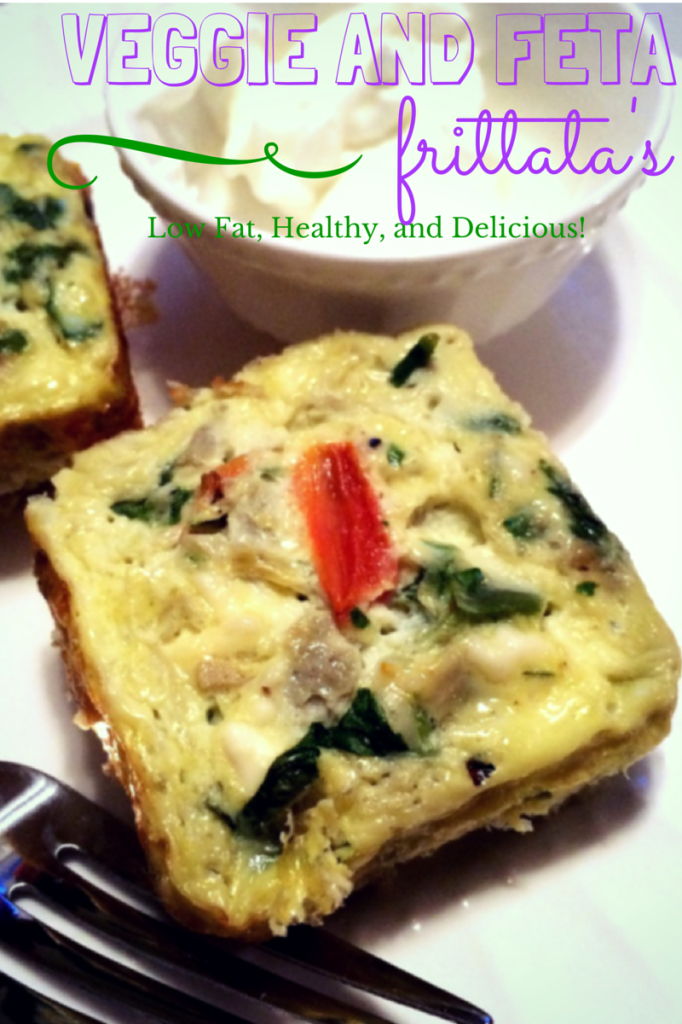 Since I'm back on my health kick I knew I needed something else besides my lean shakes to have in the morning. My Lean shakes are great for when I'm in a rush and I want to have breakfast on the train but now that I've been getting up at 4:30am for my morning workouts I have more than enough time to sit down and enjoy something a little more appetizing. 
Years ago when I was on Weight Watchers I used to make these Hearty Vegetable and Feta Frittatas. They were my absolute fave and I loved how I could have at least two since they were only 2 Plus Points a piece. I decided that I would make them again but this time up the anty a bit and add more veggies since I have ton sitting on my counter from my last garden haul.  I added a bit more veggies and a little bit of chili peppers to add an extra kit and to spice them up a bit. I was thinking of adding some breakfast sausage also but I decided to do that next go round.
If you were to follow the weight watchers directions you'd put these into a muffin pan. Since I knew I wanted mine to be a bit more hearty I decided to just throw mine into a brownie pan and add about 1/2 a cup of the mixture instead a 1/4 cup as the WW recipe specified.  Warm them up for 1 minute in the microwave and then serve these Hearty Vegetable and Feta Frittatas with a side of greek yogurt and a glass of Orange juice for a delicious but quick morning meal. Want more for later, just freeze them and pop them in the microwave for a quick breakfast meal whenever you get the craving.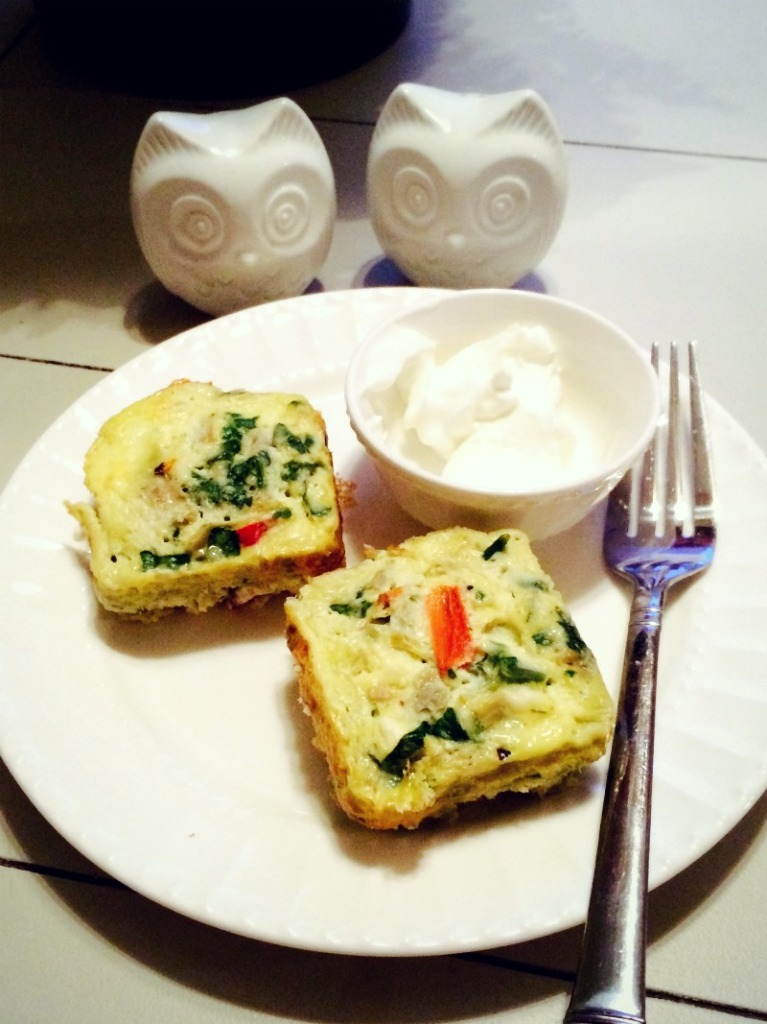 Hearty Vegetable and Feta Frittata
2014-10-05 18:48:16
Serves 12
A quick and easy meal for someone on the go or if you want something to enjoy with your morning coffee.
Ingredients
4 spray(s) cooking spray
6 large egg(s)
4 large egg white(s)
1/2 Green Bell Pepper Chopped
1 Small Chili Pepper chopped fine
1/2 cup(s) water
1/4 tsp table salt
1/4 tsp black pepper, freshly ground
2 cup(s) fresh spinach, baby leaves, coarsely chopped
1 cup(s) canned artichoke hearts without oil, cut in chunks (or frozen, cooked artichoke hearts)
1 cup(s) crumbled feta cheese
2 garlic cloves minced
1 1/2 cup(s) roasted red peppers (packed in water), chopped
1/4 cup(s) low fat cream cheese, at room temperature
Instructions
Preheat oven to 350°F. Coat one 12-hole brownie pan or 2 8 hole muffin pans with cooking spray
In a medium bowl, beat eggs, egg whites, water, salt and pepper until blended. Stir in spinach, artichoke hearts, feta, roasted peppers, bell pepper, chili peppers and cream cheese; mix well.
Spoon about 1/2-cup egg mixture into each prepared muffin hole. Bake until just set, about 18 to 22 minutes. Cool in pans on a wire rack for 5 minutes. Loosen edges of frittatas with a rubber spatula, sliding spatula underneath frittatas to loosen bottoms and lift frittatas out of pans; serve or refrigerate for later. To reheat, microwave for 1 minute. Yields 1 frittata per serving.
Adapted from Weight Watchers Recipe
www.beingmelody.com http://www.beingmelody.com/