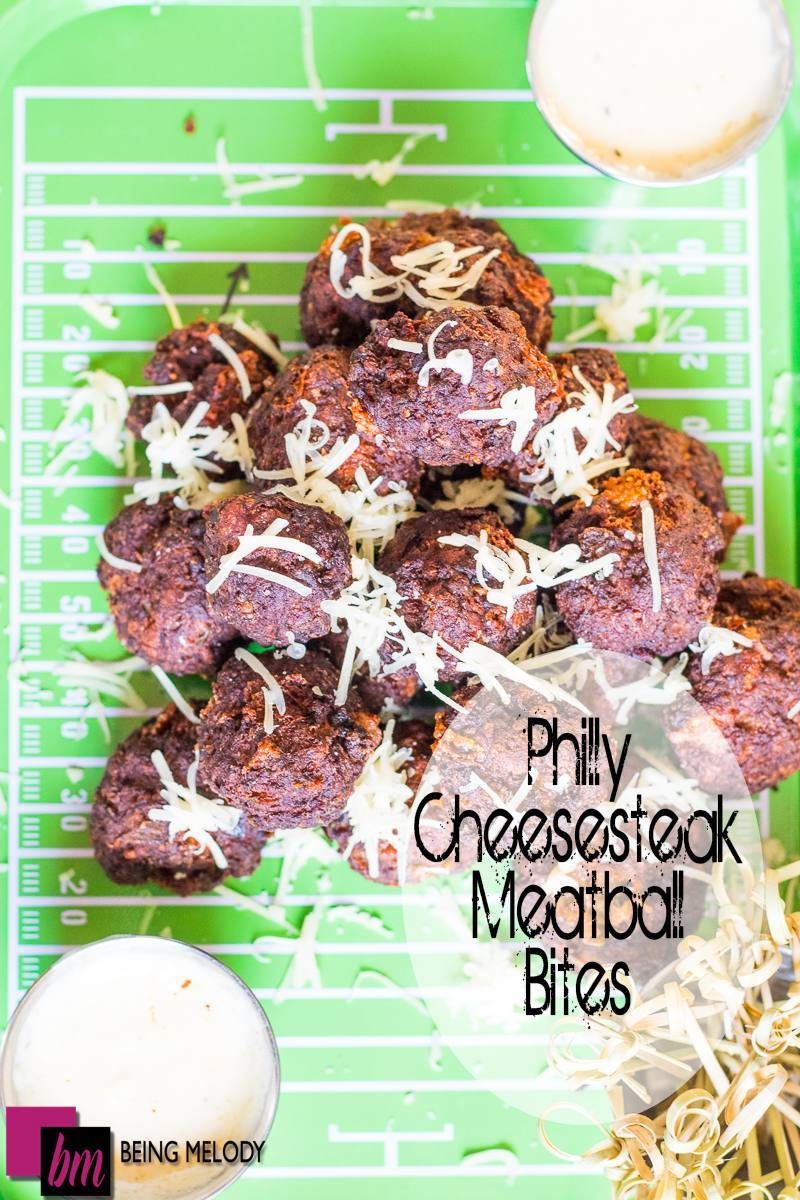 I'm not a big sports fan, and luckily for me, my husband isn't much of a fanatic either. He has a favorite team and doesn't mind going to see a game here and there, but I don't have to deal with everything that comes with being a die-hard fan you know, like the paraphernalia, the fight songs, and trash talking. Since I live in the Philadelphia area, and the Eagles are headed to the super bowl this year I thought it'd be fun to come up with a fun snack to eat while watching the game.
For this snack, I knew I wanted to do something Philadelphia inspired. My mind immediately went to a Philly Cheesesteak. However, I wanted the snack to be bite-sized, and Philly Cheesesteaks are so much better when they're messy. I also needed something someone could enjoy without having to take their eye off the TV. Somehow, my husband, has that whole eat while watching TV thing down. So to put all the flavor of a Philly Cheesesteak into a bite-sized snack, I created Philly Cheesesteak Meatballs with a cheese dipping sauce.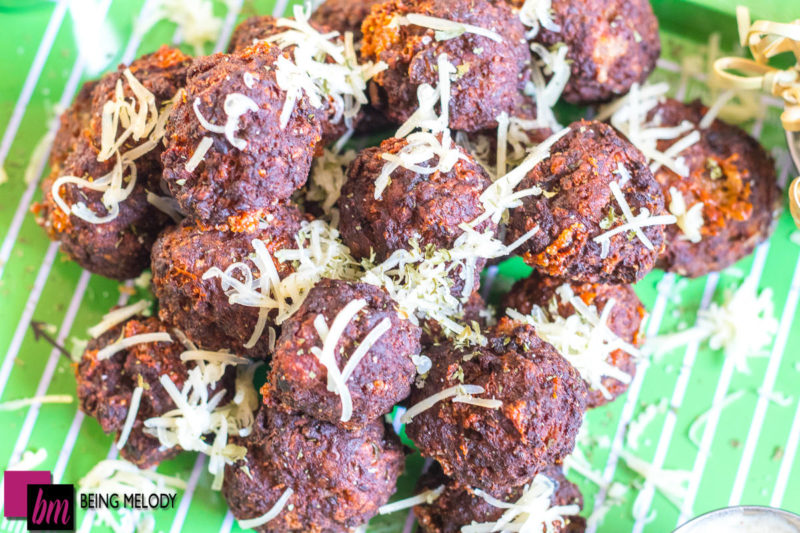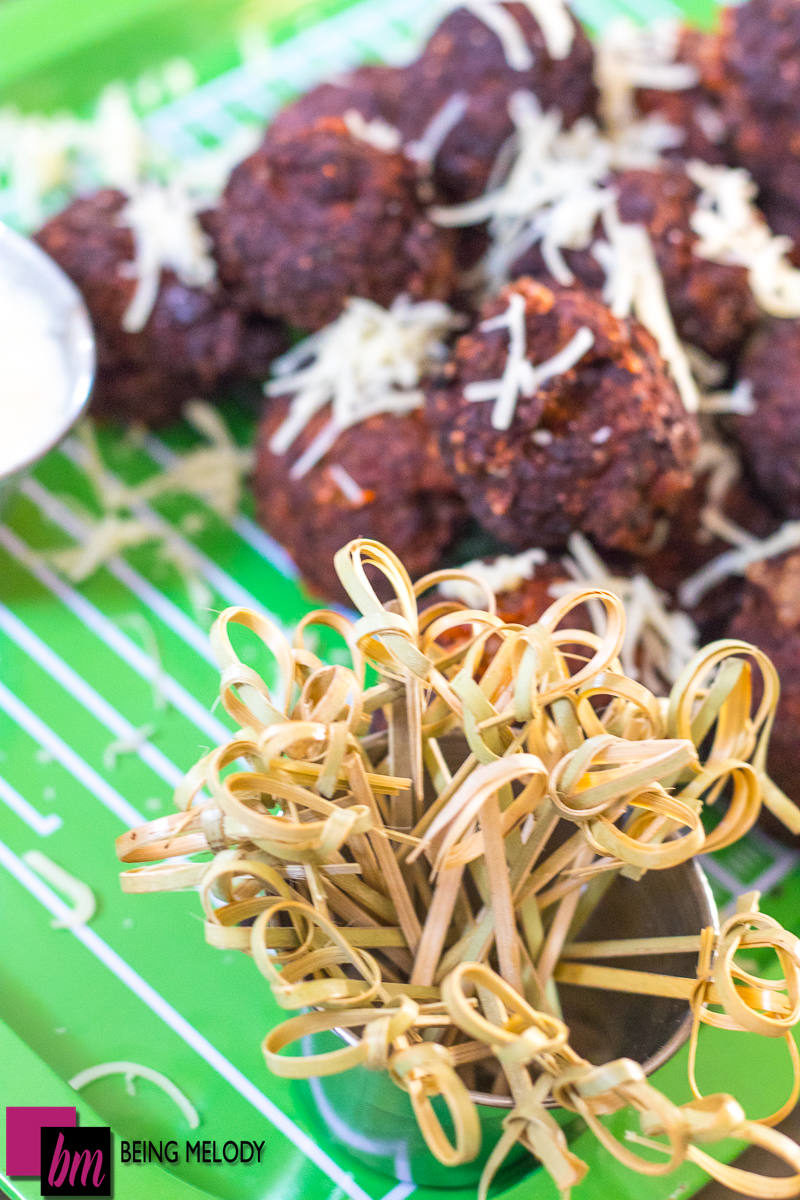 Even though we don't eat a lot of fried food in our household, I had to drop these meatballs into the deep fryer to create that crunchy outer layer. I didn't want them to be too breaded, but just enough to have a nice layer of crispiness.  The blended cheese inside the meatballs was added so much flavor and was an added surprise as my husband bit into the first meatball before dipping it into the cheese.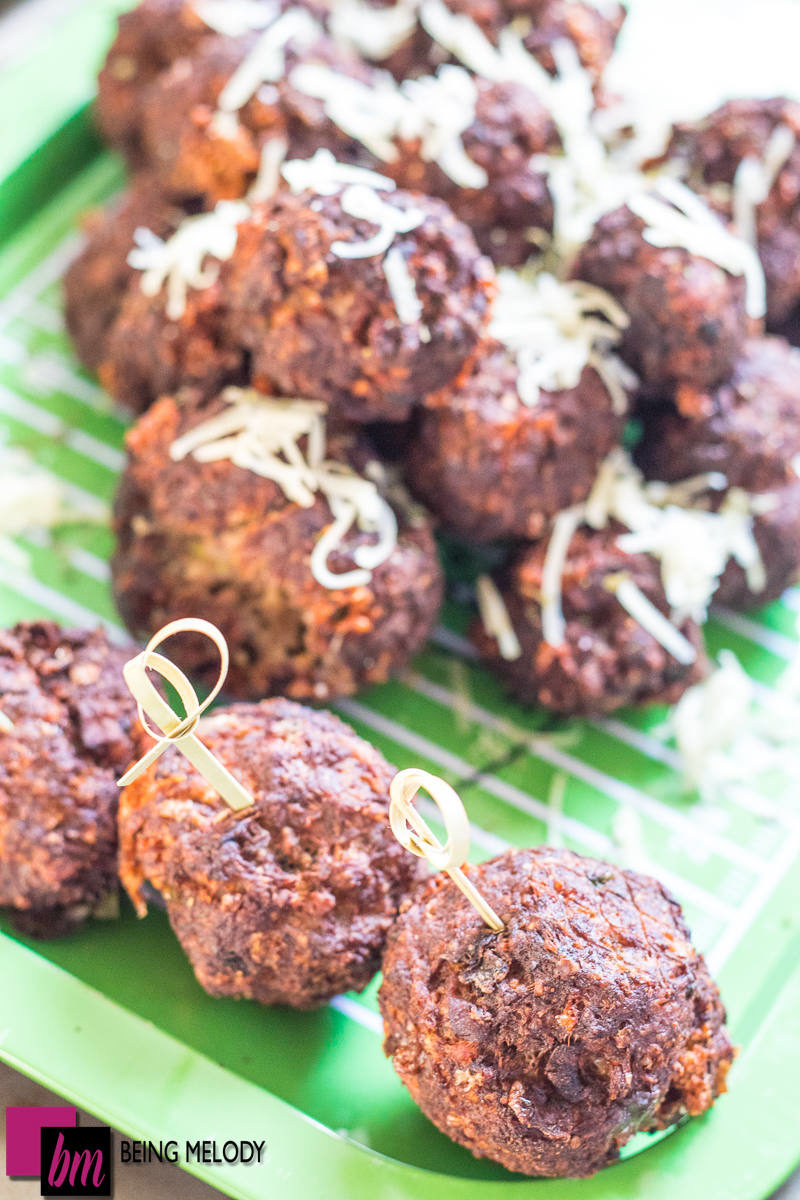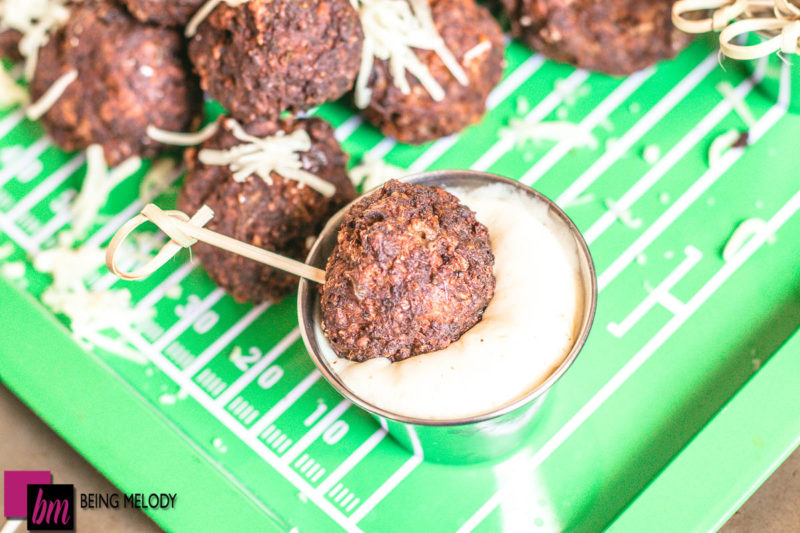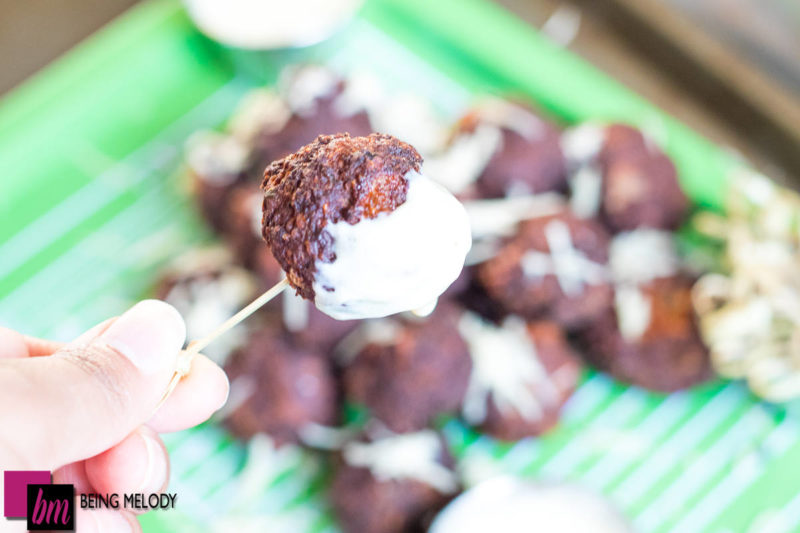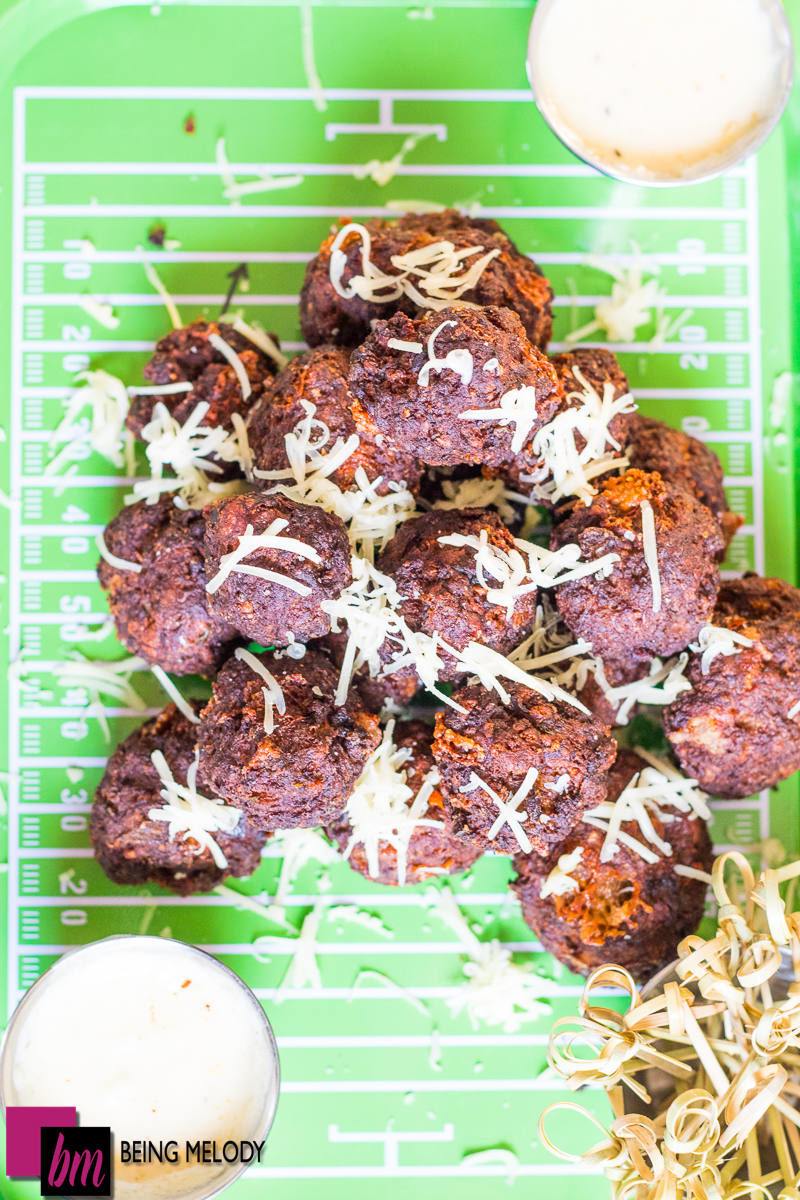 Looking for the perfect Adult cocktail to serve on Game Day? Check out the Pucker Up  and a great tasting Margarita Recipe.
Game Day Philly Cheesesteak Meatball Bites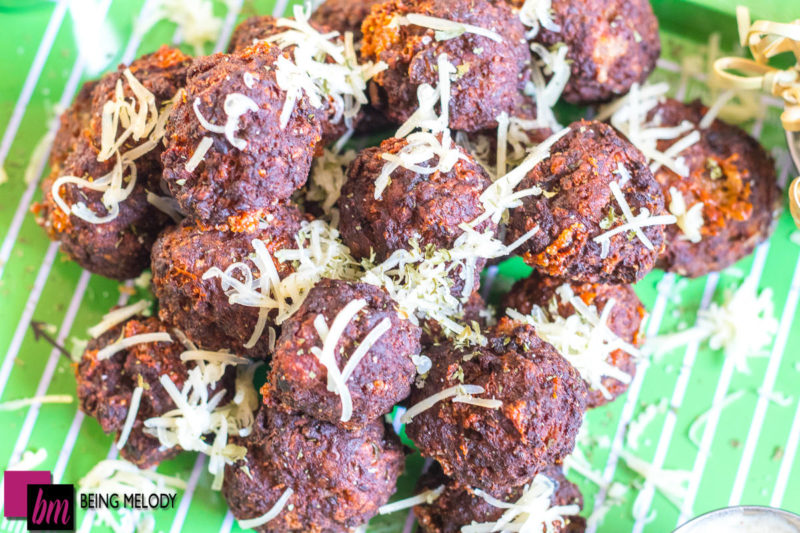 Author:
Melody Robinson Wright
The perfect bite-sized snack for game day. Complete with a creamy cheese dipping sauce.
Ingredients
1lb ground beef
1 green bell pepper chopped
1 small white onion chopped
1 cup of mushrooms chopped
¾lb provolone cut into small pieces
¼ lb White American Cheese cut into small pieces
Fontina Cheese chopped and shredded
1 Egg
1½ cup Half and Half
¼ cup milk
1½ cup Breadcrumbs
Salt
Pepper
Garlic
Instructions
Meatballs
Mix in milk and breadcrumbs and set aside to allow to soak.
Sautee garlic, onions, green pepper, and mushrooms.
Mix egg with ground beef. Once cooled mix in sauteed onions, garlic, green pepper, and mushrooms.
Add salt and pepper.
Meatballs formation
If you want a light breading that still gives a crunch (as I did) mix in breadcrumbs and form 1 inch meatballs
To have a thicker breaded coating form 1inch meatballs and roll in breadcrumbs to coat.
Fry meatballs until the desired level golden brown/doneness is obtained. Place finished meatballs on a paper towel.
Cheese Sauce
In a medium-sized pot heat half and half until it comes to a boil.
Lower heat and slowly begin adding in provolone cheese. Make sure to stir continuously
Continue adding cheese and stirring until mixture begins to thicken causing you to whisk.
Next, add in the American Cheese. Repeat stirring and adding until you need to whisk.
Follow up by adding in fontina cheese.
Once cheese mixture is creamy add salt and pepper to taste.
Serve immediately.