It's not every day my husband pops is head in the bathroom while I'm showering to ask me what I'm using. He said he couldn't resist. As the fragrant Haitian Vetiver drifted through the air and out into hall the soft lemongrass scent mixed with Indian hemp caught his attention. In the shower, I was just as entranced by the Nubian Heritage Indian Hemp & Haitian Vetiver body wash. The silky moisture-rich lather transformed my everyday shower into an impromptu of self-care experience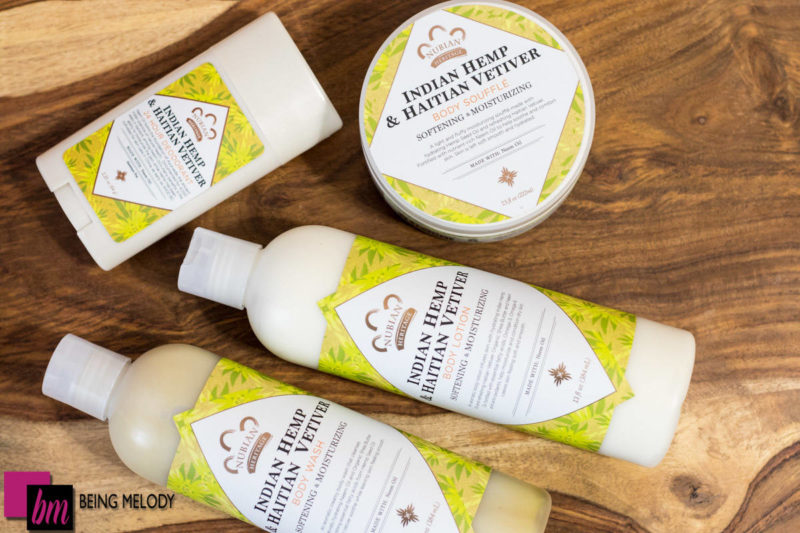 Nubian Heritage is a part of the Sundian brands that also houses SheaMoisture, which as you know from reading this blog is another brand that I am a huge fan of. What I love about the Nubian Heritage line is that they contain a blend of fragrances you won't find anywhere else. The first scent I fell in love with was the Absynnian Oil and Chia seed. I loved it so much that I gifted it to everyone who came and stayed overnight with me.
Post to check out: How to Make Your Overnight Guest Feel at Home with Nubian Heritage
!– COLLECTIVE WIDGET CODE START –>
About the Ingredients
Neem Oil forms the foundation of Ayurveda, the ancient Indian practice of natural health. Documented for 4,000 years in Sanskrit, among Neem Oil's many benefits is the ability to hydrate and moisturize skin. Cultivated in China, as early as 4000 BC, Hemp has a long history of use in skin care. Fragrant Vetiver, the "oil of tranquility", is native to Asia and is known in tropical communities for its calming soothing scent.
How I use the products
Ingredients found in the Indian Hemp and Haitian Vetiver line are perfect for this cold dry drawn-out winter as this line is geared for those with dry skin. The naturally hydrating Neem Oil is thought to be a natural remedy for eczema while the Indian Hemp and Haitian Vetiver moisturize and help to soothe dry skin. Following my shower, I typically apply the Indian Hemp and Haitian Vetiver body lotion to my slightly damp skin, this practice is perfect for locking in moisture. The Body Souffle has a thicker consistency than the Body lotion, this I've been using on my feet and hands. Interestingly I've realized that the most fragrant product out of the four that I've been trying is the Body Wash. The Body Lotion and Souflee have hints of fragrance, and in these, the hemp is more noticeable.
As for the 24-hour deodorant which by the way is aluminum free, well I'm still getting used to it. I normally don't use natural deodorants because my arms can be a little "grown" if you know what I mean, but I'm willing to give them a try. The deodorant melts onto my skin as it's applied due to the heat, but I've noticed that it take a while before it dries down or it's absorbed. In terms of protection, it seems to do a good job though I've noticed on my busier days I may need to reapply. For me, this is similar to what I would need to do if I were to use a non-clinical strength deodorant so it's not necessarily a deal breaker, but still something I'm going to keep in mind for those days when things might get a bit stressful.
Where to Buy:
Nubian Heritage products can be purchased at NubianHeritage.com, as well as Vitamin Shoppe, Ulta, and Target.