This post is sponsored by Babbleboxx. All opinions are my own. #BboxxNightIn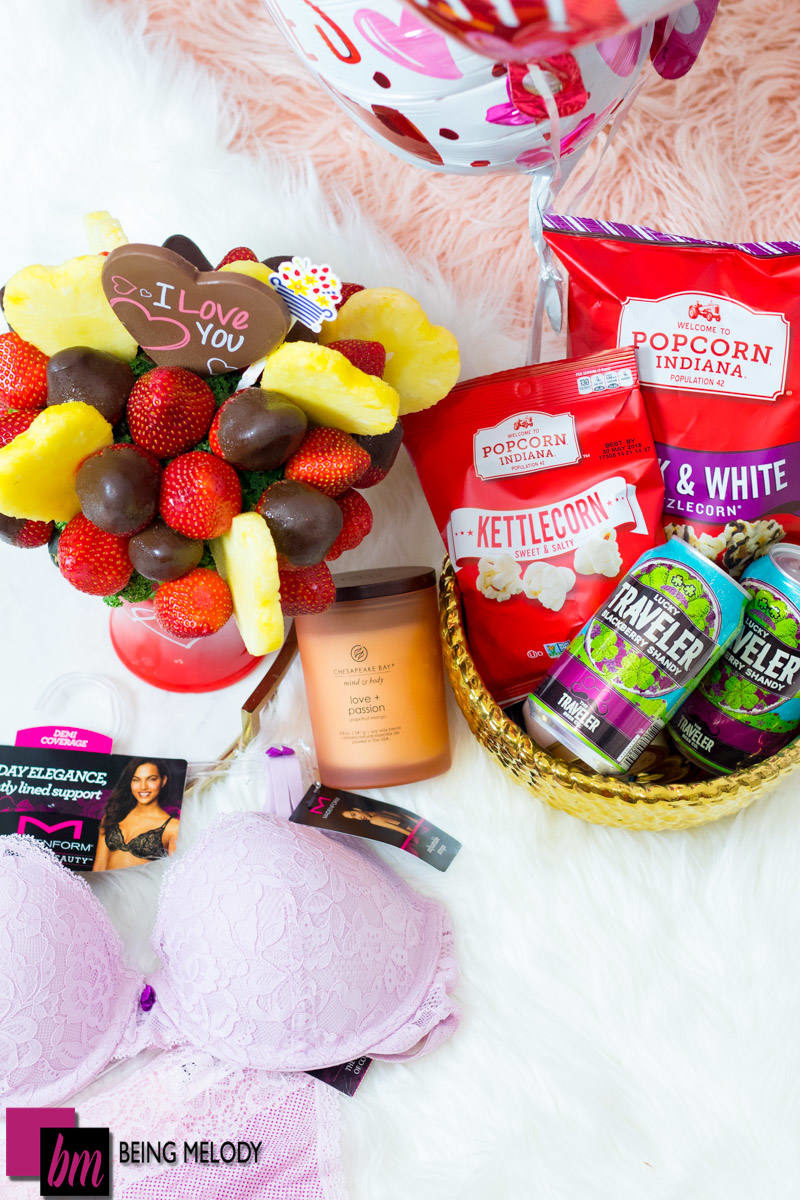 February 2018 is a jam-packed month. It houses Black History Month, Valentine's Day, and the release of Marvel's new Black Panther movie. Admittedly in my household, all three of these things are a pretty big deal, and we're doing our part to celebrate it. This month I received a Babbleboxx filled with items that embodied the theme "Date Night Fun." As I thought about how Valentine's Day is supposed to be all about love, I realized that the items in the box were perfect for spending time with the one you love as well as spending time loving enjoying yourself in the form of much-needed self-care. Since the hubster and I have been seriously focused on paying off our student loans these past few years our outings have become far and few in between. This year we've made a promise to each other that we're going to loosen up a little bit and spend more quality time with each other and not at our side jobs what a perfect way to start it off by using the items inside the Babbleboxx Date Night Fun box! Below I've shared how each item can work perfectly into a date night with the one you love or date night with yourself. Even if you don't have a significant other, there is absolutely nothing wrong with using all these to show yourself some much-needed love.
Spending Date Night With the Significant Other
Dessert
Our first date night of the month will be to see the Black Panther movie. We'll more than likely get in an early viewing, grab something to eat, and then head back home to relax and listen to some music. You can always keep date night going with dessert to share between the both of you. As part of the Date Night Fun Babbleboxx, I received the Edible Arrangements Valentine's Day Gift Set. When this arrived at my house, I squealed with delight when I noticed that this bouquet only contained strawberries and pineapple. This is a big deal for me being that I can't eat certain melons. The presentation was gorgeous with the balance of chocolate covered strawberries and regular strawberries being just right. My favorite part of the Edible Arrangement besides feeding my husband the strawberries were the heart shaped pineapples. I do believe that the heart shape made them even more delicious than they already were. Edible Arrangements are a unique gift idea that you can give to anyone. I would gift one of these to my younger sister who is a big foodie and would appreciate it more than flowers.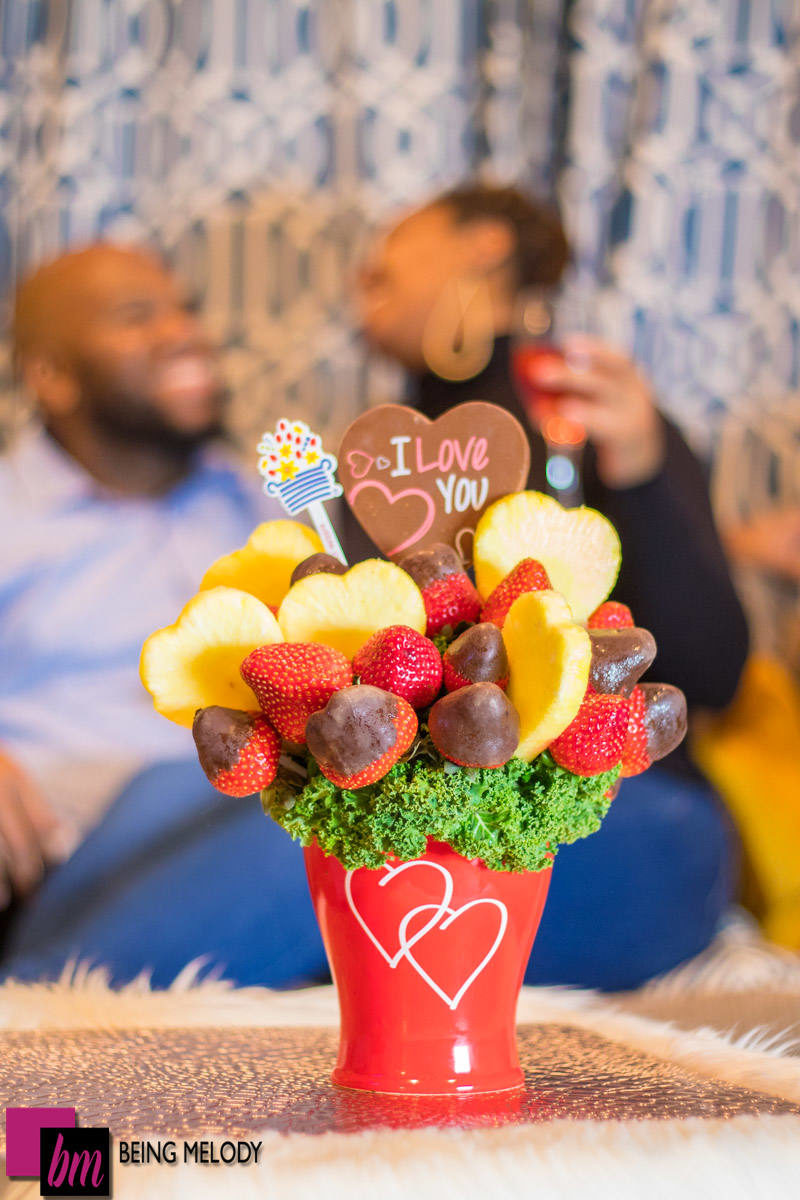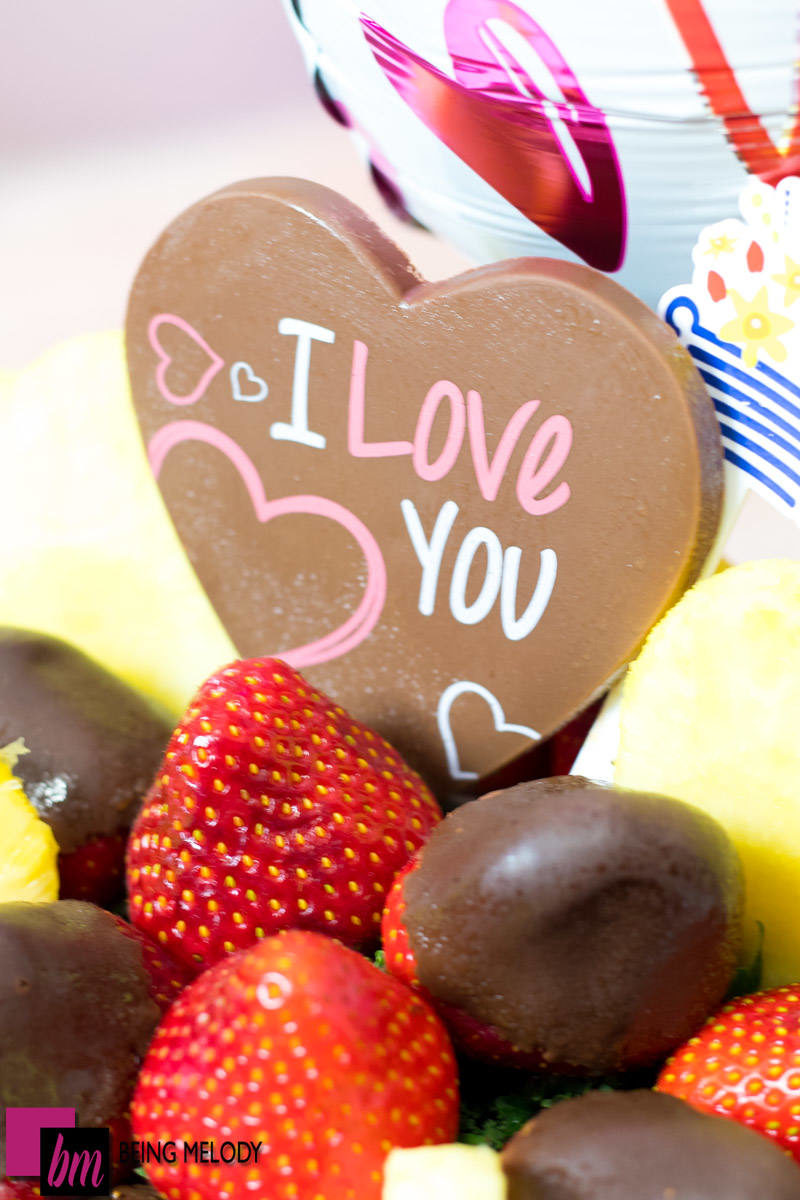 What To Wear
Date Night is a great time as Beyonce would say to "go into the back of your closet and pull out that freakum dress." Okay so dinner and a movie don't require a freakum dress, but that doesn't mean you can't get a little sexy. Here's a tip, before getting ready that evening hand your significant other a card with the words "luxe lace, plunging neckline, and flirty straps."  Even if you've come out wearing jeans and t-shirt, they're going to be super intrigued and you my dear now have the upper hand.
I typically only wear nude or black undergarments as they're easier to pair with all of my clothes, but it's nice to have something sexy and fun for those special nights. This Maiden Form Matching lace bra and panty set, while different in color fits perfectly in line with date night festivities. I love the way that it fits and even the thong was comfortable. The particular set that I received was in the shade Raspberry Icing and can be found at your local Kohls.
Purchase the Maidenform Modern Beauty Lace Lightly Lined Demi Bra
Purchase the Maidenform Allover Lace Thong Panty DMESLT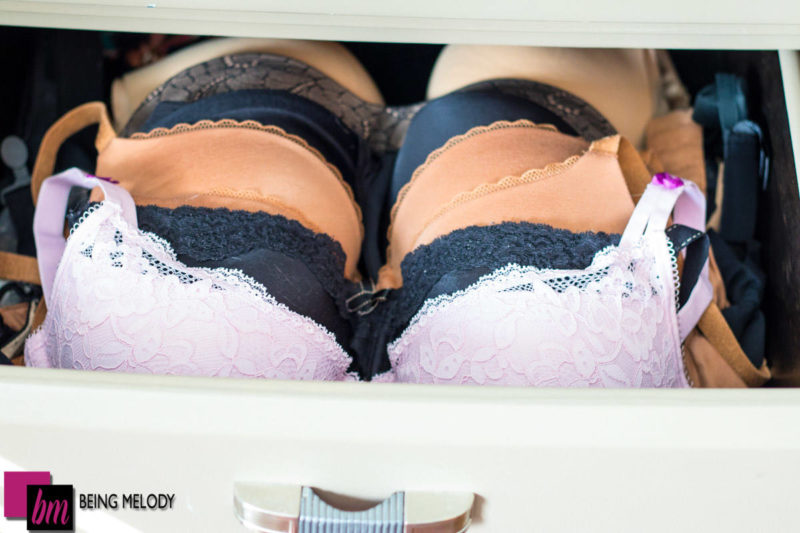 Setting the Mood
Now that you have you've picked out your dessert and outfit the last thing you want to do is set the mood and ambiance. If you're spending your date night in the house, then you've probably already got the mood set with some 90's R&B, Marvin Gaye, Luther Vandross, and a couple of candles left over from dinner. After dinner, however, you may want to switch things up a bit and bring out your good scented candles. I'm not talking those overly sickly sweet smells, but the ones with a scent that's going to help you and your significant other relax and continue to enjoy each other's company. Chesapeake Bay Candles are one of my favorite brand of candles. The scent of each candle is attuned towards a specific feeling. My favorite from the Mind and Body collection are Reflection + Clarity and Courage + Wisdom. For Date night, the perfect Chesapeake Bay Candle is the romantic candle called  Love + Passion. Imagine pairing those scents with the Edible Arrangement!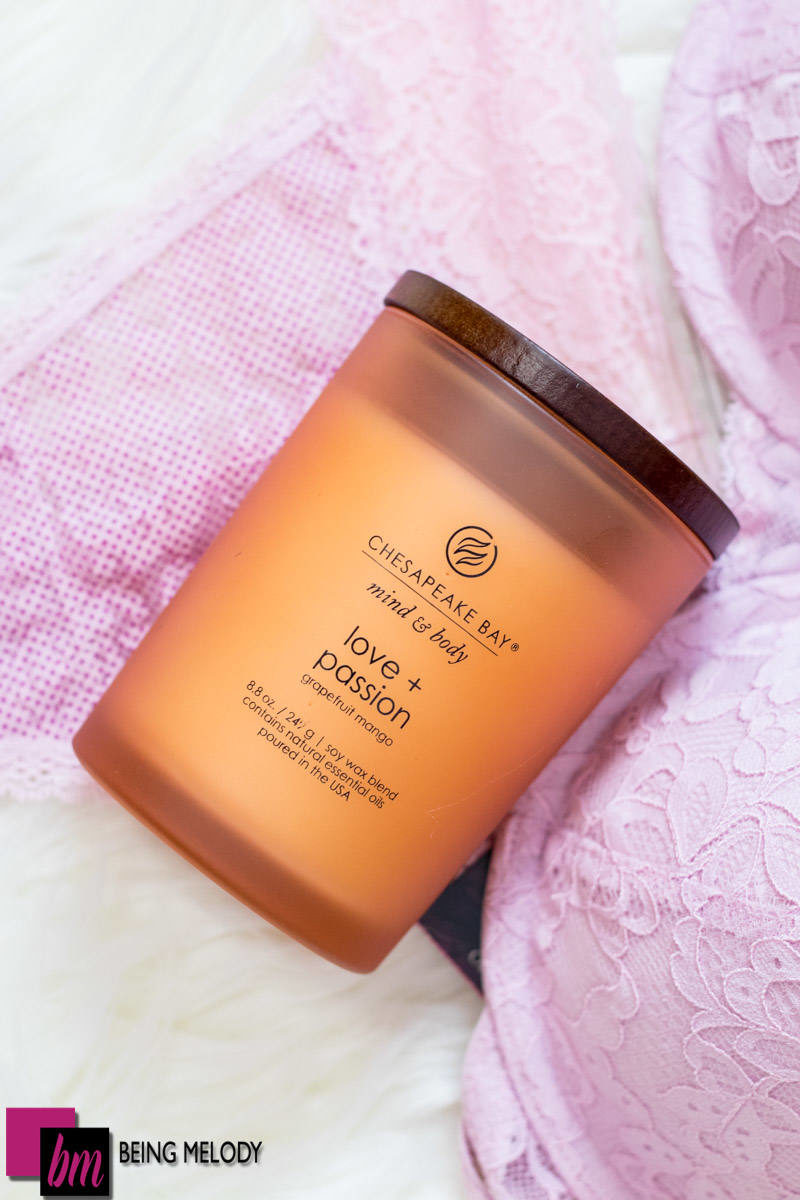 ---
Date Night with Yourself
I talked in some previous post about how self-care isn't all about baths and desserts. Sometimes self-care is merely knowing when just to stop and spend time doing the things that you enjoy. For me, that could be curling up with a book on the couch and spending the entire day reading. It could also mean going for a walk or just sitting in silence with one of my favorite Chesapeake Bay Candles while I meditate or do some journaling. After seeing the contents of this months Babbleboxx, I immediately knew how I was going to spend some time dating myself in February.
I don't watch much TV, and when I finally do sit down to watch it, I have several episodes to catch up on before I finally understand what everyone is talking about on Twitter or Facebook. This month, I've decided the perfect date for myself is to grab a snack and drink and watch movies from some of my favorite Black Actors and Actresses in honor of Black History Month. Popcorn is always a must for movies, and it was perfect that the Popcorn Indiana Kettlecorn which is a guilty pleasure brand of mine was in this months box. The Black and White Drizzlecorn is a savory mix of dark and white chocolate over their famous kettle corn. I pour it into a bowl so that I can ration how much I eat because it's so addicting. Even though this popcorn will satisfy your sweet tooth, you can take pleasure in knowing it's gluten-free, certified kosher, and doesn't contain high fructose corn syrup, basically meaning it's the perfect snack to share or even gift amongst friends for Valentine's Day.
To wash everything down, I've got my Traveler Beer Company Lucky Traveler Blackberry Shandy. Okay, so I am not a beer drinker unless it's a Corona with lime juice, not a lime. I'm pretty specific about it. I would also most certainly describe myself as more of a liquor girl, but this Blackberry Shandy is so good that I am definitely going to keep some in stock while it's available. Unfortunately, this flavor is limited edition so be sure to grab it while you can. Lucky Traveler Brews craft wheat beer with real fruit ingredients, and according to a girlfriend who would call herself a beer connoisseur the fruit beers are a great way to help your palette become adjusted to the taste.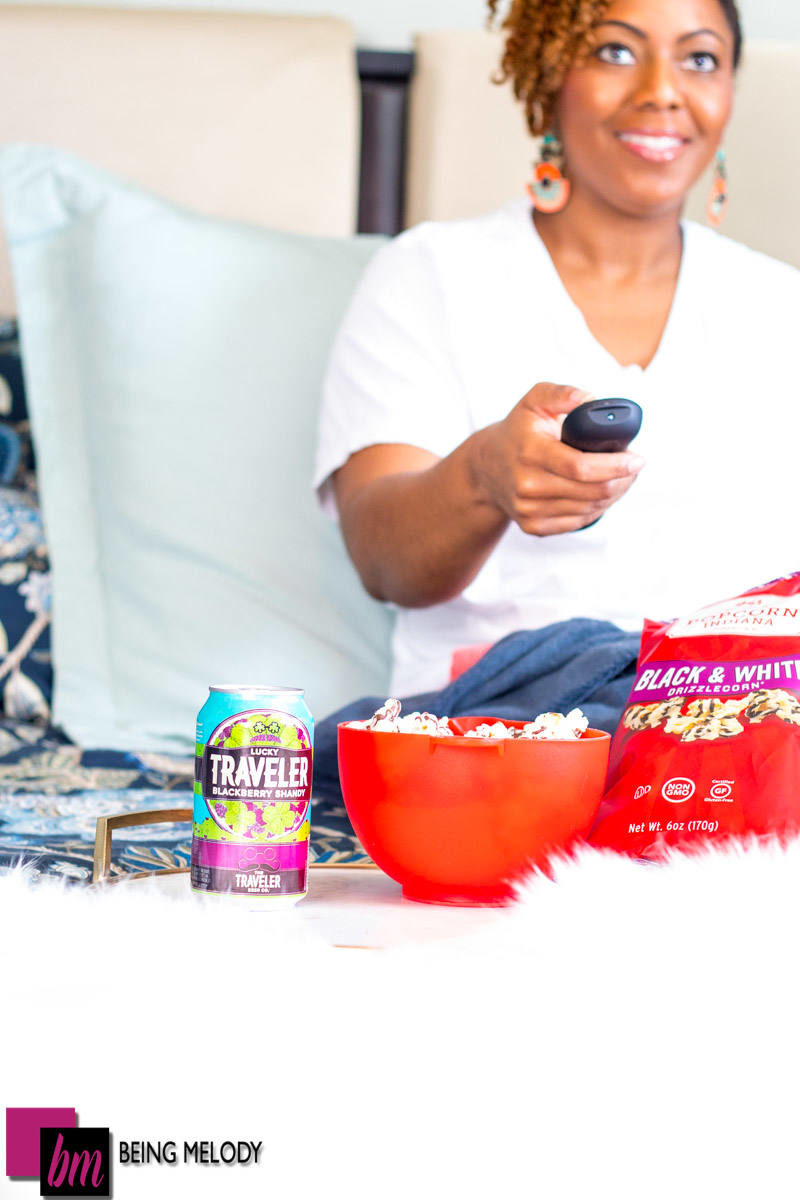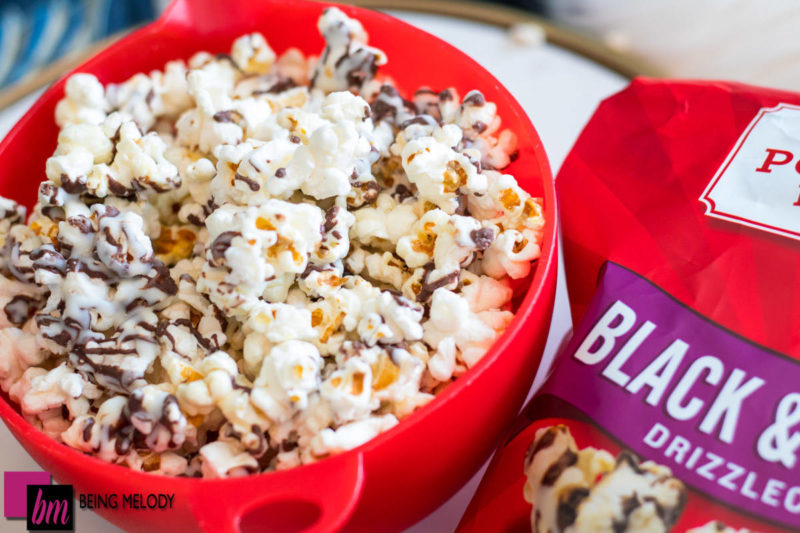 I enjoyed everything in this month's Date Night Fun Babbleboxx and I know you will too should you choose to try out a few in your Date Night Fun whether it's with yourself or your significant other. If you've tried any of the brands above be sure to tell me what you like about them in the comments below. I'd really be interested in hearing about the different flavors of Travelers Beers now that I've gotten the courage to expand my horizons past Coronas.