*The Brahmin Tent Sale is set to take place Sept 18th, 19th, and 20th 2015 at all Brahmin Outlet Locations. Please Note the larger selection will be at the Brahmin Headquarters in Fairhaven MA on these same dates.*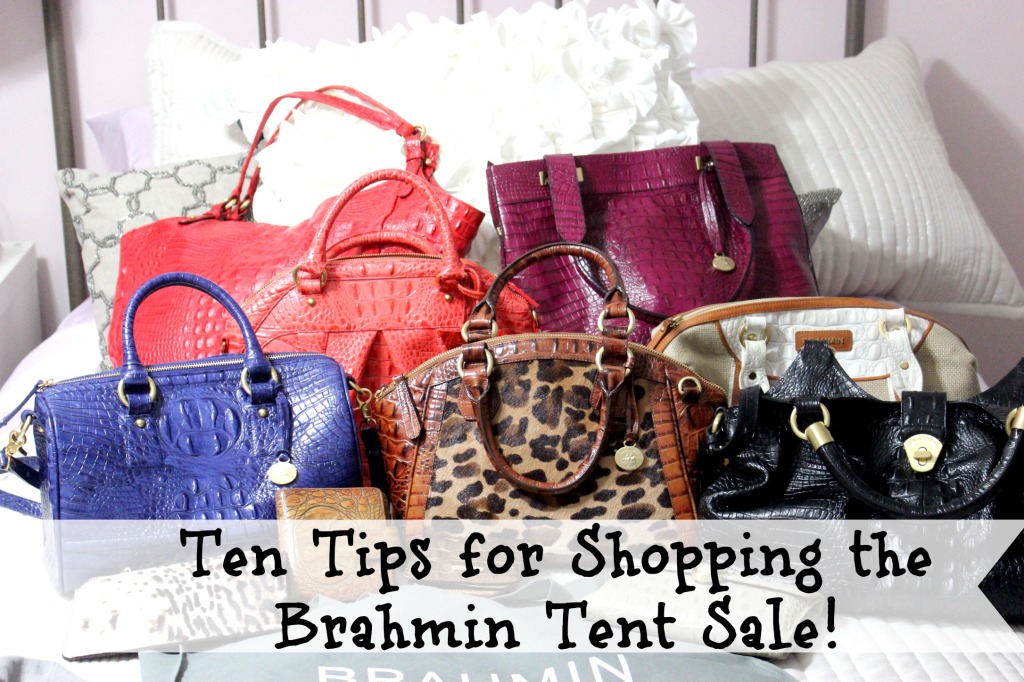 The Brahmin Tent will be here in no time! I'm still undecided on if I want to make the trip again, but that doesn't mean I can't prepare you for the shopping experience of a life time!! I've been twice already and I've had a rather awesome experience as you can see from my bags in Trip 1 and Trip 2 .Here are ten things you need to know to survive the Brahmin Tent Sale which is coming up in May1. Get there Early: If you plan on shopping the first day you want to be sure that you're one of the first in line. Trust me this is where the serious shoppers are .Don't be alarmed by the ladies with the
1. Get there Early: If you plan on shopping the first day you want to be sure that you're one of the first in line. Trust me this is where the serious shoppers are .Don't be alarmed by the ladies with the pop up laundry bags, they know what they're doing. If this is your first rodeo don't be afraid to chat up the ladies in the line to get the inside details, if they're willing to share them. Being first in line grants your access to the bags first. Sometimes there are a only a few bags in certain style or color and while some others are being restocked once these are gone they are gone.
2. The First Day and the last day are the best days to shop. I've gone on the first and the second day before and let me tell you the pickings on the first day are astronomical compared to what's there on the second day. Now, I've never been on the last day, but from what I've been told things are marked down even more, especially right before the sale ends. If you're not really concerned with a particular style or color but just want a good deal the final day of the sale is your best bet.
3. Have a plan: When you go to the Tent Sale you will be hypnotized by all the different styles and colors that are available. Go into the sale with a plan of action so that you don't get overwhelmed. Most bags will be a couple of seasons old so unless you want to pay full price don't expect to see any of the newest releases there, Let me rephrase that, there will be some newer models available, but they will have them in a special corner at full price. Of cours,e that will be the area with the least amount of people. Scan through old Brahmin E-Catalogs that can be found online to get a sense of what you really want. There are no associates there to help you locate a certain style or color so keep your eyes peeled and grab whatever you think fits the bill.
4. Grab First, Inspect Later
: The tent sale is not for those who want to stroll around and shop at ease. The tent sale is a frenzy. The best advice I can give is to grab whatever catches your eye (hints the lady with the pop up laundry basket) and then go to a corner and decide if you really want it. You will not have time to snap pictures or face time your friends in the heat of the moment. One wrong move and that bag could be on another woman's arms.
5. Bring a friend. Most women shop in groups anyway, but this is very important for the tent sale. I can't tell you how many different my friends have helped me out while shopping. They've stood over me while I've gone though my own version of a pop-up laundry basket. Helped me snap pics so I can send them to my mom so she could decide on the bag she wants, and they've been a huge help when you have to make the final decision between which bag to get. Plus it's more fun to shop with a friend.
6. If you want to know the name color, and price of your bag before it was marked down for the sale take a picture of the tags or write everything down. At the register, they cut off the tags for "inventory purposes". I found this out the hard way after my first trip. My second trip I got hip and made sure to snap a picture of tag so I would be able to tell people the name and color as well as how much I saved on the bag.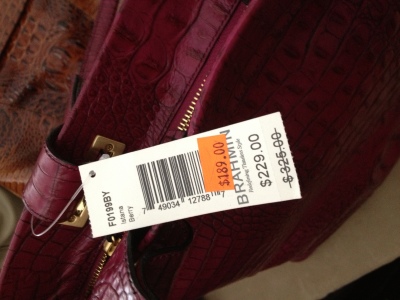 7. There aren't any warranty are cards.
Since this is sample sale I'm guessing we're giving up our right to have the bags fixed if there is a defect. There are no warranty cards inside the bag so you can't register your bag so be sure to inspect your bag for snags, rips and demarcations inside and out before purchasing.
8. When you're checking out don't forget to buy a dust bag! When you buy a bag in store they usually come with the bag but you won't find them in the bags at the tent sale. The dust bags run $5 each and come in various sizes. I am rather picky with my dust bags so I made sure I got ones that didn't look dingy and were large enough to fit my bags properly.
9.While you're already getting a great deal at the sale if you buy a certain number of bags there is an even better deal! Once you reach a certain number you can get 10%, 20% or 30% off! If you're shopping with cash and you don't want to buy a lot to get the extra discount go in with a friend and combine your purchase!
10. The most important thing about the Brahmin tent sale is to have fun. It is a huge adrenaline rush and can cause some people a bit of anxiety. Make sure you take the time to look over you bags before you purchase so that you don't walk out with buyers remorse from getting way too much. I've purchased several bags at the tent sale. It's a  great way to get your Christmas shopping done early, or buy other gifts for birthdays and etc. There are also Home Goods and dog accessories available!
The Brahmin Tent sale  2014 is set to take place September 18thh, 19th and 20th of 2015 and will be held at all the Brahmin Outlet locations including the ones in New Jersey! Will I see you there this year? If you can't make it to the tent sale I put together some of my favorite bags below. Just shop the widget below and while your at it check out how I styled these two bags I picked up at a Tent Sale.