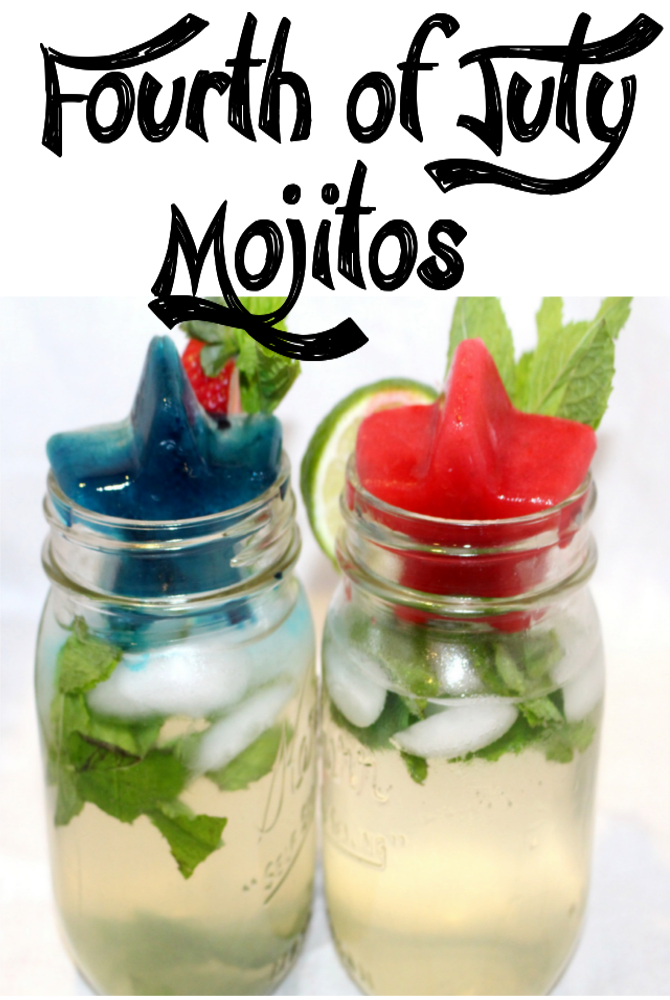 The Fourth of July is right around the corner so for this week's Summer Drink Series I decided to do a refreshing drink that you can enjoy with friends as you sit outside and enjoy the pool, great smells wafting from the BBQ, and the squeals of the kids playing in the yard. Mojitos are one of my favorite drinks, except for when you get the mint stuck in your teeth and you turn to smile at a really cute guy, that never happened to me of course. Anywho, back to the mojitos. So I had this awesome idea that I was going to do a patriotic take on Mojito's. They were going to be absolutely perfect and have blue and red ice stars floating throughout. Except… well my mini star ice cubes weren't actually mini and they were actually too big to fit inside the mason jar glasses. But, one rebellious ice cube won't stop this show so on with the drink recipe!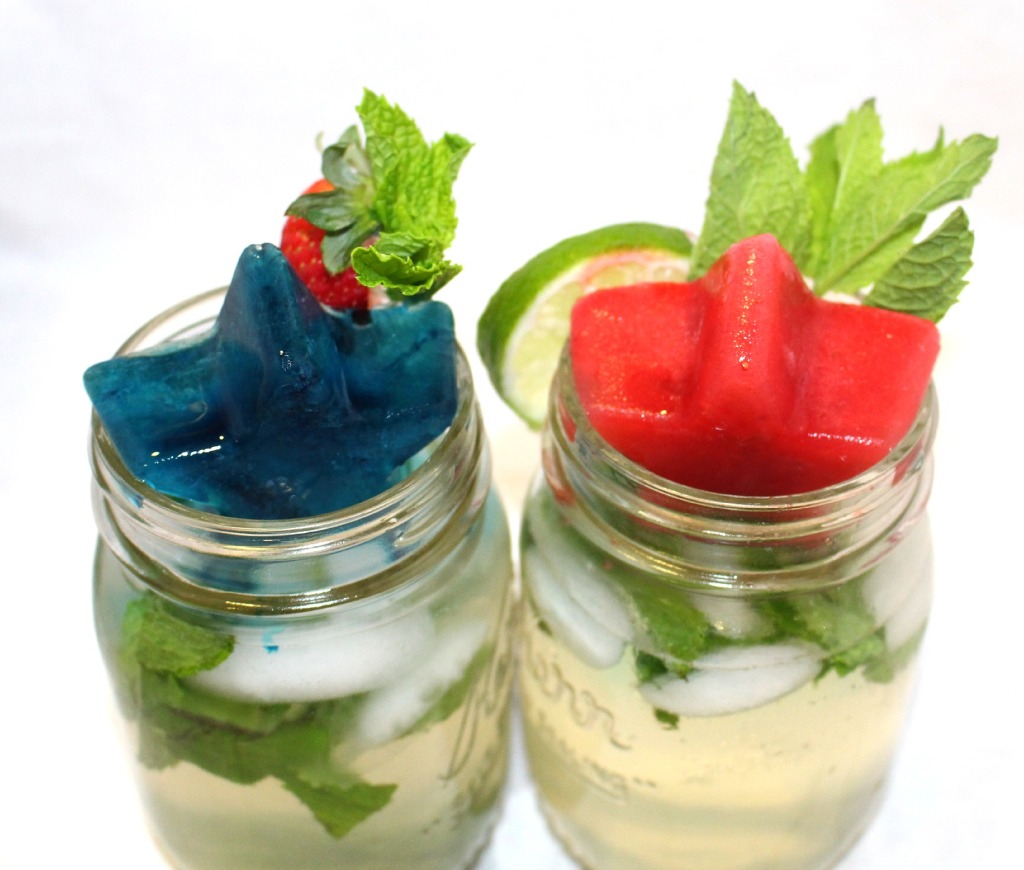 Make the ice cubes before hand so that when it's time to get your sip on you'll be ready. To make the ice cubes I used two Wilton Mini Star Silicone Mold
" target="_blank" rel="nofollow">Wilton 6 Cavity Mold Pan for Mini Stars. Since I wanted the ice cubes to be a bit more clear than cloudy I boiled the water and after it cooled a bit I added a couple of drops of blue food coloring and mixed it well so the color would infuse throughout. Now the red stars are more of a special treat. I decided to puree fresh strawberries in my Nutri Bullet NBR-12 12-Piece Hi-Speed Blender/Mixer System,RED
" target="_blank" rel="nofollow">Nutribullet (this thing really comes in handy). I added the pureed strawberries to the star molds and mixed in a bit of water and red food coloring to fill the mold.
To make the mojitos I decided to make my own simple syrup. To do this you need to make a 1:2 mix by boiling 1 cup of water and 2 cups of granulated sugar. If you like a more tart Mojito do a 1:1 ratio. Stir every once and a while to make sure the sugar is dissolving. After the sugar has dissolved turn off the heat and toss a couple of mint leaves in the pot so that the mint can infuse throughout. You'll notice the water start to take on a green tint once the mint leaves really start to infuse.
To make the mojito take a couple of mint leaves and place them at the bottom of a glass. Add freshly squeezed lime juice and either use a muddler or the back of a spoon to softly mix the leaves around. You don't want to crush this but more so softly press to release the essential oil from the mint leaves.
Once things have muddled about a bit you want to then add 3tbsp of simple syrup and 2 oz of Bacardi White Rum..Add regular ice on top and then top off with tonic water or club soda. Now in my head this was going to end absolutely perfectly with one blue and one red star added to each glass with a garnish of lime, strawberry and a mint sprig.. However, as stated earlier my "mini" stars weren't about that mini life and so they didn't fit inside the glasses at all! The outcome was still cute.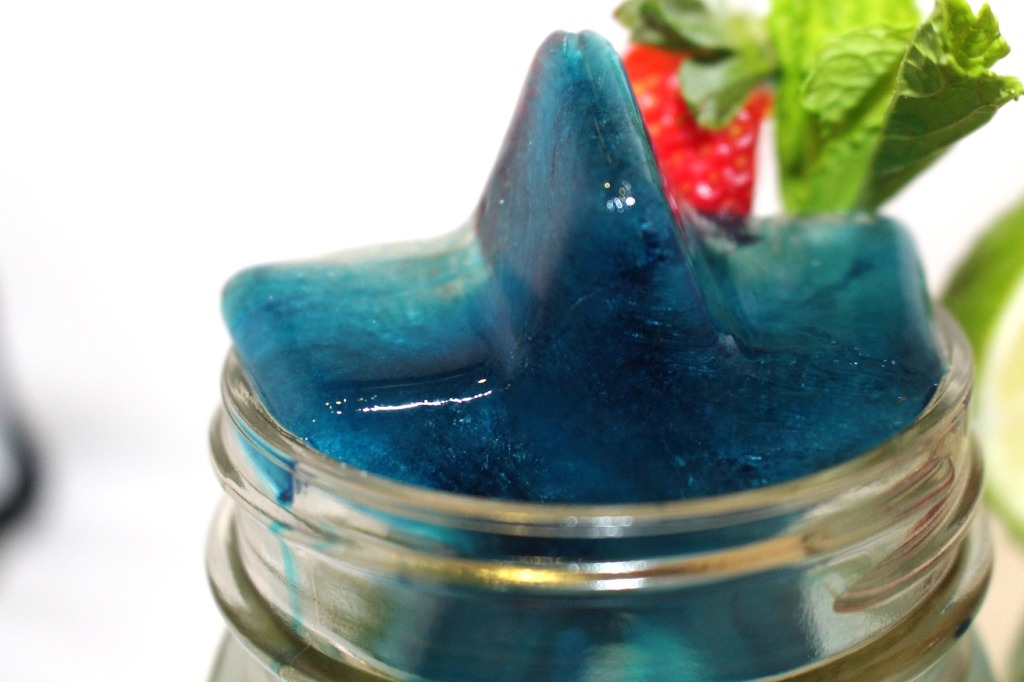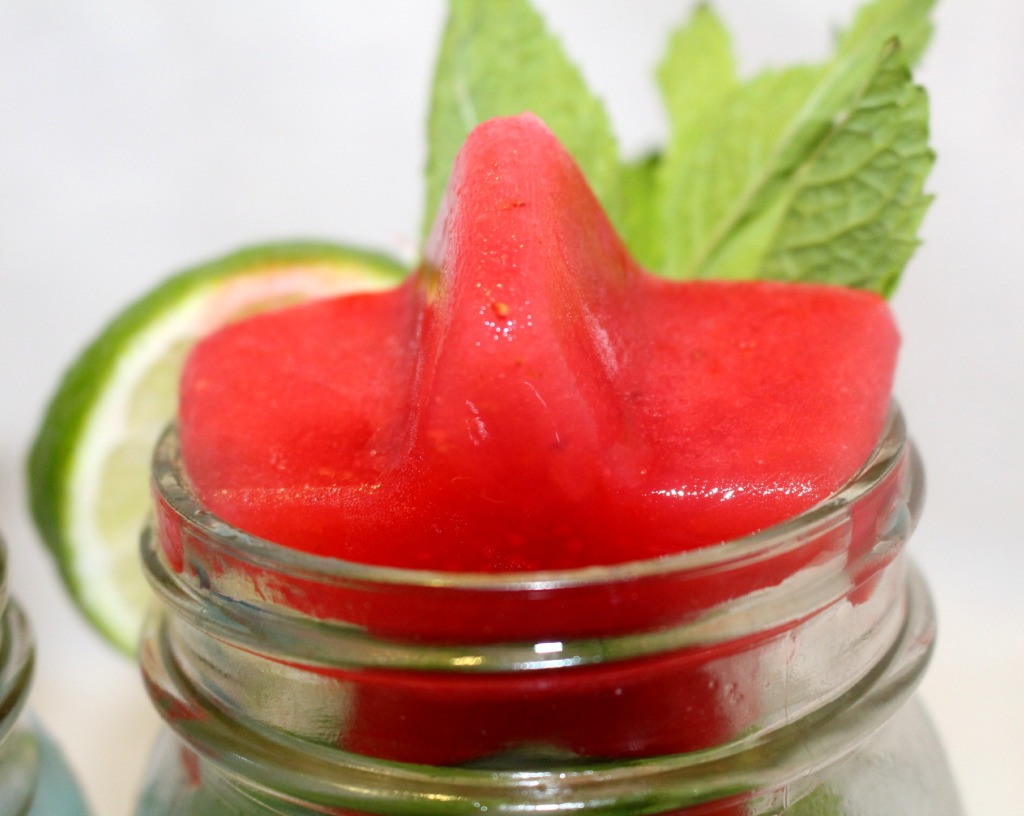 After taking a couple of shots the ice cubes melted enough to slide inside the glass! I'm assuming if you have these setting outside the ice will melt and easily fall inside or you can put them in a large pitcher! Either way 'm sure you'll have no problem creating a patriotic drink for all to enjoy!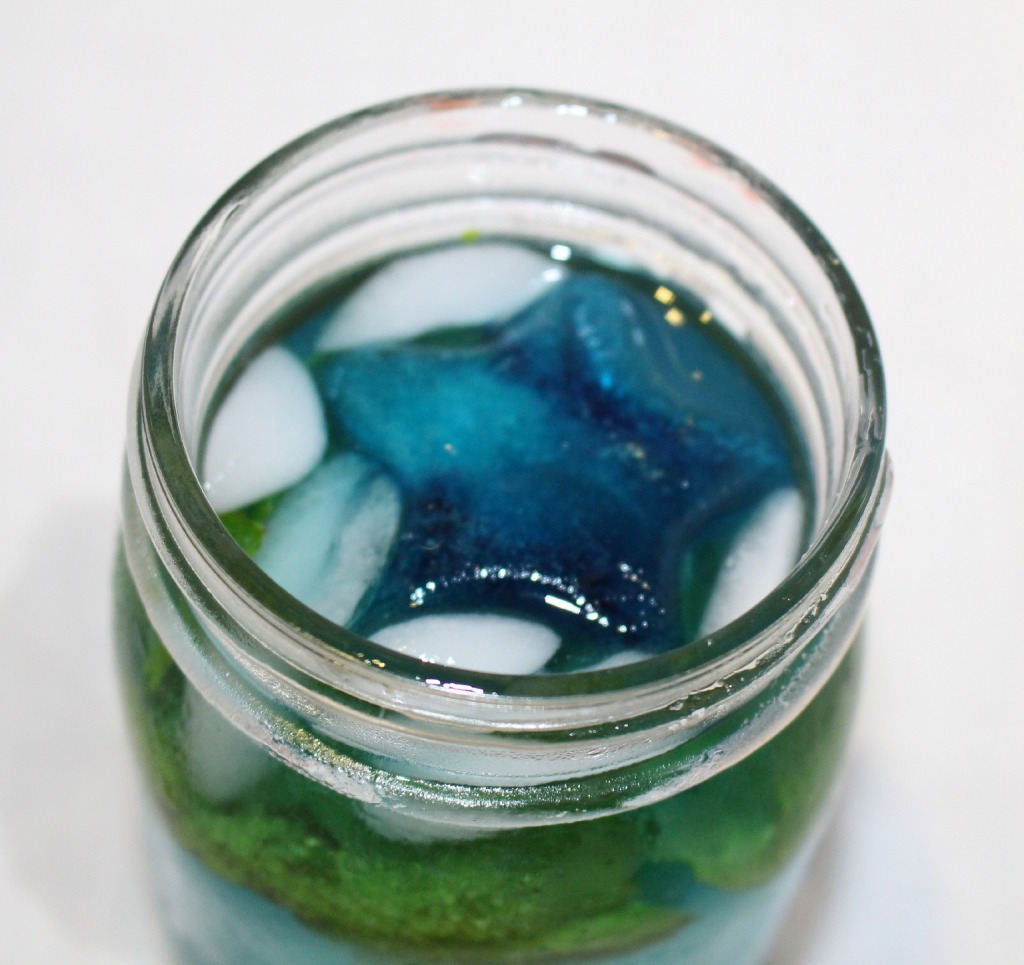 What You'll Need: (Makes 4-5 Mojitos)
2 cups Granulate Sugar
1 Cup Water
Mint Leaves
6 oz White Rum
Star Ice Molds
Strawberries
Red and Blue Food Coloring
Lime
Muddler
Check out other drinks in the Summer Drink Series Below