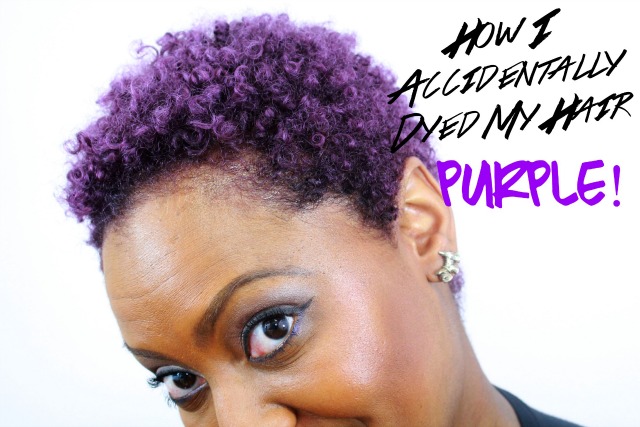 AWWWW I'm purple!!!! I bet you guys are like "this girl doesn't know what she wants to do with her hair". If you said that trust me you'd be telling the truth. I've worn over 20 different hair styles in the past year. I like to think that hair is an accessory and you should switch it up and just have fun.
I've always seen pictures of bold, confident,women of color rocking their natural l hair with these funky vibrant colors and I've always wanted to do it yet I've always chickened out. Youtube Star Coloured Beautiful and the multi-talented Cydara are my inspirations when it comes to a women of color rocking these types of hair color. They are able to pull it off so effortlessly that I've always wanted to join the fun.
So how did I accidentally dye my hair purple? Well, see #whathadhappenedwas, I decided that I just didn't want to continue to pay to have my hair lightened. Don't get me wrong I absolutely love my hair stylist but, since I'm on this whole debt diet thing I'm cutting corners wherever possible. I guess this is one corner I should have just let with straight edges. So after watching a plethora of YT videos I felt confident enough to tackle the situation on my own. I went and purchased all my supplies and after being insulted by a jerk in the train station finally decided to sit down and just touch up my roots. Everything went smoothly until up until the point where I had to tone my hair. My roots were this brassy orange color and so to tone them down I used the WellaCharm Toner in T18… this is where I made my mistake. Since my hair was previously blonde, and so short the retouching  also lightened my previous blonde ends. They weren't just light they were SUPER WHITE, also making them super porous. The toner I used was purple/blue in color. This is appropriate as it will neutralize the brassy orange color left behind from lightening my roots. Well….. while I was toning my hair my ends, which were super light, were just adsorbing all the purple and blue. I honestly didn't leave the toner on for more than 15 minutes. When I rinsed it out my roots were a perfect blond and my ends were this lavender grayish blue color.
I panicked, then I panicked some more. I could not go to work/school looking like this! I cursed myself because If I hadn't been cheap my hair wouldn't be looking a HOT ASS MESS!! So after scouring the interwebs I found that this was a common problem amongst DIYers and there were several remedies to fix it. The only problem was it would just take the purple out and still leave my hair super white. I then remembered that I had several boxes of hair color from a previous package that L'OREAL sent me as well as some hair color that I'd purchased during the winter. I tore my bathroom apart looking for one box of color in particular 3V Dark Plum Brown by AgeBeautiful. I'd used this color before when I attempted to go purple and it didn't work. I assumed since my hair was so light that it would finally take to it's true color. So I mixed up the AgeBeautiful hair color and applied to oddly colored tresses.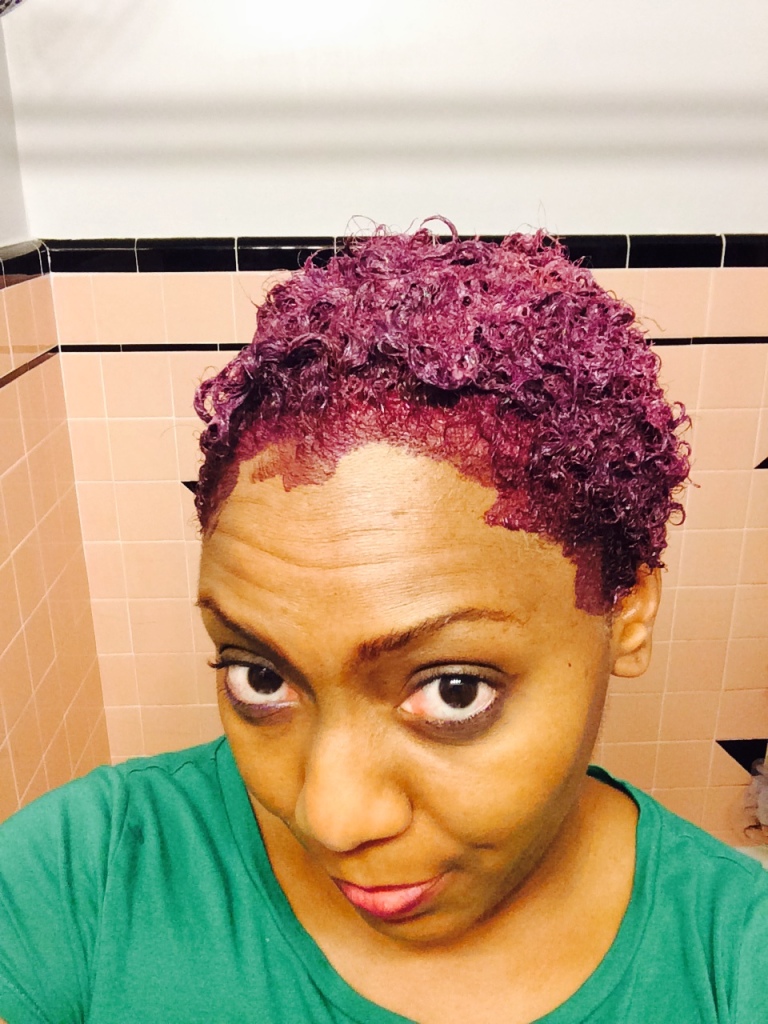 I let this color sit on for about 30 minutes then I washed it out using one of my shampoo bars from Chargin Valley. It took about three shampoos before I was able to get clean suds. I then followed up with an overnight Deep Condition using Darshana Natural Indian Oil and reshampooed the next morning using my Healthy Hair Care System products.  My final result is a head full of  beautiful soft healthy purple curls. Have you ever had a hair mishape turn out awesome? Share your story in the comments. I'd love to here it!