Remember when L'oreal released those skintastic Pure Clay Face Mask back in 2016? We'll they decided the Face Mask wasn't exactly enough and have decided to bless us with an additional Clay Mask and three new clay cleansers and the combination of cleanser and mask is going to seriously rock your world.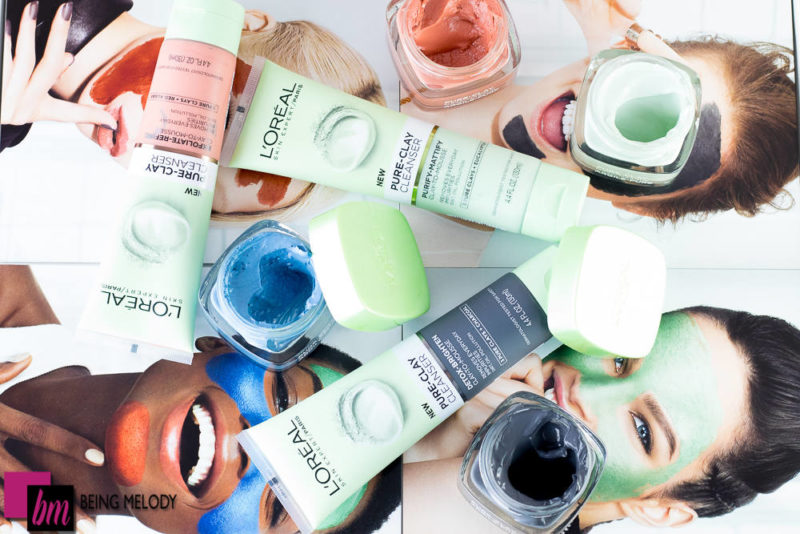 For those who haven't tried the Clay Mask yet ($12.99), let me catch you up real quick on everything you've been missing. The Pure-Clay Masks are made with three mineral clays, Kaolinite, Montmorillonite, and Ghassoul sourced from around the world and along with formulas that absorb dirt, impurities, and oils.
The newest of the Clay Mask is the Pure-Clay Clear and Comfort Formula (the fun blue mask),  is targeted for stressed, uncomfortable skin. In addition to the three clays, this particular formula also includes seaweed which is gentle yet effective enough to cleanse stressed areas of the skin, such as the forehead, nose or the chin area to visibly reduce imperfections for comfortable skin.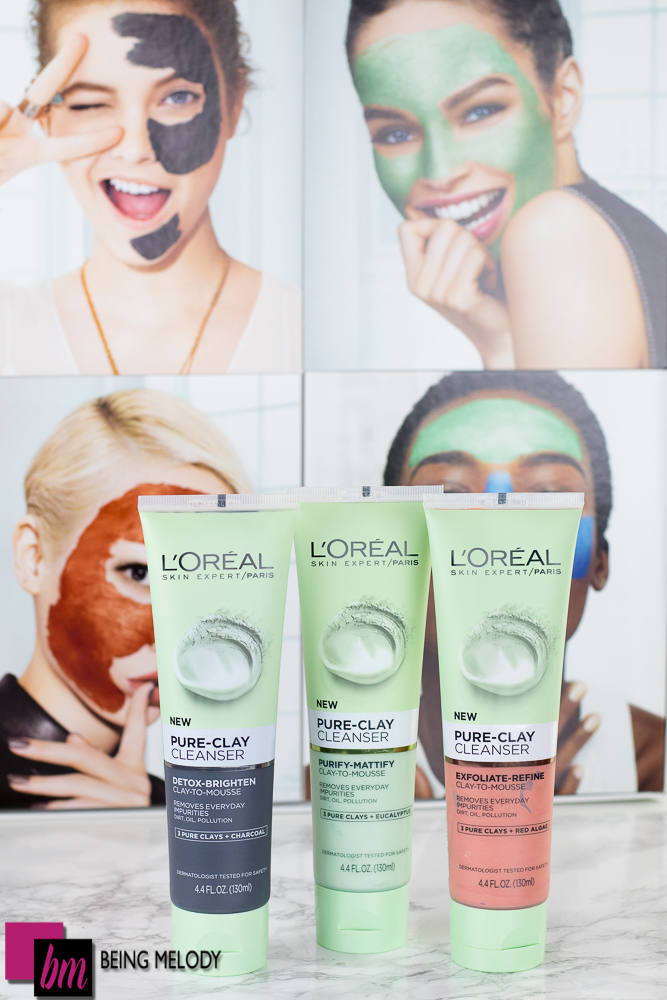 The Loreal Pure Clay Cleansers $6.99 are the brands first daily clay-to-mousse cleansers. The clay formulas are either sulfate free or soap free making them a viable option for those with sensitivities. The clay cleanser feels almost gritty in your hands but as soon as it's activated with water it turns into an airy-mousse. The Cleaners are made with some of the same nature-sourced ingredients, such as charcoal, red algae, and eucalyptus to provide different skin care benefits making them a perfect start to any skincare routine.
I've always been a fan of Black Charcoal, but after noticing my skin looking congested and flaky I switched up my routine and used the Red Algae Pure-Clay Cleanser followed by the Red Algae Clay mask. The results were phenomenal and my skin felt like it could breathe again.  Loreal recommends using the Clay Cleanser daily and the clay mask 3x's a week. However, I recommend using the mask at your discretion as with all mask there is a tendency for irritation.