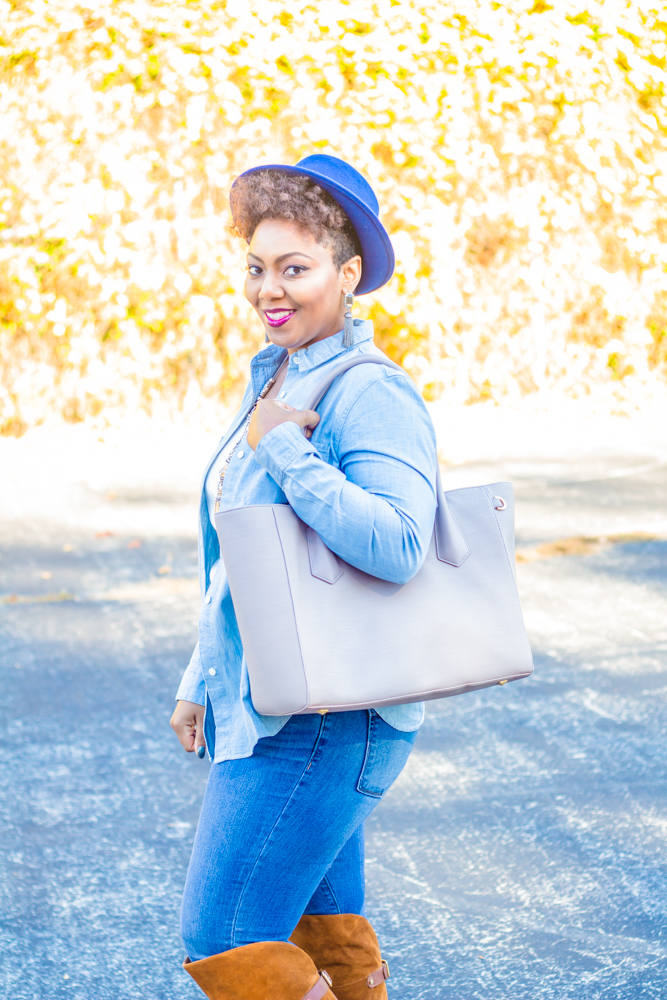 I used to abhor packing. Even if I packed early, I would still be rushing around at the last minute trying to add this or that "just in case" I needed it. Of course, all of this would be in vain because everything "extra" I added I ended up not even needing!  With my new role, travel has become an almost weekly part of my life, so I had to learn to get it together quickly as I no longer have time to be stressing about what's going and what's staying. To streamline things a bit, I've enlisted the help of some pretty awesome travel companions that help me keep things neat and organized. Now I feel like a packing pro, and I'm able to pack in 30 minutes or less.
Kara Ring Pouch
: Many of you know that I'm all about carrying a big handbag. However, when traveling no one wants to lug a carry-on, computer bag, and purse.  The Kara Ring Pouch is perfect! It's large enough to hold my essentials like my wallet and cell phone and is cute enough to dress up or down.
Tumi Calais Backpack:
Locally you'll find me with my Dagne Dover on my shoulder, but if it calls for me getting on a plane or a train then I'm taking my Tumi Calais Backpack. This Backpack holds EVERYTHING and doesn't compromise on style. I went back and forth on this because of the price, but I was so happy I finally went for it. It's even large enough to hold a 15-inch laptop!
Flight 001 Shoe bags:
It's completely pointless to pay good money for your shoes only to have them scuffed and banged up in your luggage. While these bags are great for heels, Flight 001 also has bags for athletic shoes as well.
Away Big Carry On:
I first stumbled upon the Away bags on Facebook. I knew I wanted a hard case suitcase and originally had my eye on a TUMI. That is until I saw that these carry on's come with a built-in charger! SCORE! No more hunting down a charger at the airport. Now I can sit anywhere and charge my electronic devices!
Kate Spade Travel Wallet: 
When traveling, I like to be organized, even down to my wallet. This is why I absolutely love the Kate Spade Travel Wallets over any other wallet out there. It's even large enough to hold the plus version of the iPhone!
Beauty On the Go TSA Approved Bag: 
Forget the Ziploc bags. This TSA approved Beauty Bag from Sephora holds all my liquids, aerosols, and gels with room to spare. What I love about this bag is that it's super secure so I don't have to worry about accidental leaks or messes. Plus for less than $5 you can keep some on backup just in case a friend needs to be saved from the clutches of TSA.
I purchased several of these items from
ShopBop
, which is one of my favorite online retailers. I super excited that they're starting a reward program next month. Starting Today September 26th, through September 29th 11:59 PM Shopbop is having a major sale where you can grab some of my travel essentials for yourself at a discounted price. Get 20% off orders under $500 and 25% off orders of $500 or more. Just use code EOTS17 at checkout!