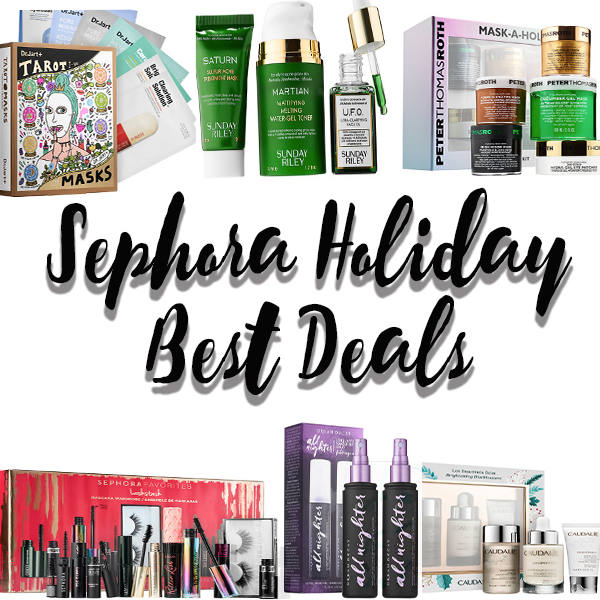 Its that time of year again! When our sometimes favorite store Sephora drops all of the delicious holiday sets from brands we love. If you play your cards right, you'll be able to stretch your coins and walk away with some amazing deals. I typically hold out for most of my beauty shopping until the end of the year and in doing so I'm able to use my Sephora Friends and Family discount or VIB discount and save even more money  Like most, you might even find yourself pushed over to the land of Sephora Rouge, but hey, don't say I didn't warn you.
This year I perused the aisles of Sephora in person and online to look for some of the best beauty deals. Skincare, of course, is a big winner this year per usual, but surprisingly there weren't too many makeup deals as seen with previous years. I usually expect something huge from Urban Decay but so far nothing. It's still early so maybe something will show in the coming weeks. Make Up For Ever used to have THE BOMB holiday sets, however this year it's pretty much lackluster. There were a few items that could receive honorable mention, but the items you really want to keep your eye on are listed below.
First Aid Beauty Tales of Fab Skin. /$52/ Add to Your Basket
There are so many gems in this first aid beauty set. Being that I have eczema I love that this set includes this Ultra Repair Cream which can be used on the body as well as the face.
Tatcha Skincare for Makeup Loves OBento Box
./$59/ 
Add to Your Basket
If you've been dying to try out Tatcha, this set is perfect. The set comes with a full-size Luminous Dewy Skin Mist and Gold Spun Camellia Lip Balm which retail for $48 and $30 respectively! You don't need to pull out your calculator to see that this is an amazing deal.
Dr. Jart+ Tarot of Mask /$36/ Add To Your Basket
If you love sheet masks as much as I do then this set from Dr. Jart+ should be in your cart.
Sephora Favorites LashStah
/ $48/
Add to Your Basket
With two full-sized mascara and a pair of HUDA lashes, you can already see why this is a great deal. Not only are you getting the new Urban Decay Trouble Maker Mascara, but you're also getting several high-end travel size mascaras that are perfect for throwing in your travel bag or simply trying out before committing to a full size.
Urban Decay All Nighter Makeup Setting Spray Duo
/ $42/
Add To Your Basket
I'm not sure why I waited so long to jump on the Urban Decay All Nighter bandwagon but I am truly a fan. With this set, you get two full-sized UD All Nighter Makeup Setting Sprays for the price of one and some change!
Caudalie Brightening Blockbusters/$79/ Add to Your Basket
I choose this set from Caudalie for the value. I also love products that brighten an even out my skin tone. This Brightening Blockbuster set features a full-size Vinoperfect Radiating Serum which retails alone for $79 along with two other skincare must-haves from the brand that compliments it perfectly.
Sunday Riley Space Race Fight Acne, Oil, and Pores + Warp Speed Kit/ $65/ Add To Your Basket
Most people shy away from Sunday Riley for the price. Trust me, I get it. However, if you have acne, oily skin, or large pores you're definitely going to want to scoop up this set. I've found Sunday Riley products to work wonders on my skin and since I have all three of the skincare concerns listed above you can betcha by golly this set was added to my cart.
Peter Thomas Roth Mask-A-Holic Kit
/$75/
Add To Your Basket
If you have not tried a Peter Thomas Roth Mask you are doing yourself a disservice. This brands holiday mask sets almost always sell out. This year they've even included the coveted 24K Gold Pure Luxury Lift & Firm Hydra Gel Eye Patches! Another great thing about this set is that you can split it up and give the mask out to friends and family individually. It's truly a great deal all around.
Dr. Jart Magical Skin Potions / $52/ Add to Your Basket
This was another great set from Dr. Jart+. The full-size Dermaclear Micro Water and Cicipair Tiger Grass Color Correcting Treatment SPF 30 make this a great deal!
Sephora Soko to Toko/ $40/ Add To Your Basket
Have you been wanting to try SK-II? This is going to be the best way to do it. For $40 you can try some of the best brands in K beauty. Even if you don't want to try any of the other brands the 1 oz SK-II is worth it alone.
Make Up For Ever Lustrous Brush Set
/$79/
Add To Your Basket
Don't Forget Make Up For Ever Artistic Brush Set /$69 SALE PRICE/
Add to Your Basket
Okay, so I mentioned earlier that Make Up For Ever had some lackluster deals and they do when you compare it to what we saw years before. However, if you want a great set of travel brushes you can get nine brushes for the price of 3-4 in when you purchase both travel sets.
You can easily shop all the holiday gift sets linked above by clicking on one of the pictures shown below. Typically what I purchase during in these holiday kits will last me at least 6 months, some even up to a year. Since I don't have a that much discretionary money when it comes to beauty anymore I try to be smart.