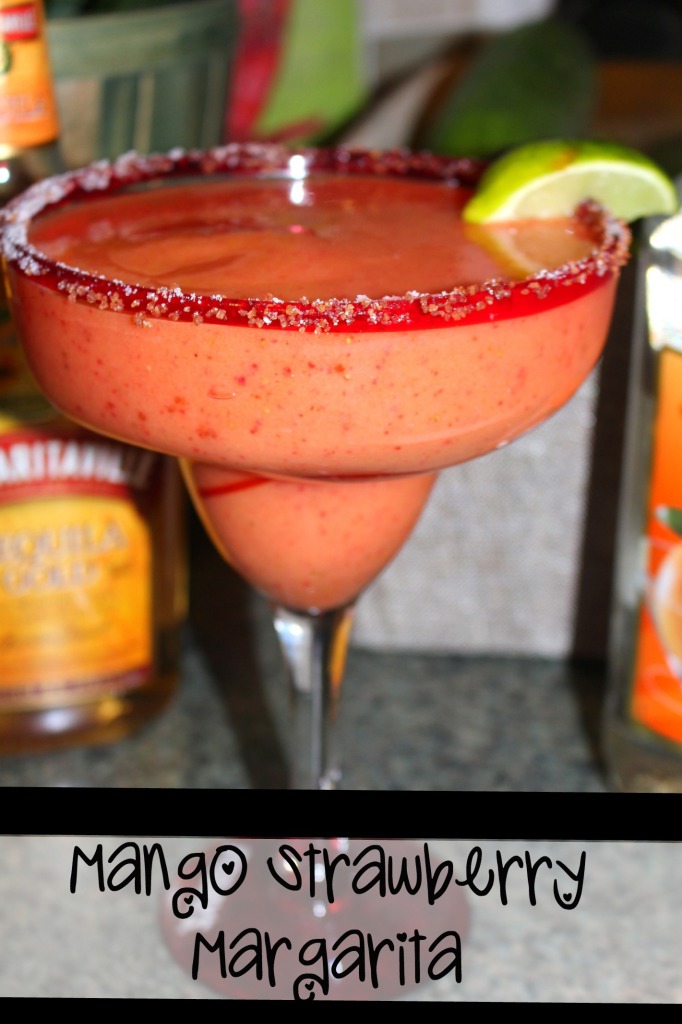 Hey Sippers!! Welcome to this weeks edition of the Summer Drink Series!  Last weekend was a whirlwind for me. It was Mr. Cosmetically Challenged's Birthday and I was trying to balance spending time with him while also trying to keep my parasites in the lab happy so, of course to wind down it called for a drink. My initial thought was wine pops but after going to about five different stores I could not find a popsicle mold to save my life! So since the universe was against me I decided to just go with what we already had on hand.
In the refrigerator were strawberries that were going to go bad if no one ate them within the next couple of days and on the counter was a mango that smelled absolutely delicious. Now, I'll be honest. Mangos intimidate me, partially because I always have trouble slicing them. That darn hard center just makes me feel like I'm wasting more than I'm eating, but this particular mango was smelling so good and was getting a bit too ripe so when you have overly ripe fruit you make Mango Strawberry MARGARITA'S!!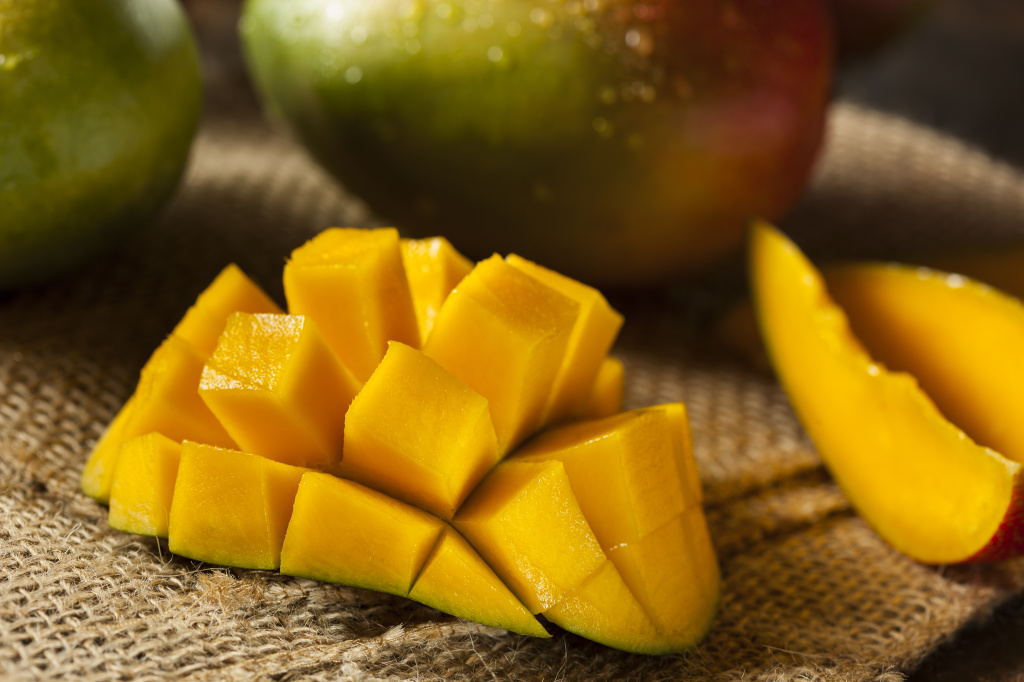 So as I mentioned I had a hard weekend so I threw everything together in a blender (cough) Nutribullet (cough) and whipped up this magical concoction you see below.  I used Strawberry Sugar and granulated sugar around the rim. The Strawberry Sugar I purchased from The Spice and Tea Exchange on trip home to Greenville South Carolina. You guys really have to check out there website, they have this amazing thing called Bacon Salt and it's… oh wait.. off topic.. sorry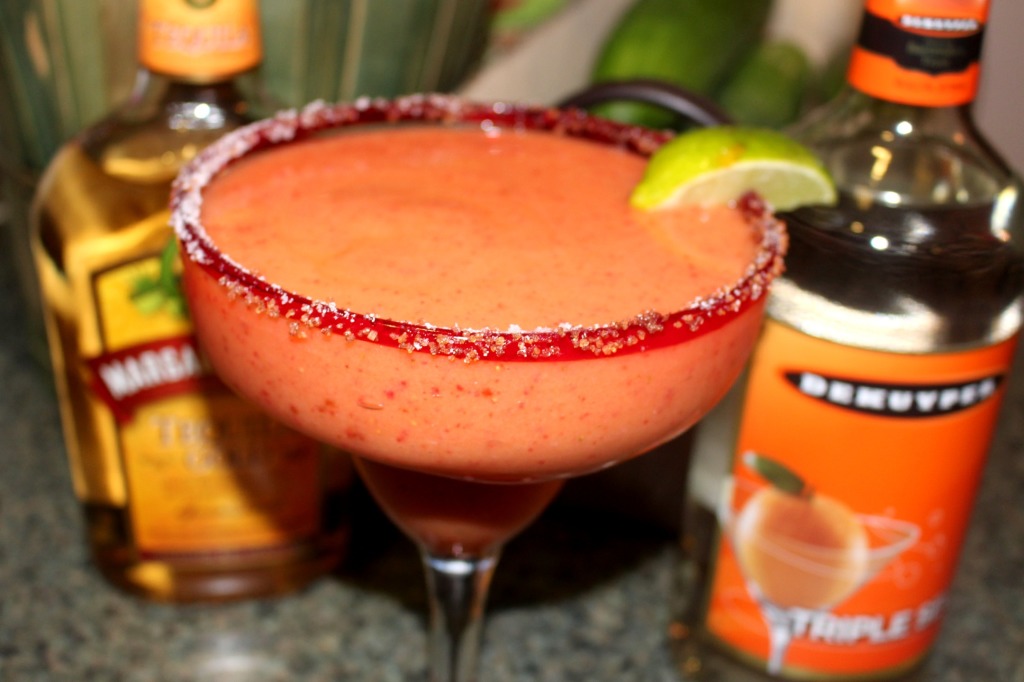 So, when I made this drink I literally had every intention on drinking it by myself, but when the hubs saw this he had the audacity to ask me if his was in the kitchen. I poured the drink into this obscene glass that I some how have from Fridays for a reason! Well, since it was his Birthday weekend I decided to be nice and just split the drink in two. It fit perfectly into two Martini er Margarita glasses. Yes, I know those aren't margarita glasses but let's pretend shall we? So after the hubs and I finished our drinks we were pretty bummed.. Oh No! Not because the drink was everything our hearts desired but because I didn't have any more mangos or strawberries to make more.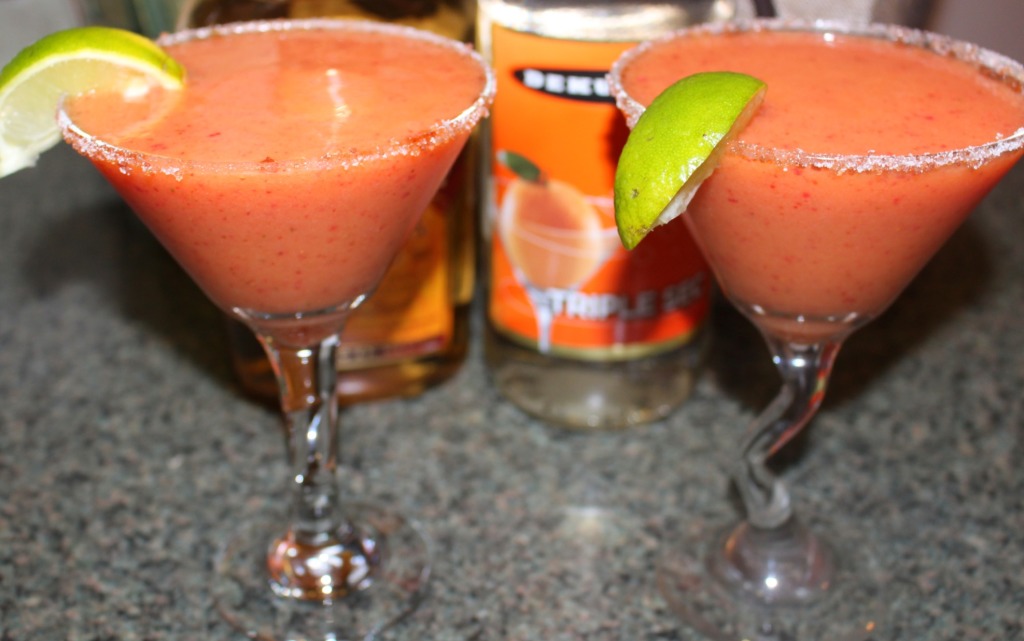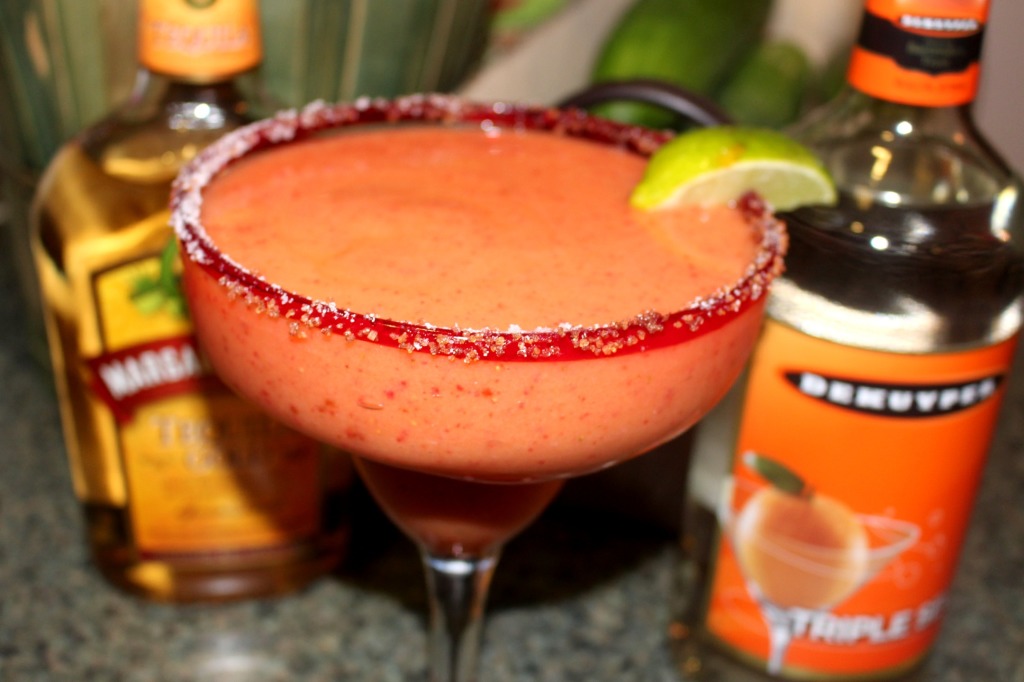 Frozen Mango Strawberry Margarita
2014-07-16 20:23:28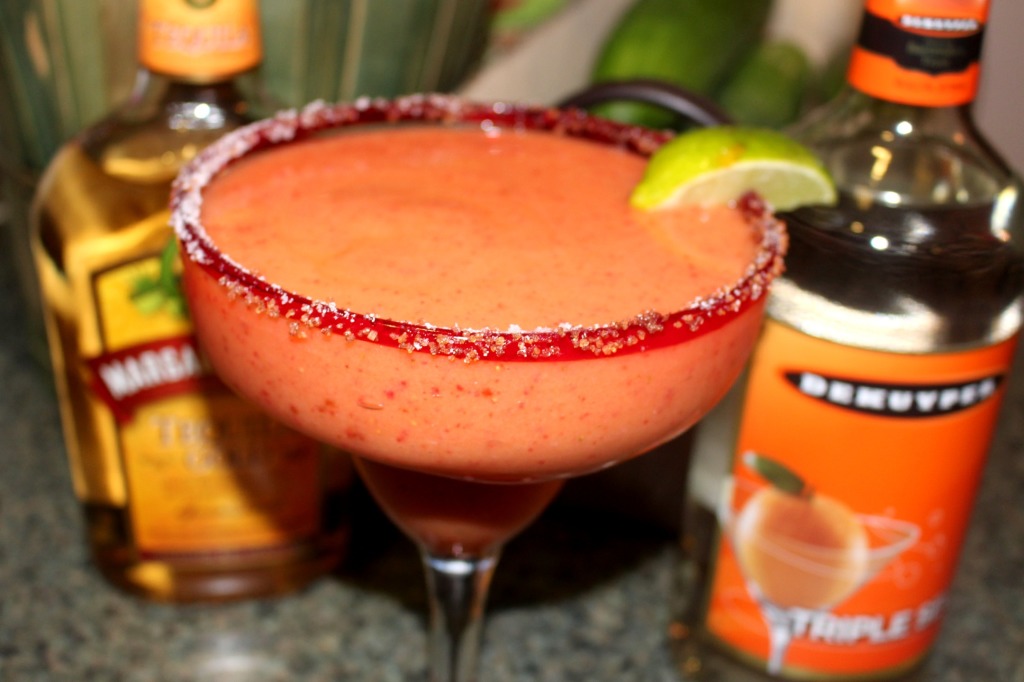 Serves 1
Ingredients
Mango
Strawberries
4 oz Margaritaville Tequila
2 ozTriple Sec
Granulated Sugar
Strawberry Sugar
Limes/Lime Juice
Instructions
Prep by washing and slicing your strawberries along with your mango. To the blender (or nutribullet) add a handful of ice, your sliced strawberries and mango and a tbsp of granulated sugar. Add 4oz of Margaritaville Tequila or whichever you may have on hand and 2 oz of Triple Sec. Blend until you have a smooth consistency.
To prep your glasses for the sugar rim slice a lime and rub it across the edges of your glass. If you don't have a lime on hand you can just take a bit of lime juice on your (clean) finger and trace it around the rim. On a small saucer mix both the Strawberry Sugar and Granulated Sugar. Take the glass and softly place it into the sugar, rolling the rim around carefully to coat. Lastly pour in your blended goodness of margarita, sip, and enjoy!
www.beingmelody.com http://www.beingmelody.com/
If you thought that was good check out more drinks from the Summer Drink Series below!