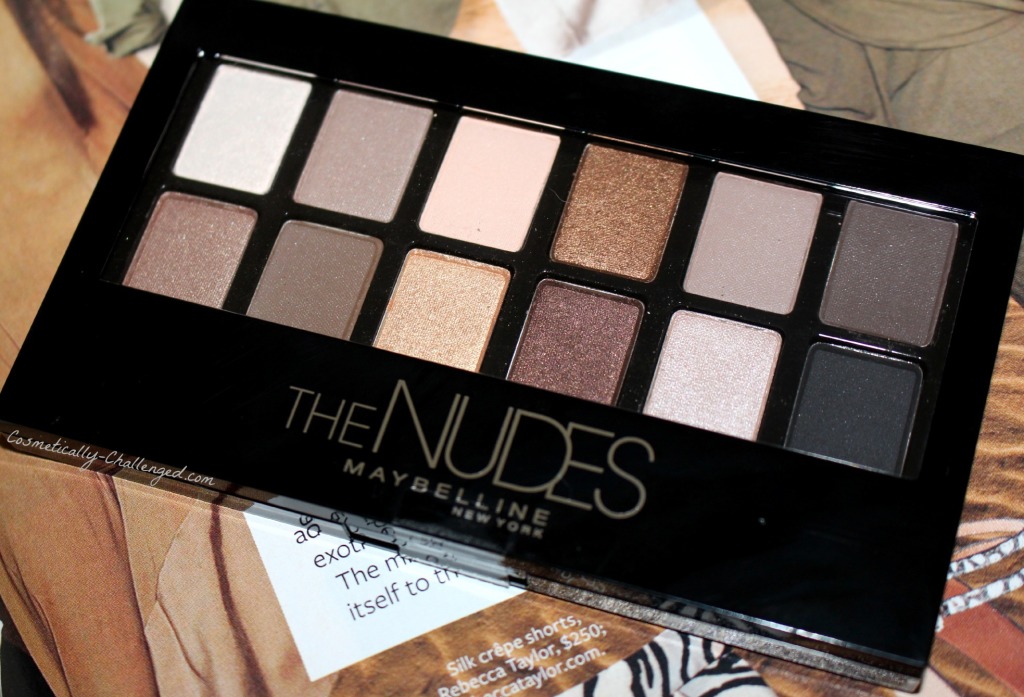 Ohhh Wee!!! My nudes have been leaked!! I heard rumors that Maybelline was launching a large size palette but when it comes to brands like this you can never be too sure . I spotted this palette while shopping the beauty aisles at my local Bed Bath and Beyond.  Maybelline The Nudes Palette comes in a sleek black case with a window that showcases a mixture of 12 matte and shimmer eyeshadows. The palette retails for $9.99, I feel this is a great deal seeing as two quads can run almost over that much. On the back of the palette there are also diagrams that show how you can create 13 looks using quards, trios, or just duos of eyeshadows.
After swatching all the colors I can honestly say that I was a bit surprised. I honestly was expecting some to be chalky but they go on velvety smooth and most have great pigmentation. The only color I had a problem with was number 12 (which you'll see below). For that color the pigmentation could have been a lot better but I still made it work with an eyeshadow look that I did. When used with an eyeshadow primer or a Milani Cosmetics Shadow Eyez Pencil the shadows went on effortlessly and I was able to create this look using all the colors from Quadrant #3.

Like most drug store shadows this palette unfortunately doesn't have names to go with the colors so I've blocked them off into quadrants to make swatching a bit easier.
Is this product a dupe for the Urban Decay Naked Palette?
Honestly, I will say no. While, there are some colors that are slightly similar they aren't close enough to really be called a dupe. To show how some of the colors from the Maybelline The Nudes Palette compare to the Urban Decay Naked 1 Palette I've swatched them below.
Overall this is a great palette! It's perfect for novice makeup users and everyone in between and above. At a price point of $9.99 you really can't beat it. Maybelline did an awesome job and I can't wait to see if they come out with something like a "Brights" palette. That would be totally awesome. Since I love this palette so much I'm actually giving one winner the chance to have one of their own. YEP! I'm giving away a Maybelline The Nudes Palette. Entry is simple via the rafflecopter below and ends June 17th. Make sure you take a look at all the rules and such and give the lil ol raffle copter time to load!