This shop has been compensated by Collective Bias, Inc. and its advertiser. All opinions are mine alone. #SpringIntoFlavor #CollectiveBias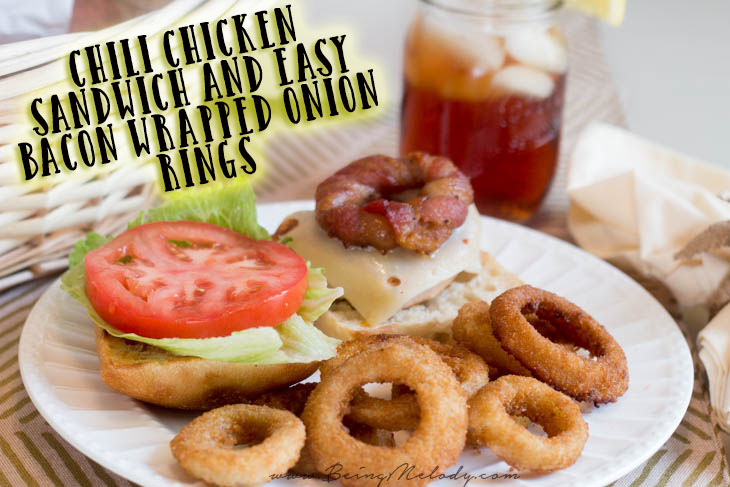 My Husband and I love restaurant quality food, but what we don't like is the restaurant quality bill that comes along with it. Since we're living the "Broke on Purpose" life I've been trying to find great tasting foods made with all natural ingredients that are versatile in that you don't have to eat them just one way.  This is why the Alexia brand products are a staple in our house.  With Alexia, you get tons of variety. I love sweet potato fries and the fact that Alexia makes a Spicy version for us adventurous folk or seasons them with Sea Salt. This weekend since neither of us had to work I decided to #SpringintoFlavor and cook up a Grilled Chili Chicken Sandwich that I paired with my lazy girl Bacon Wrapped Onion rings.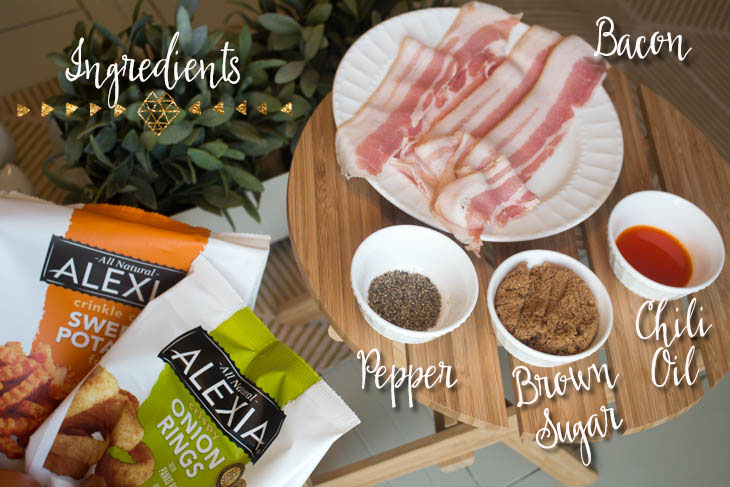 There are tons of recipes out there for Bacon Wrapped Onion Rings, but none that are great for if you're short on time, or don't want to deal with cutting up the onion yourself. Plus wrapping bacon around a flimsy onion is super hard! When I saw the Alexia Crispy Onion Rings I knew that this would be the perfect opportunity to make my "Lazy Girl Bacon Wrapped Onion Rings". The hard part is already done as  Alexia Crispy Onion rings already come breaded. Next, all you need is 1 tbsp Black Pepper,  1/4 cup Brown Sugar, and 2 tbsp of Chili Oil!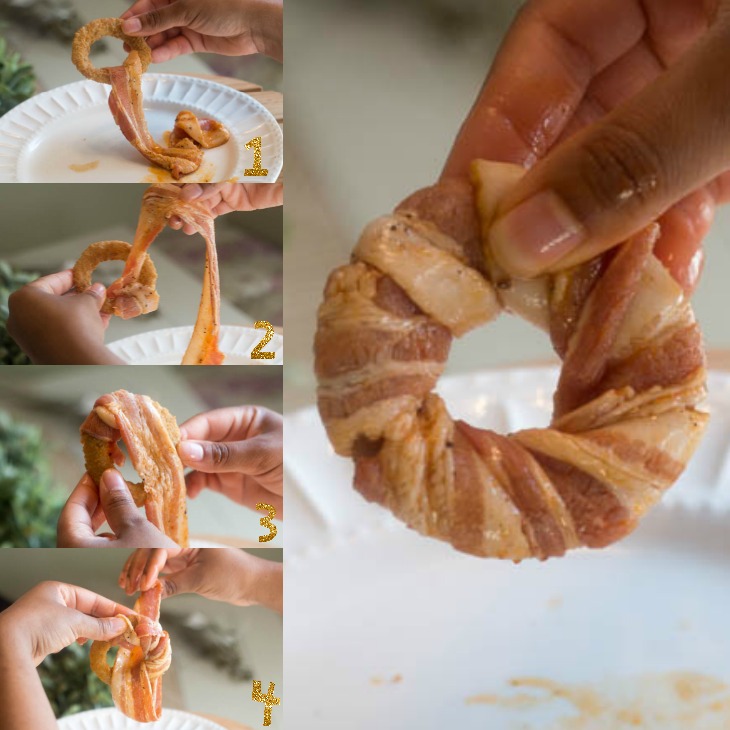 To make my Lazy Girl Bacon Wrapped Onion Rings mix the ingredients shown above in a bowl. Add a small amount of water to the mixture as you want to be able to really coat the bacon. Dip your bacon into the mixture and make sure it's coated on both sides.
Step 1: Once your bacon is ready take a medium sized Alexia Crispy Onion Ring and place the beginning of a strip of bacon on the inside of the onion ring.
Step 2: Pull the other end of the bacon through the Onion ring hole and lay it across the piece of bacon you already placed on the onion ring.
Step 3: Flip the Onion ring over so that the wrapped part is now on top and thread the other end through the hole again wrapping the bacon at a diagonal.
Step 4: Repeat Steps 2-3 as shown in the picture.  You will need between 1-2 strips of bacon per onion ring depending on the size. Your bacon wrapped onion rings should look like the picture below once you're done!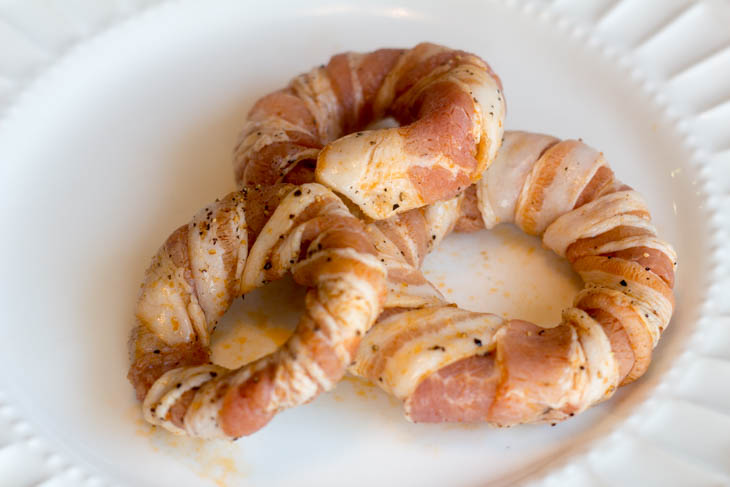 Since I was going to be serving my Grilled Chili Chicken Sandwich with a side of the Alexia Crispy Onion Rings I baked them along with the onions rings that I'd wrapped with bacon. Bake them in the oven at 400 for 15-20 minutes. To really make sure my bacon was crispy I let mine cook for about 25 minutes.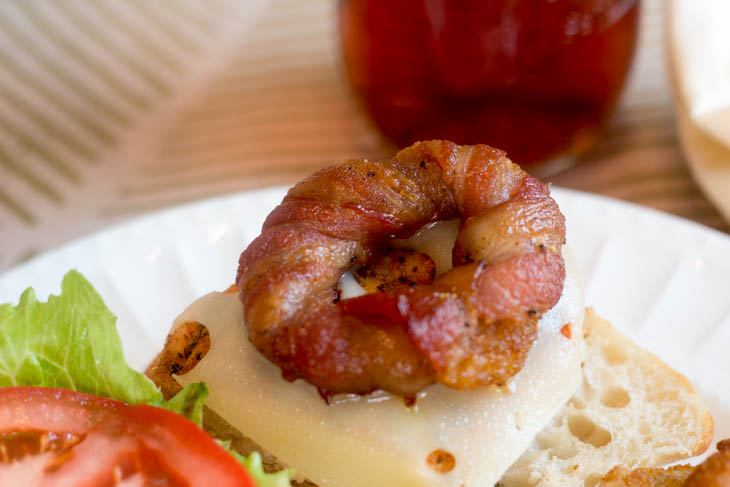 I topped the Grilled Chicken with swiss cheese and served it on toasted Ciabatta bread. Once you're bacon wrapped onions rings are done place one atop the grilled chicken breast. You can choose to serve the sandwich this way or you can spice it up by adding Chili Mayo (chili oil and mayonnaise mix) to the inside of the Bacon Wrapped Onion Ring to give the sandwich more kick!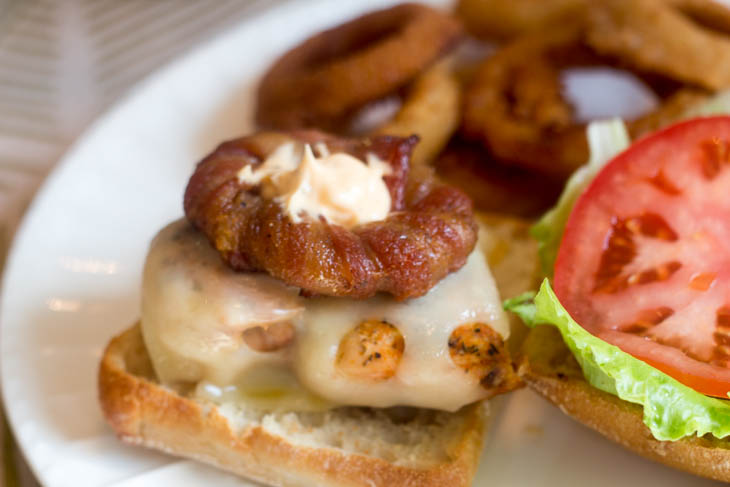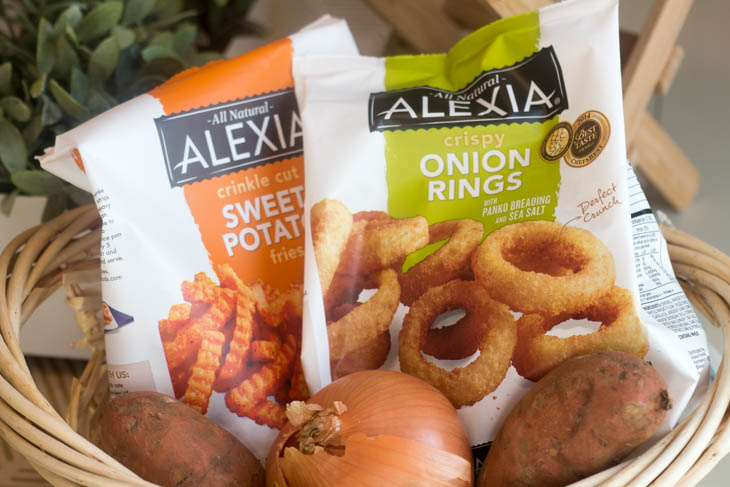 The Alexia Onion rings paired so well with the meal they were so crispy and flavorful! The Spicy sweet potato fries would have paired great also since this whole meal had a spicy kick to it. You can pick up the Alexia products I mentioned from your local Walmart in the freezer aisle. If you're looking for other great recipes or meal inspirations  be sure to check out the Alexia Facebook Page and their Pinterest!
 Now that I've shared my upscale, spring-inspired recipe with you. I'd love to hear about yours! Leave a comment sharing your favorite spring recipe ideas Are you going to head to Walmart and pick up the Alexia Crispy onion rings to try and make the lazy girl Bacon Wrapped Onion Rings? Let me know!