This post is sponsored by Keller's Creamery Butter.
Typically when one thinks of Thanksgiving and the spread of food on the table greens, beans, potatoes, tomatoes, chicken, turkey….you name it!
Family get togethers are great, especially around the holidays. It's our family tradition to go around the room and say what we're thankful for before we sit down to eat dinner. Typically this is when things get sentimental and we reflect on how we've overcome the obstacles that life has thrown us throughout the year. However, once that is over if you brought a dish, you better put on your thick skin because being born into a southern family, means we are critiques on everyone's cooking. As people walk around the kitchen fixing plates it's not unusual to hear someone yell "who made the (insert food item)?".
We love food, but more then that we love good food. So, we like to keep mental notes on who's cooking wasn't up to par with families standards. It teaches us young folk that if we're going to bring something to the table we better come correct or don't come at all. No struggle meals allowed! If it doesn't look appetizing then you'll be taking it back home to eat by yourself. It can be brutal. I can still hear my Aunt Linda telling my Aunt Francina that her macaroni and cheese was dry. This may not seem like a bad thing, but because of this we've forever branded her macaroni as dry- She'llhe's never live it down. I'll never forget the time I had Thanksgiving at my house and how my cousin judged me for putting potatoes in the pot of water before it came to a boil. Apparently this was the eighth deadly sin and my food was going to be doomed. The only person who's off cooking is off limits is Grandmas. It's a well-known fact that all Grandma's, especially southern Grandma's, know how to cook an all-star Thanksgiving meal.
Though I'm constantly asked if I can cook (as you can see I can), and while my techniques may seem unorthodox, none of my dishes have ever been blacklisted. That being said, this year at Thanksgiving I plan to push things to the limit with a recipe from Philadelphia native Pattie Labelle, which I hope will have people kicking off their shoes and singing high notes of praise for how good it is.
Crab and Shrimp Macaroni and Cheese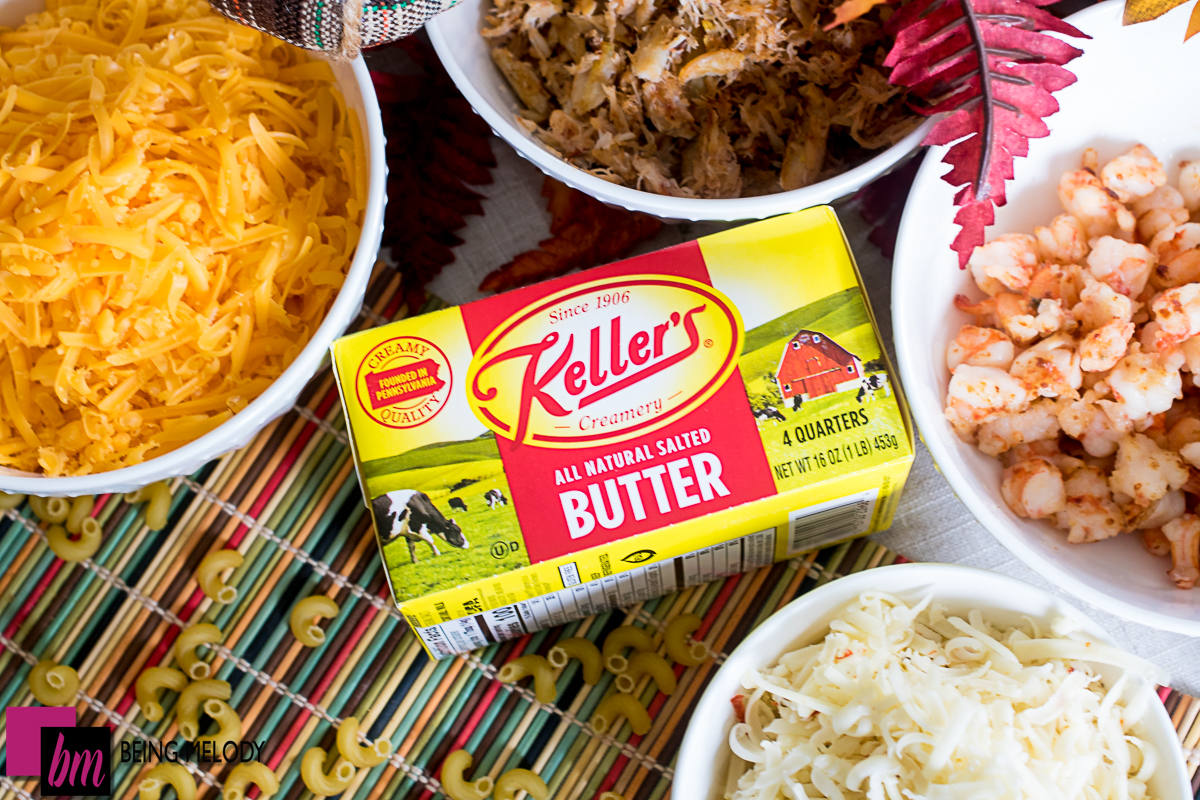 Pattie's recipe calls for Lobster and Shrimp, but since my husband isn't a huge fan of lobster (I know, blasphemous right?) I decided to substitute in shrimp instead.
Typically when I make my Macaroni and Cheese I like to make a roux for the cheese sauce and include pepper jack cheese for a kick. I also like to make my own breadcrumbs so that I can season them the way I like so heads up, you're going to need a good amount of butter for this recipe!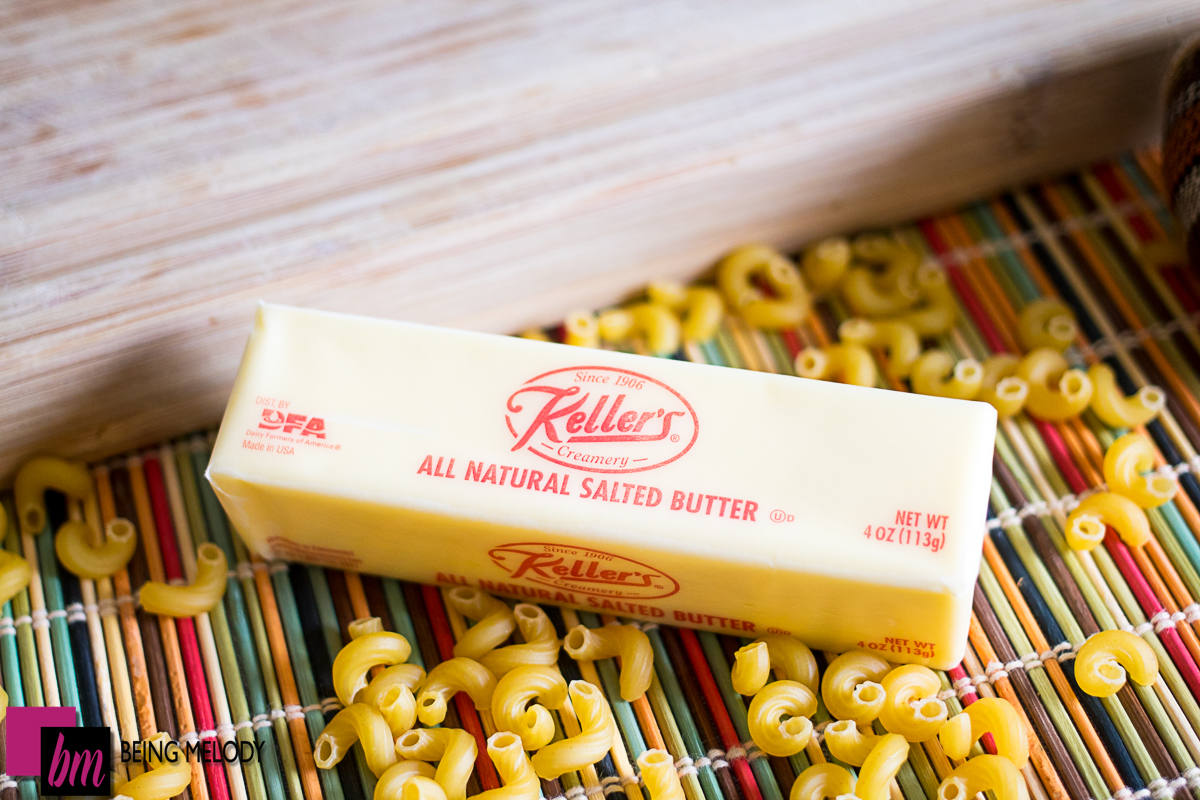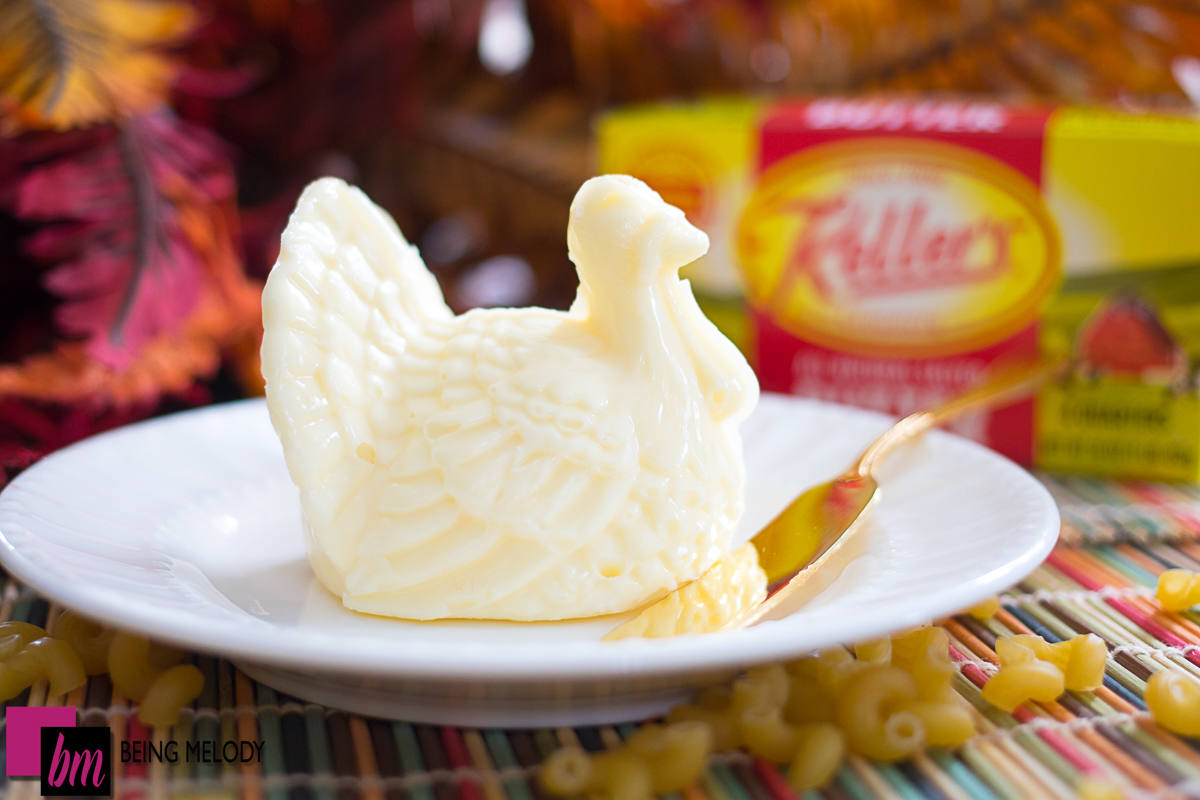 Even though my husband and I transplanted ourselves from the South into Philadelphia, we somehow fell in line with choices in butter such as Keller's Creamery, one of our favorites. It has been a Philadelphia family tradition since 1906.
Did you know that Philadelphia is also the third largest butter market in the country? We Philadelphians purchased over 2.5 million pounds of butter last Thanksgiving! That's enough to run Rocky's path up the Philadelphia Museum of Art steps 28,693 times, which isn't a bad idea considering how bomb and buttery this recipe is.
Another thing I love about Keller's Creamery Butter is their awesome butter sculptures, which fit perfectly at the dinner table (check out their Easter Bunny Sculptures here). For Thanksgiving, be on the lookout for butter Turkey Sculptures, and be sure to grab more than one because they're being gobbled up fast (no pun intended) at the grocery stores. I was able to find my Keller's Creamery Turkey Butter Sculptures at the Giant.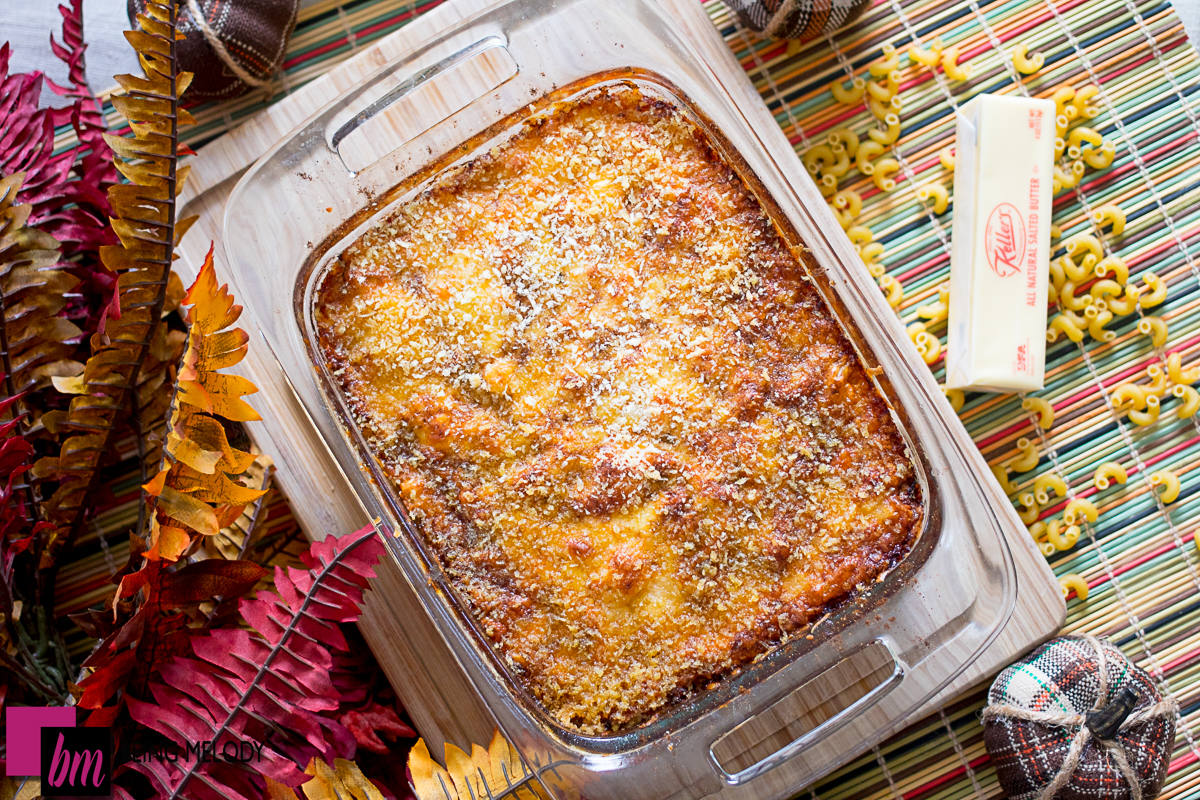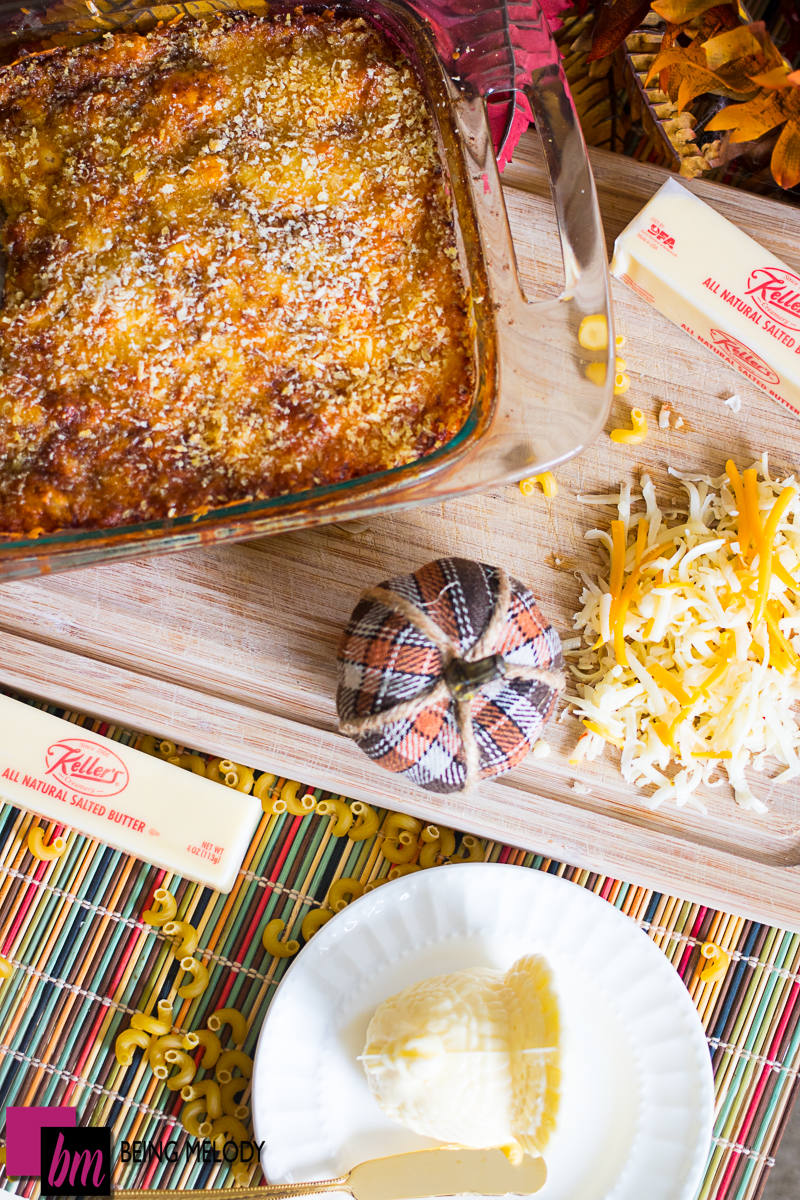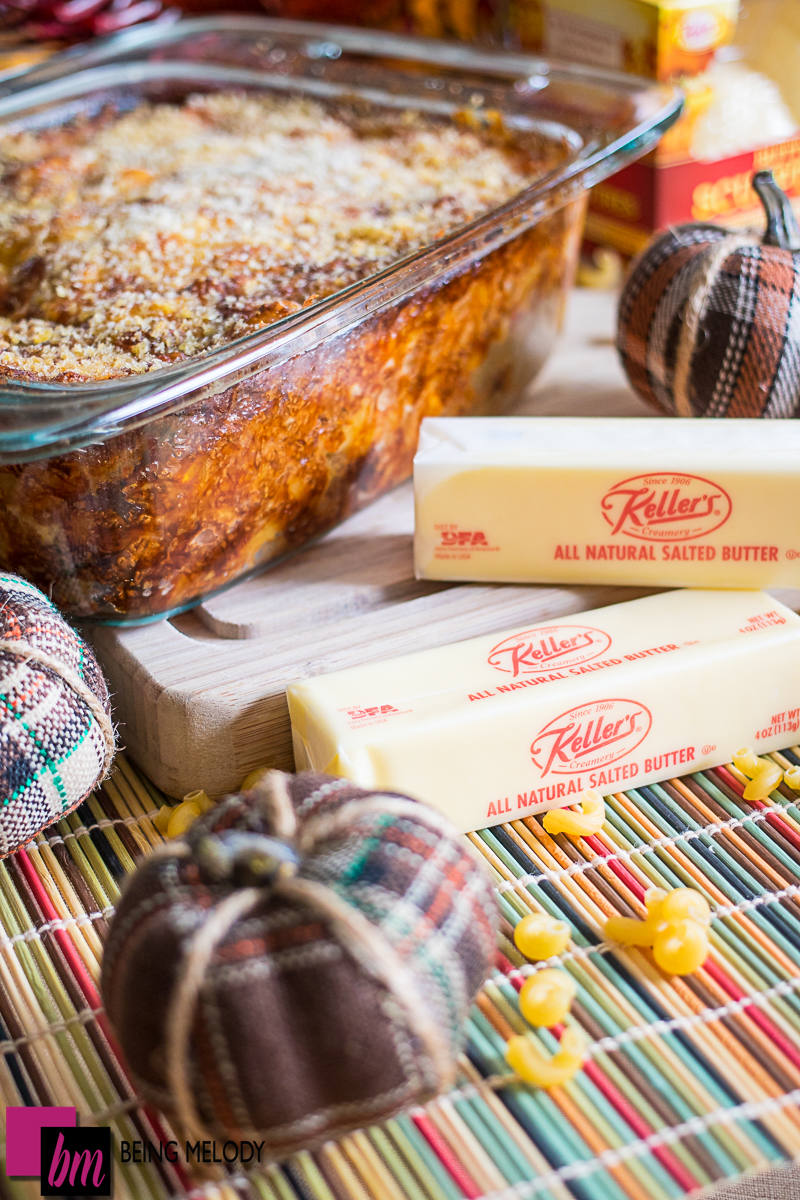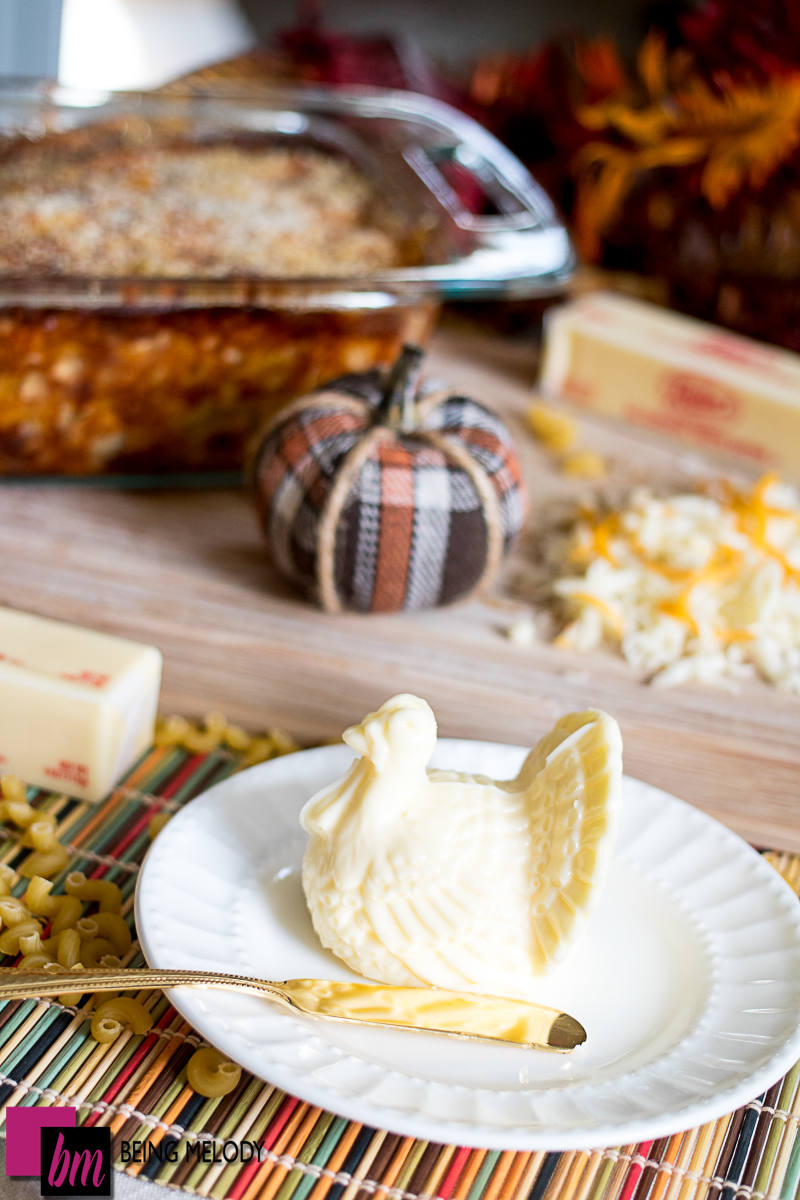 Okay, so let's talk about this amazing Macaroni and Cheese. For those who have seafood allergies, I'll be sure to have one of my originals on deck as well. The crab and shrimp pair so well together, dare I say even better than lobster? As this is a recipe that Pattie Labelle shared with her family for years I hope to be able to pass my version down to mine. This is also why I love to use brands in my recipe that come from the heart. The Keller's Creamery local butter brand and has become a longstanding Philadelphia family tradition. With a wholesome, creamy fresh flavor that has been passed down for generations, Keller's Creamery has been making good things better for more than 100 years.
Check out the recipe below and I hope you enjoy!
P.S. Be on the lookout for the Keller's Christmas Butter Sculptures coming soon to your local area stores.


Crab and Shrimp Macaroni and Cheese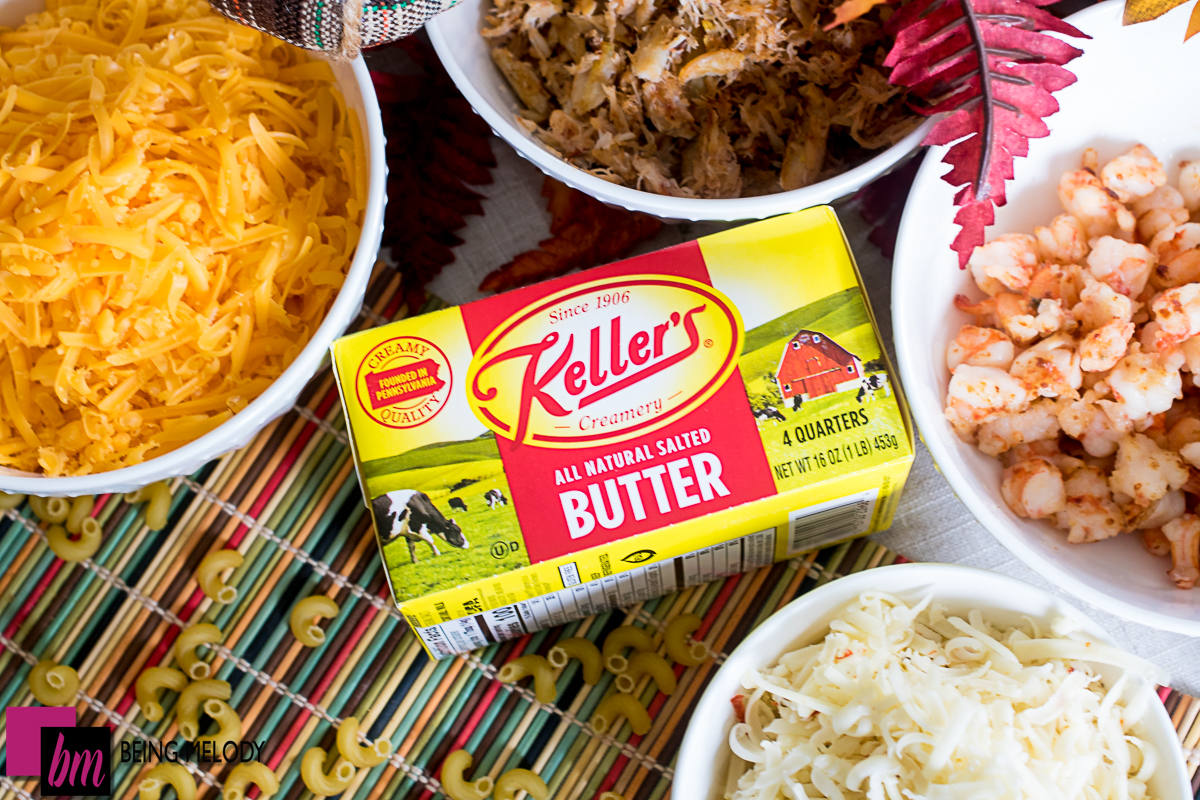 Author:
Melody Robinson Wright
Ingredients
Macaroni Noodles
8 tbsp Keller's Creamery Butter
3 Cloves of Garlic Chopped
Shrimp chopped
Crab Claw Meat
1 Egg
Flour
Milk
Salt
Pepper
Phillips Seafood Seasoning
Paprika
Instructions
Preheat oven to 375 degrees
Boil Macaroni Noodles and drain.
Mix in 2tbsp of butter and 1 egg.
Melt 1tbsp of butter in a large pan.
Season crab meat and shrimp with Phillips Seafood Seasoning
Cook and set to the side.
For the cheese sauce, you will make a roux. Keep in mind this recipe is for a medium sized macaroni and cheese.
Melt 2 tbsp of butter in a pot.
Add garlic and cook until fragrant
Add 3 tbsp of flour and mix.
Slowly pour in milk and mix until it starts to thicken.
Add cheeses and mix.
Season with salt, pepper, and Phillips seasoning to taste.
To the cheese sauce mix in the crab and shrimp.
Slowly mix in noodles until fully coated.
In a greased pan, add a layer of the macaroni mixture and top with cheese. Repeat until pan is full.
Sprinkle Paprika on top.
Cover with foil and bake for 20-25 minutes.
Uncover and bake for another 10-15 minutes until lightly browned.
Sprinkle top with breadcrumbs and bake until brown.