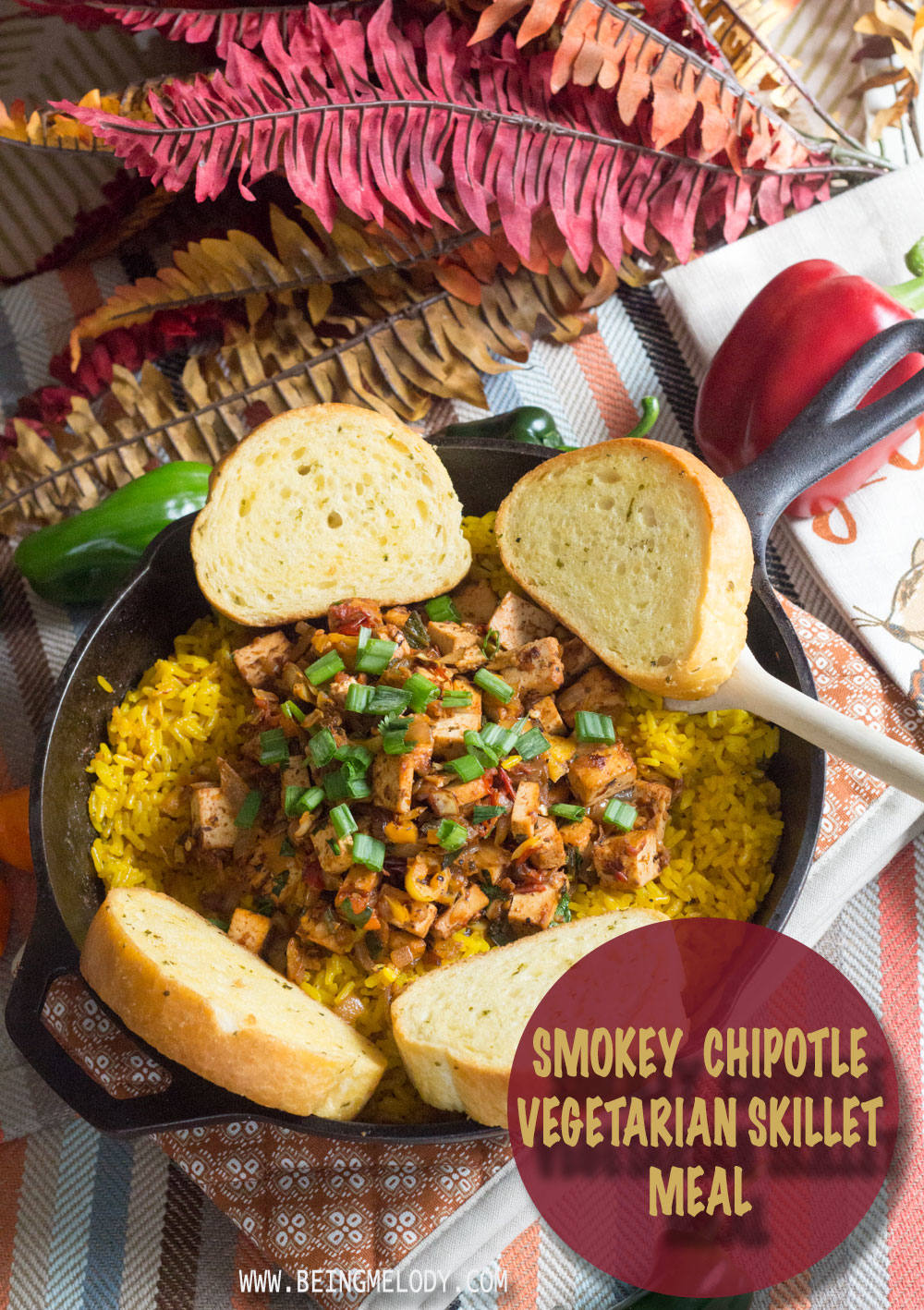 Skillet meals are something we call can get excited about. There's something about the food being cooked in a skillet makes it feel like it's going to taste that much better. I remember growing up that my mom and grandmothers would cook with cast iron skillets all the time. So, of course when I ventured out on my own I had to have my own set of cast iron skillets that admittedly I haven't used that much. Hopefully, this recipe I created with the help of the people at Nasoya will redeem me a little bit.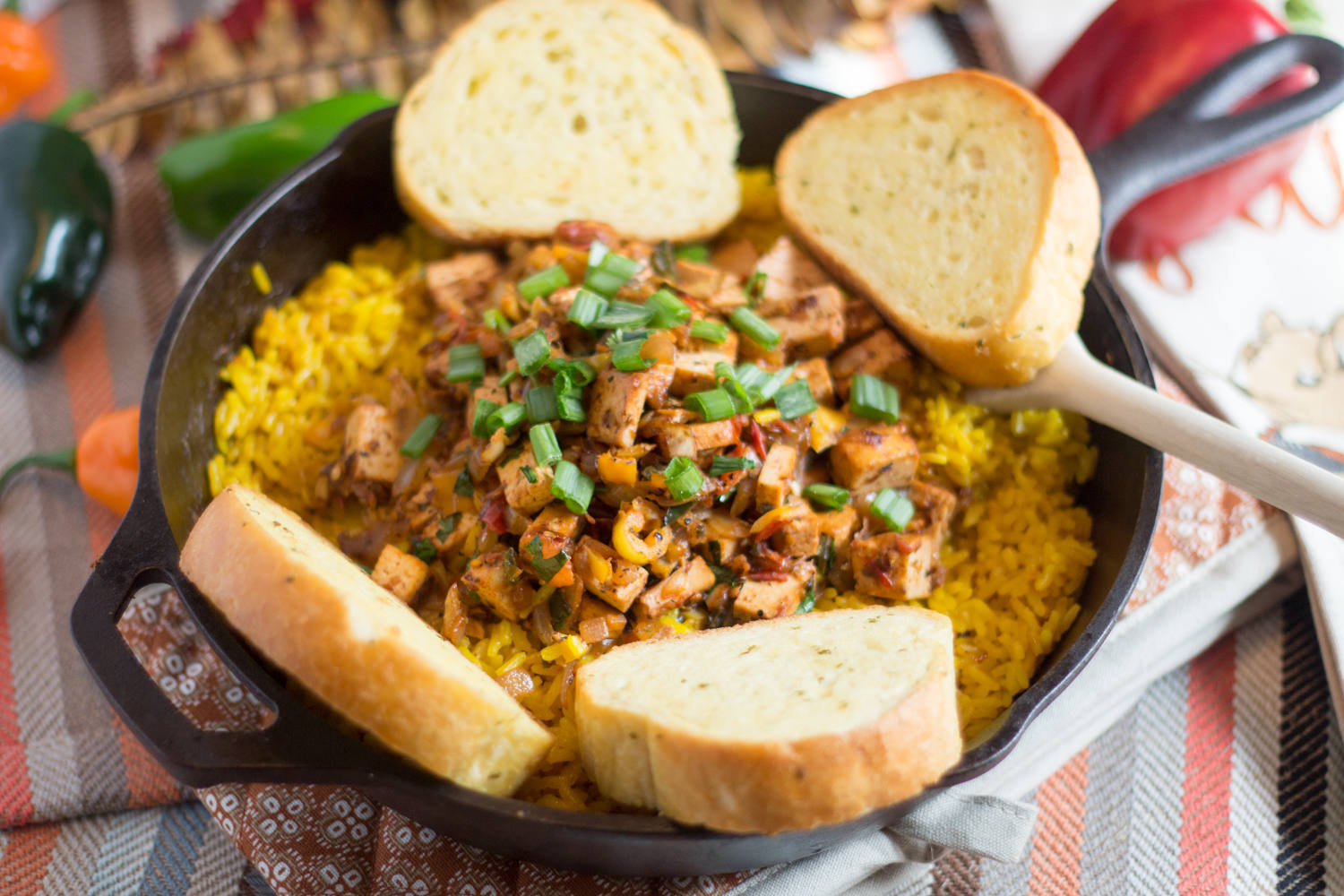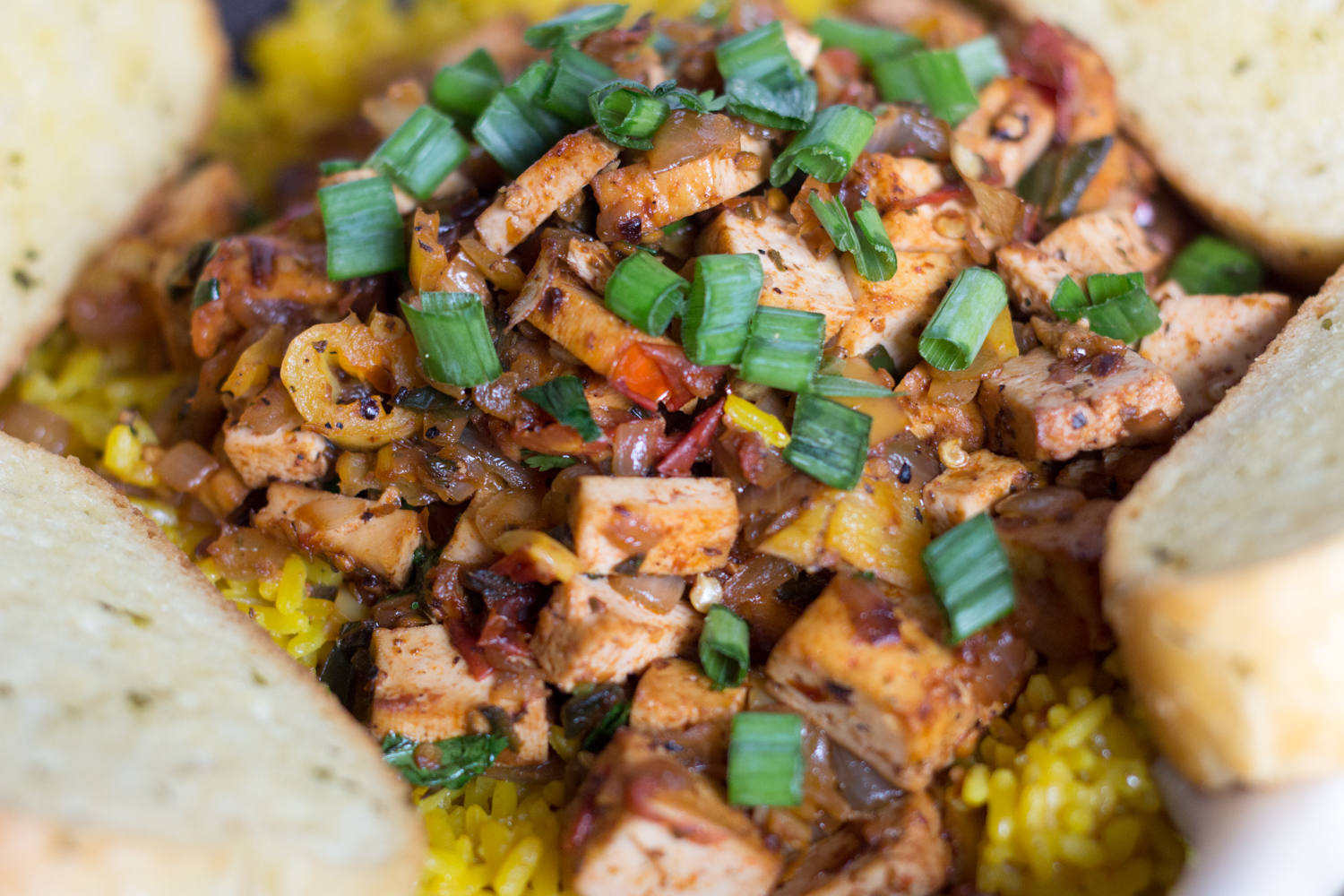 You don't often hear the words skillet and veggie paired together, but since we'd had a heavy meal the day before I wanted something that was good and filling, but easy to digest so I came up with this Smokey Chipotle Vegetarian Skillet Meal. Oh, and the stuff that looks like chicken is Nasoya Chipotle Tofu Baked. Yep, it's tofu and my husband didn't even mind one bit because the flavors of the recipe blended so well with the Chipotle flavored Tofu. The Nasoya Chipotle Tofu is baked and ready to eat, but I wanted to add more flavor by cooking it with peppers, habaneros, garlic, and onions.
Nasoya, offers a number of delicious products that make healthy, protein-packed recipe creation a breeze. There's 32g of protein per 8oz of Nasoya Tofu Baked. Plus, there are a variety of textures  from silken tofu to firm that make for versatile ingredients in some of your favorite dishes.  To make this dish quick, I used one of the newest flavors from Nasoya, the Chipotle TofuBaked. It's pre-marinated and ready to eat heated or cold, TofuBaked comes in Teriyaki, Sesame Ginger.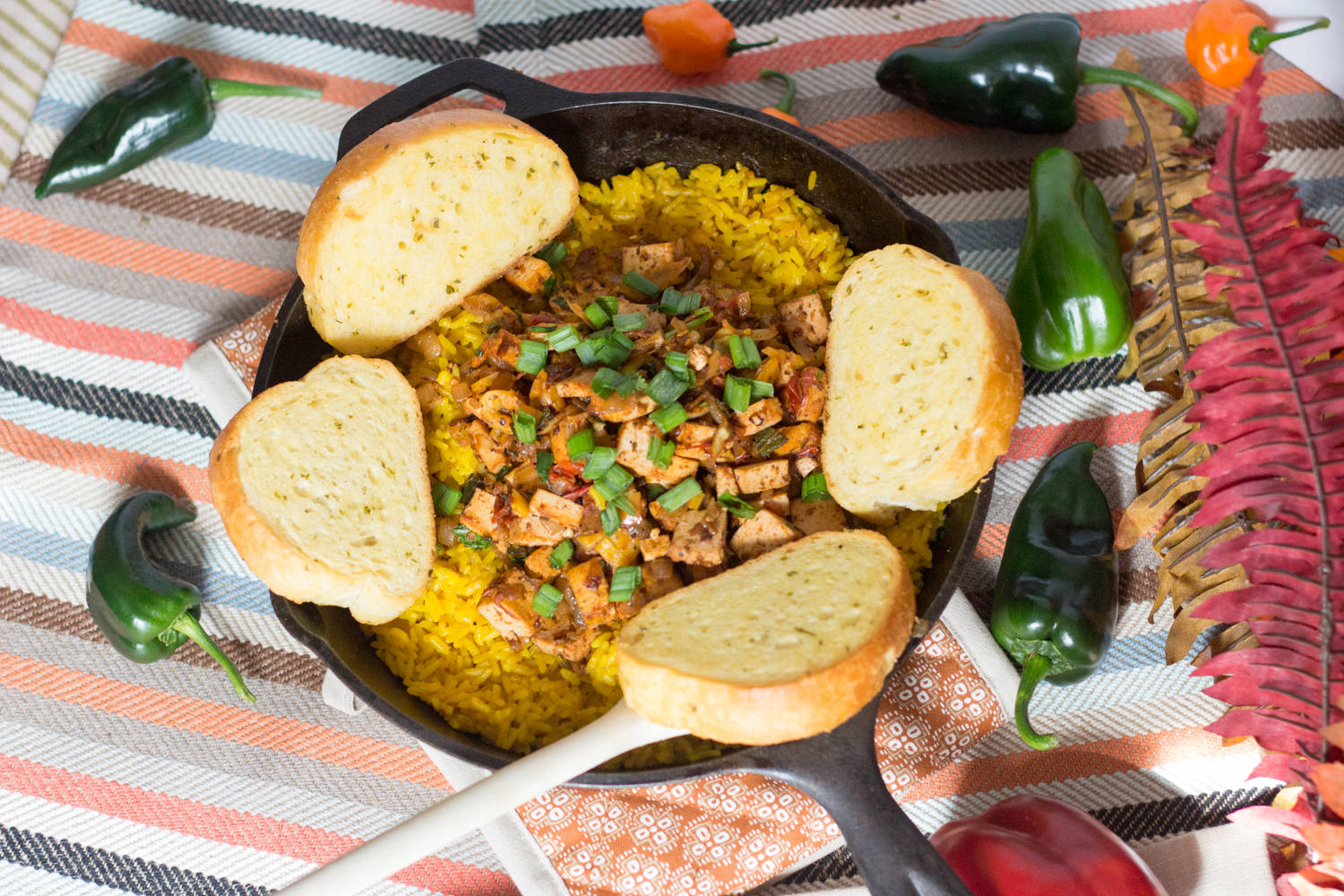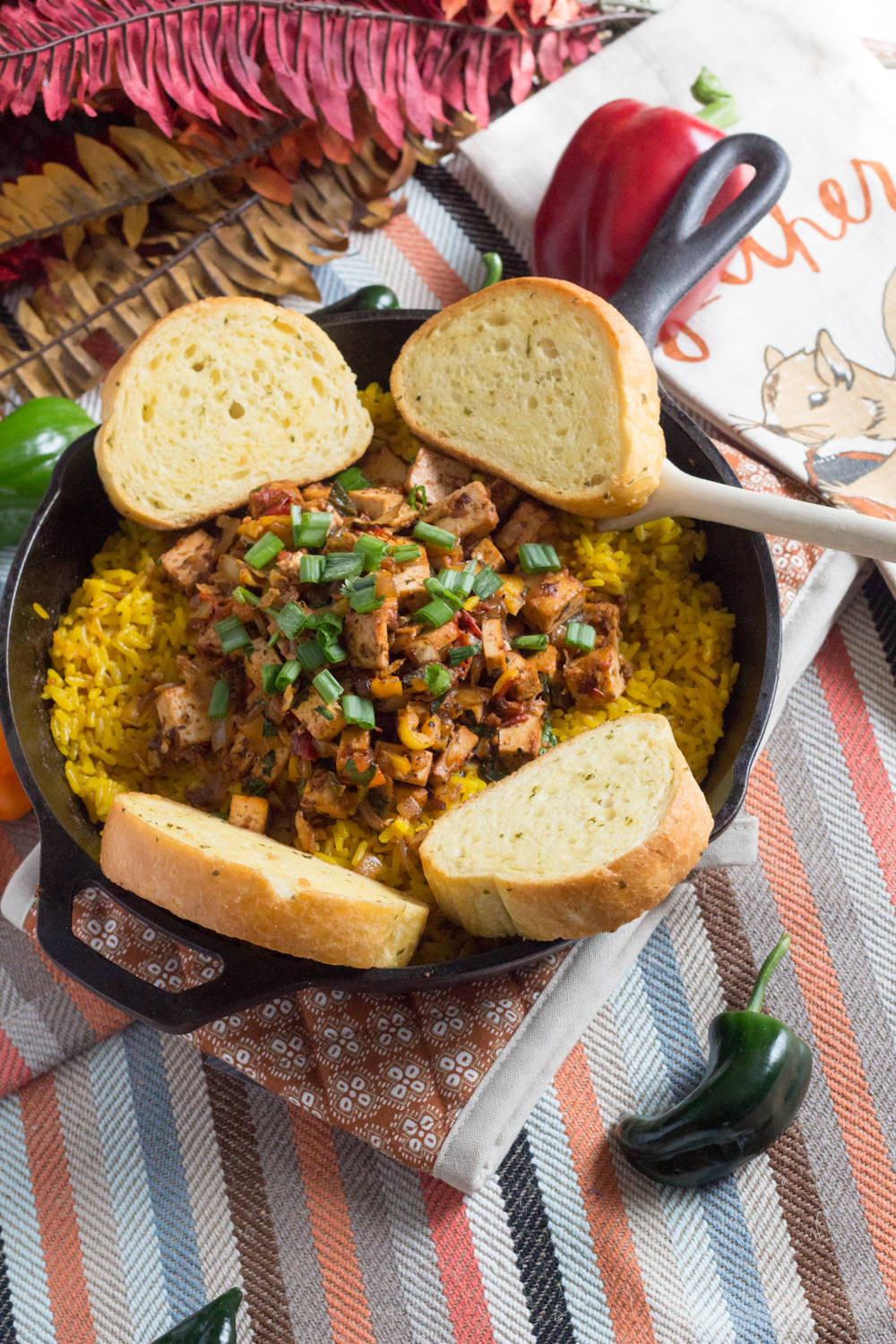 No southwestern meal would be complete without a side of Texas Toast. I didn't have any on hand so I popped some garlic bread in the oven and told my husband to use his imagination. I mean it's basically the same thing, right? If you want to add a bit more flavor top a bowl of this delicious dish with a dollop of sour cream and some Mexican cheeses and you're all set. If you don't have a vegetarian in the house you could totally make this into a non-veggie dish by adding your choice meat. I believe this Smokey Chipotle Vegetarian Skillet Meal will be the perfect dish for your next Meatless Monday!

Smokey Chipotle Vegetarian Skillet Meal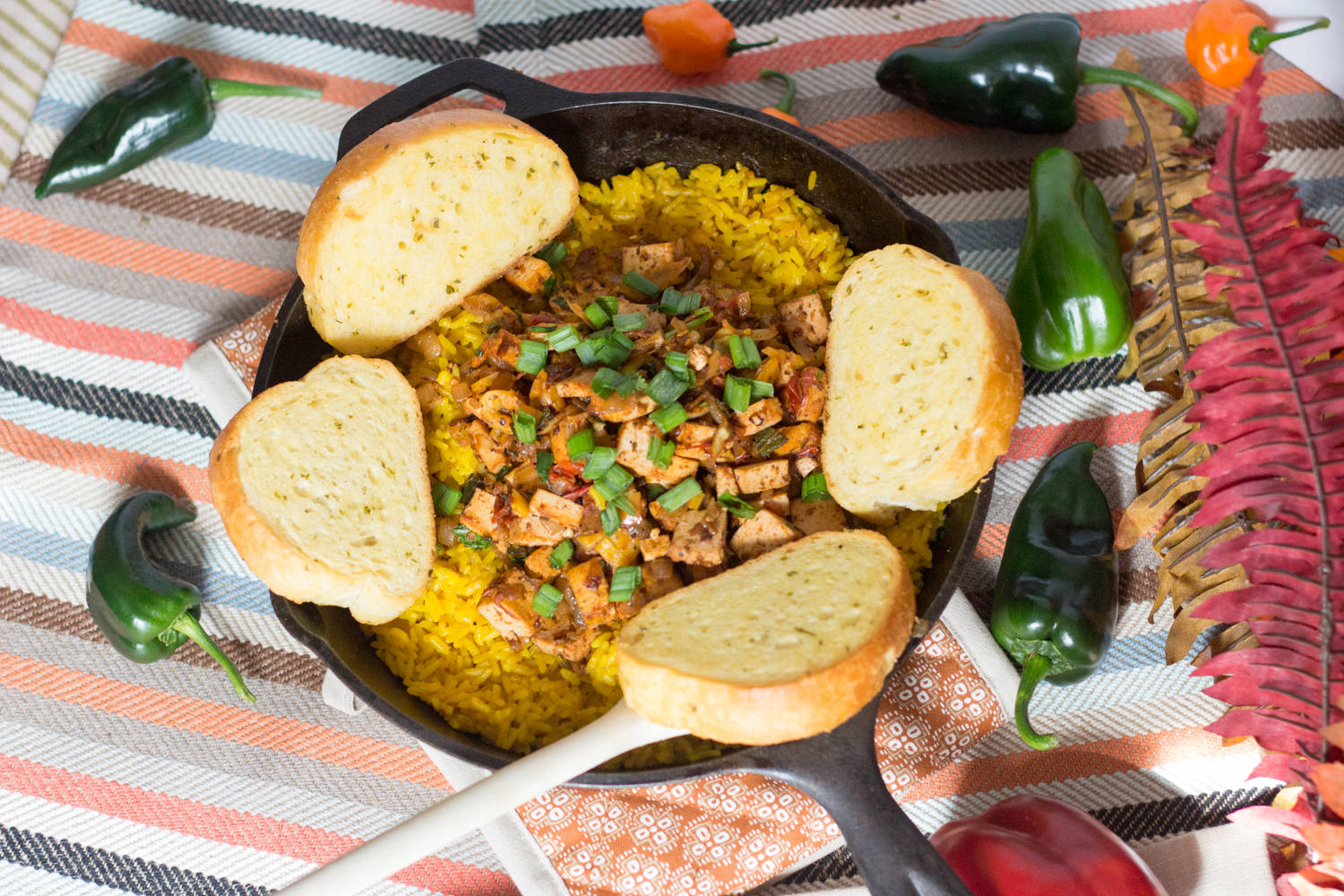 Author:
Melody Robinson Wright
The perfect dish for those Meatless Monday Meals
Ingredients
1 tblsp. butter
1 tblsp. olive oil
3 cloves garlic, minced
1 medium onion, chopped
1 jalapeno, finely chopped
1 habanero, finely chopped
¼ tsp. red pepper flakes
½ tsp. oregano
2 tomatoes, chopped
Salt, to taste
Black pepper, to taste
Nasoya Chiptole TofuBaked, chopped into squares
Chopped cilantro
Chopped green onions.
Instructions
Cook Goya yellow rice according to package instructions. Set to side.
Melt butter and oil in a cast iron skillet.
Add chopped onion, jalapeno, habanero and garlic.
Cook until onions are slightly browned mixing in oregano and red pepper flakes.
Add chopped tomatoes and cook until soft. Be sure to stir occasionally.
Mix in Nasoya Chipotle Tofubaked. Cook for another five minutes allowing tofu to take up the flavor.
Add in chopped cilantro and mix throughout.
Remove food from skillet and place in separate dish.
Add yellow rice to skillet and top with the Tofu Mixture.
Top with Green onions and Serve with a side of garlic bread or Texas Toast.