You ever walk into a room and notice a mess and say to yourself " I really need to clean that up."? I do it almost daily, especially in my blogging room. I consider my blogging room this special room where when things are all over the place I know just where they are and as soon as I clean it up and have everything looking nice and neat I just can't seem to find anything. Last week, I showed you all how I did a budget makeover on our living room which turned out absolutely amazing (pats myself on the back). Since I can only do projects like that monthly, I've decided that in between them I'm going to tackle mini projects like say organizing my lipstick collection.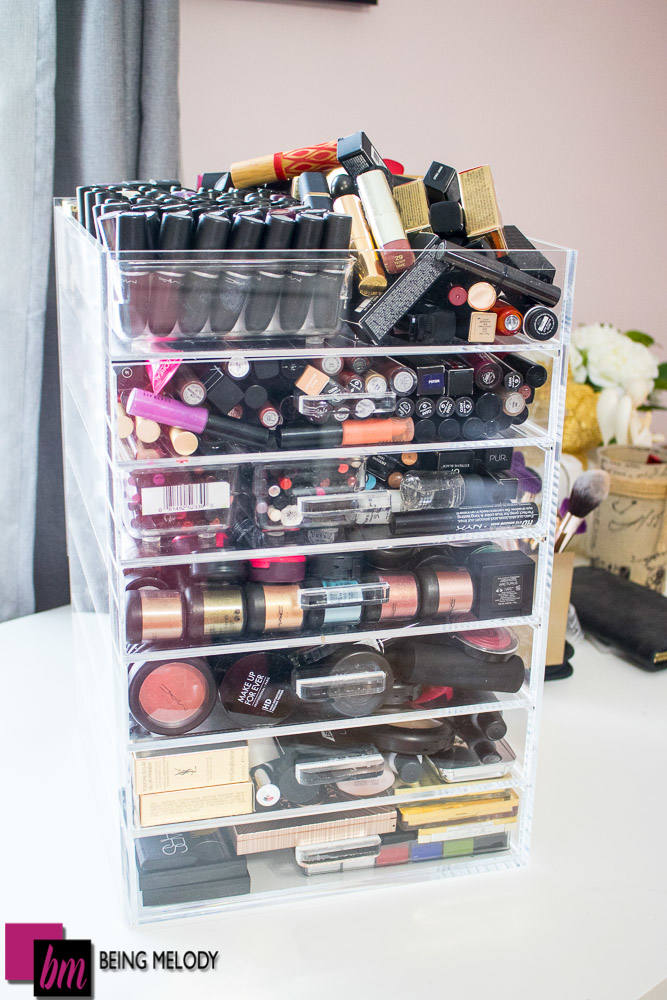 Around May of last year, I decided to really purge my makeup, and I mean REALLY PURGE. Being a Beauty Blogger you can imagine that I have quite the collection. I gave away about 6-7 boxes of makeup and moved everything from an Ikea Alex Chest of Drawers to an Acrylic Makeup Organizer that I picked up at HomeGoods last year for $149. This organizer has been awesome. I can see everything that I have and there are enough drawers to keep lipsticks separate from highlighters. So while this Acrylic Makeup Organizer was indeed amazing it lacked a certain organizational aspect that I absolutely needed when it came to my lipsticks. This is that "mess" that I was referring to earlier. There was really no great way of storing my lipsticks as all the tubes came in different shapes and sizes. So, this weekend I set out to remedy that.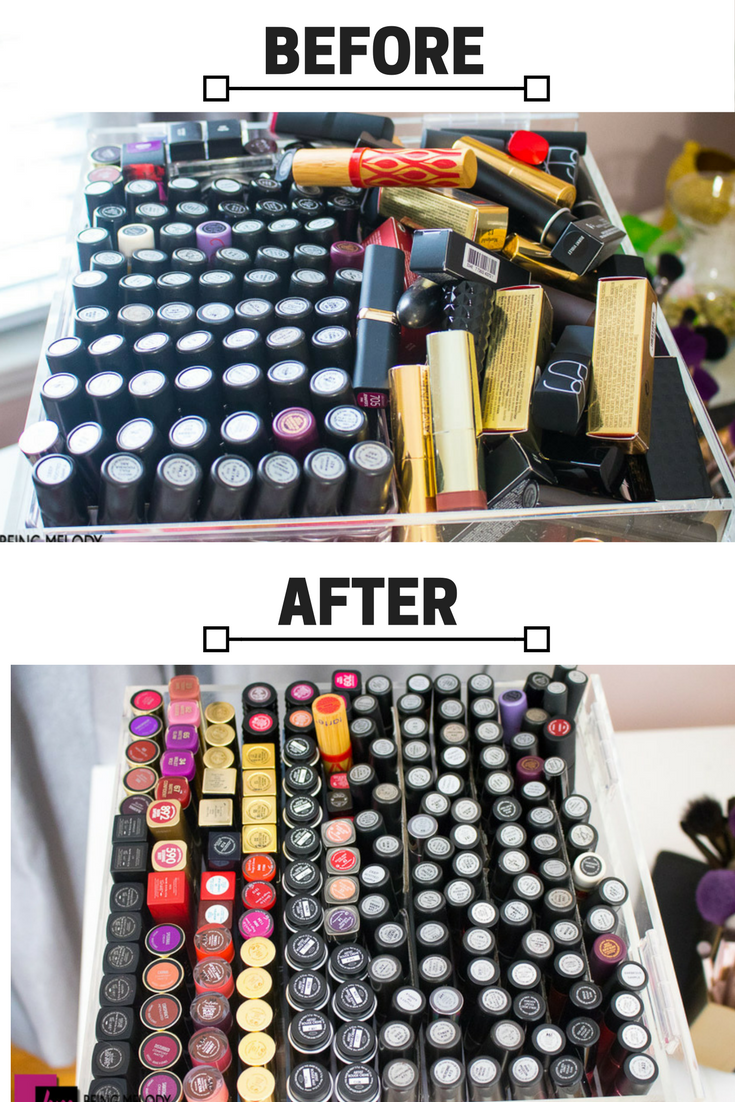 As most people, my makeup collecting hoarding buying started with MAC Cosmetics, so naturally, you'll see more MAC products than most others in my collection. To keep my MAC lipsticks organized in my IKEA Alex drawer, I glued canvas dividers into a drawer organizer that I picked up at Bed Bath and Beyond. It worked perfectly, and I was able to store my lipsticks in such a way that I could read the names. As you can see from the before picture, was using this in my acrylic makeup holder and while it worked fine, I needed that same organization to extend throughout the entire area. I could have gone to the Container store and picked up one of their lipstick holders that hold 24 lipsticks, but I really wanted this to be customized just for my collection.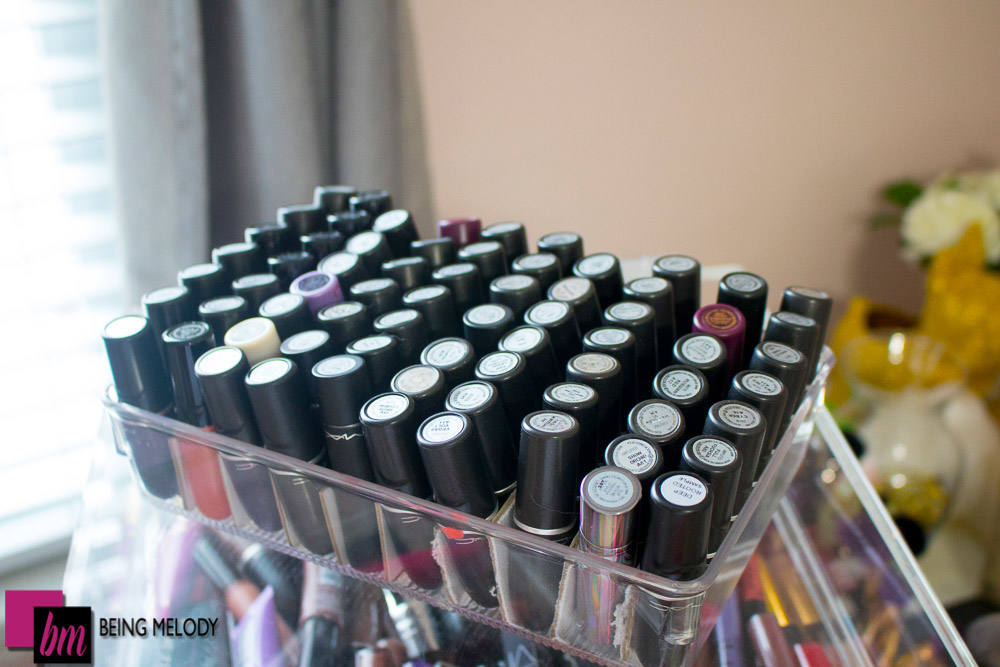 To create the much needed customized lipstick organization for my Acrylic Makeup Holder I popped over to my local Home Depot and picked up  11″ x 14″ ($9.99) piece of Polycarbonate plastic, a plastic cutter/scorer ($7.99), and some gorilla glue ($5.99). I decided to go with the polycarbonate because it was thicker, shatter resistant, yellowing resistant, and had a similar look as the acrylic. You'll also need something with a straight edge. The sandpaper was on hand for just in case. Using my lipsticks as a guide, I marked off how wide I needed each space to be. My MAC Cosmetic lipsticks are a lot slimmer than most as they have a beveled top. To be on the safe side, I went with the width of the widest lipstick and then added a little more for ease of getting them in and out.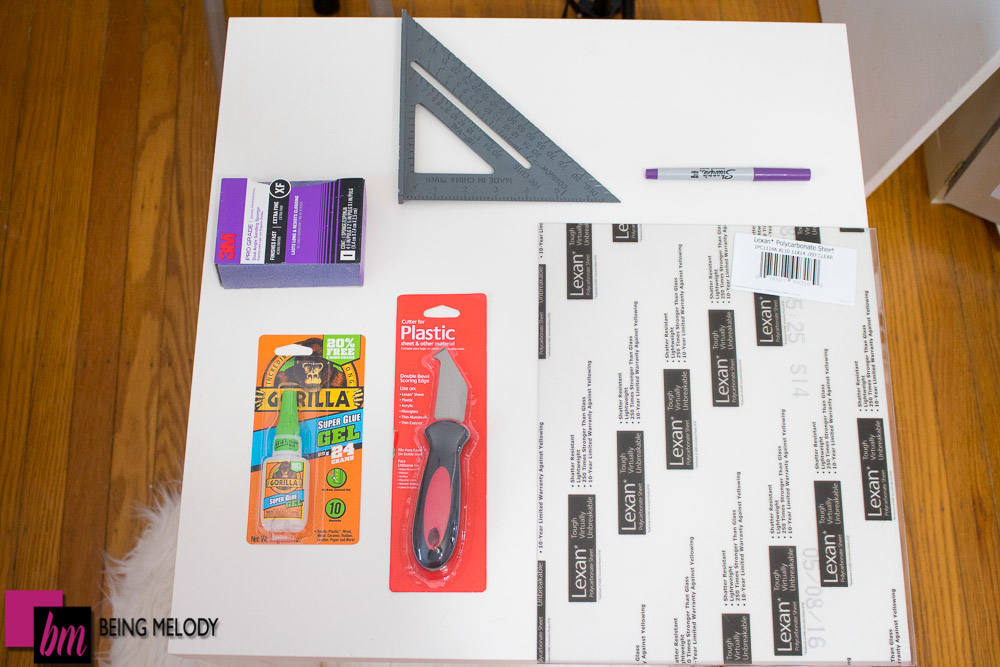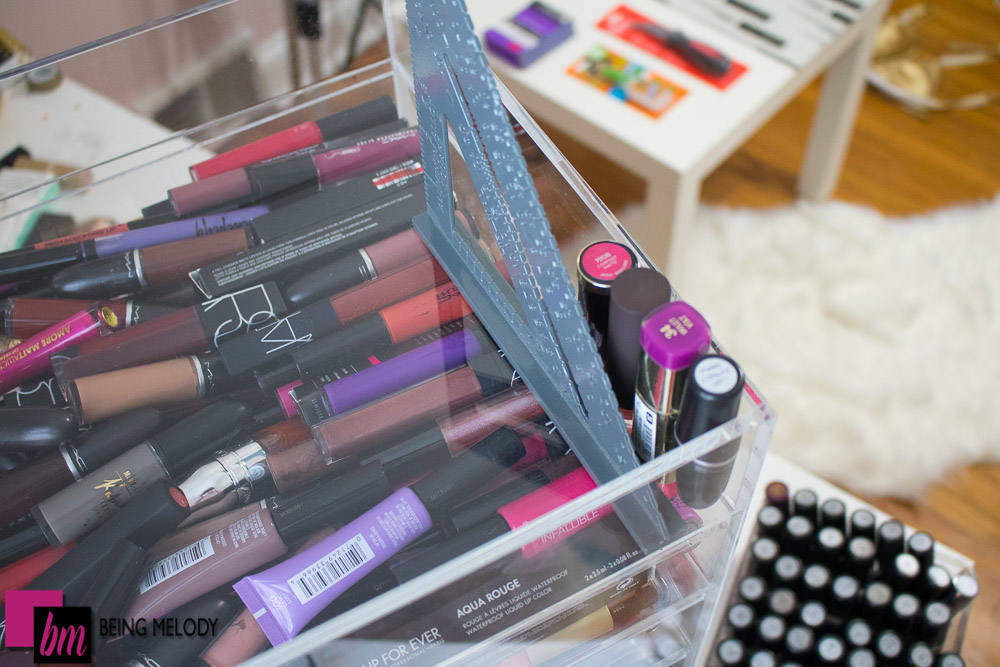 Now, this is where things get a little tricky. I figured I needed the polycarbonate to be about 1 inch in height to adequately hold the lipsticks in place. However,  to cut the polycarbonate into your desired sized you need to run the cutter across the top multiple times. This became very tedious, and I quickly passed the task off to my husband who after cutting two pieces realized he wasn't "about that life." Lucky for me, he had a miter saw on hand, and instead of using the cutting tool we used a miter saw to make things go more swiftly. After cutting 11 pieces of polycarbonate, I wiped them down to remove dust and then used the Gorilla Glue gel to glue them in place. To make sure my polycarbonate dividers didn't lean or come out of line I used the thicker lipsticks as placement guides. This way I able to ensure that there was enough room in each space to hold the lipsticks. The blue you notice on the cut pieces in the picture below is the marker we used to draw the guidelines for cutting. You can use ethanol to remove the marker, or you can leave them like I did because with the lipsticks in place nobody is going to see it.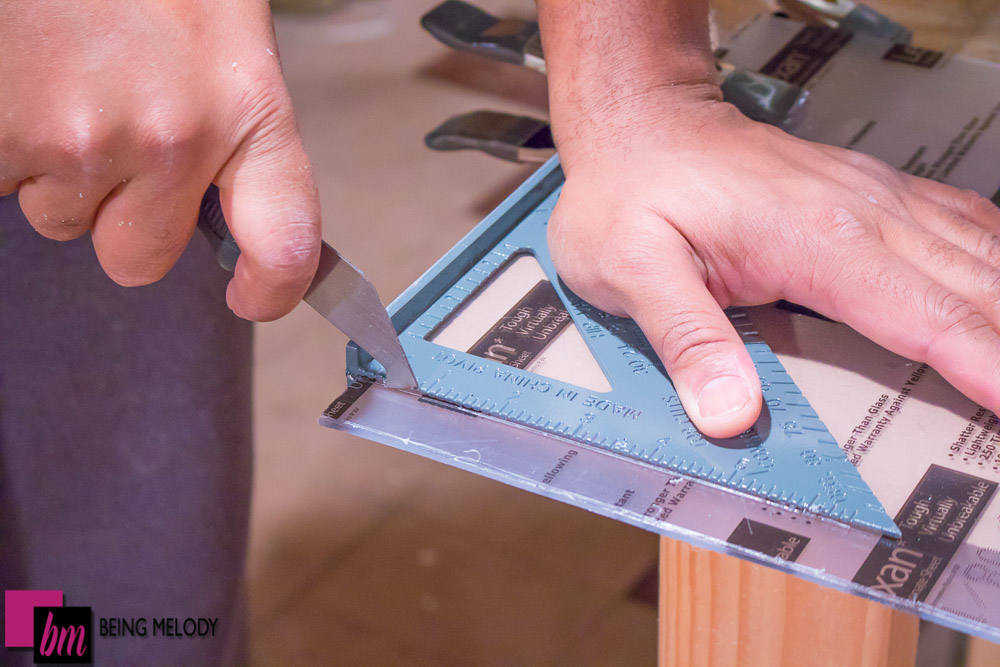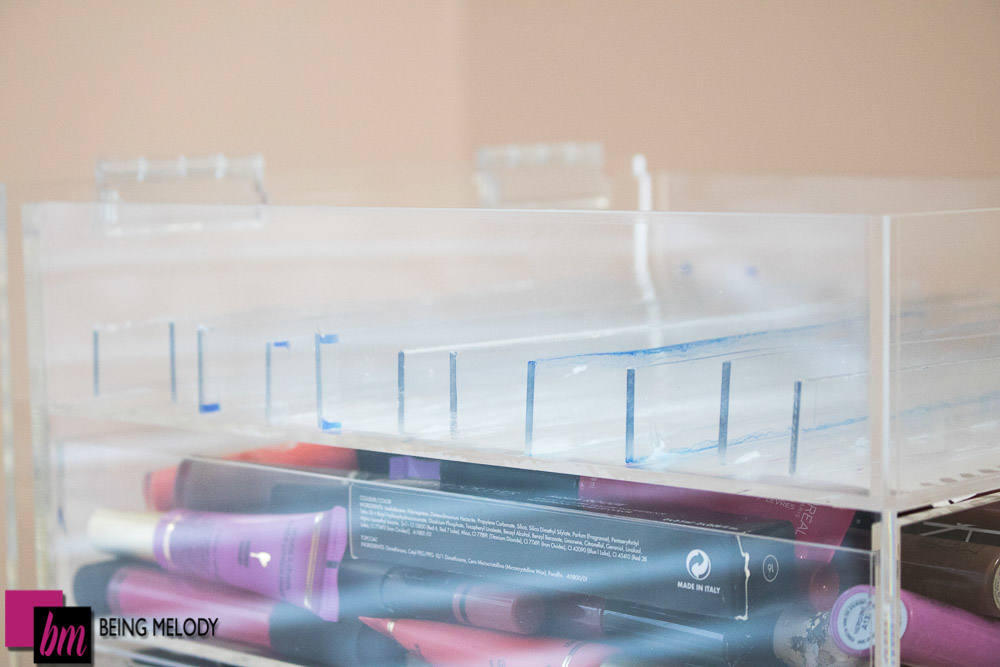 After letting the glue cure for about 5hrs (24hrs is best for maximum hold, but I was anxious) I was ready to add back my lipsticks. Now that there were dividers I could organize them any way I wanted. You can color code, do it alphabetically, or just put them in by brand. I felt that by brand would be easier for me and the final result was everything that I thought it would be! 
I did end up taking out the canvas dividers from the original holder and putting them into the areas that housed the MAC Cosmetics lipsticks, only because they are slimmer and needed a bit more padding for added stability. While I could have made those sections narrower to accommodate the MAC lipsticks, I didn't want to do that and then not have space for lipsticks that were wider.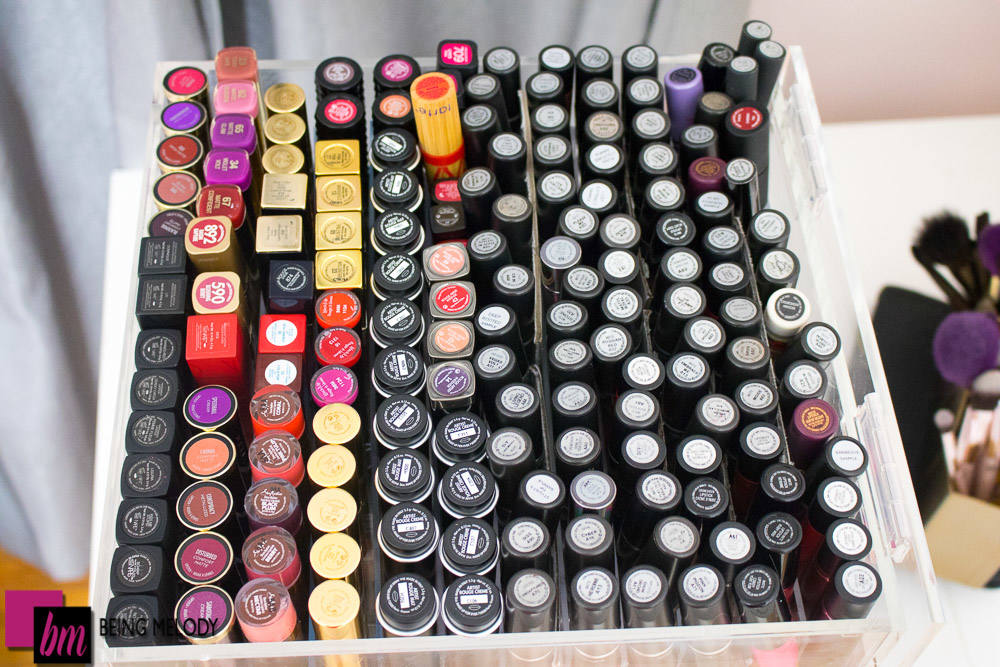 Overall, I am very happy with my results. Now I can easily search for a lipstick without feeling extreme anxiety due to the clutter. Adding in the dividers also gives my Acrylic Makeup Holder more of a complete look. There is a lid on top that I can't close due to the height of some of the lipsticks, but I'm okay with that as long as when I walk in, it looks nice and neat. Since this thing is basically full, I'll probably adopt the same mantra that I had with my handbags as new lipsticks come in older ones should go out. So lets chat, what type of organizational system are you using for your makeup?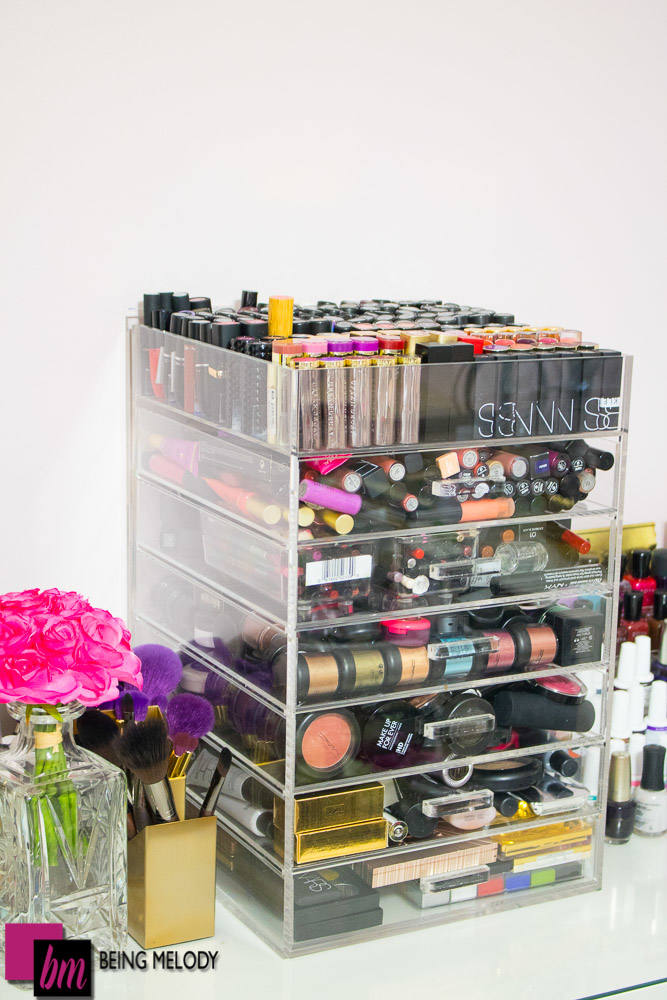 ---
PIN THIS