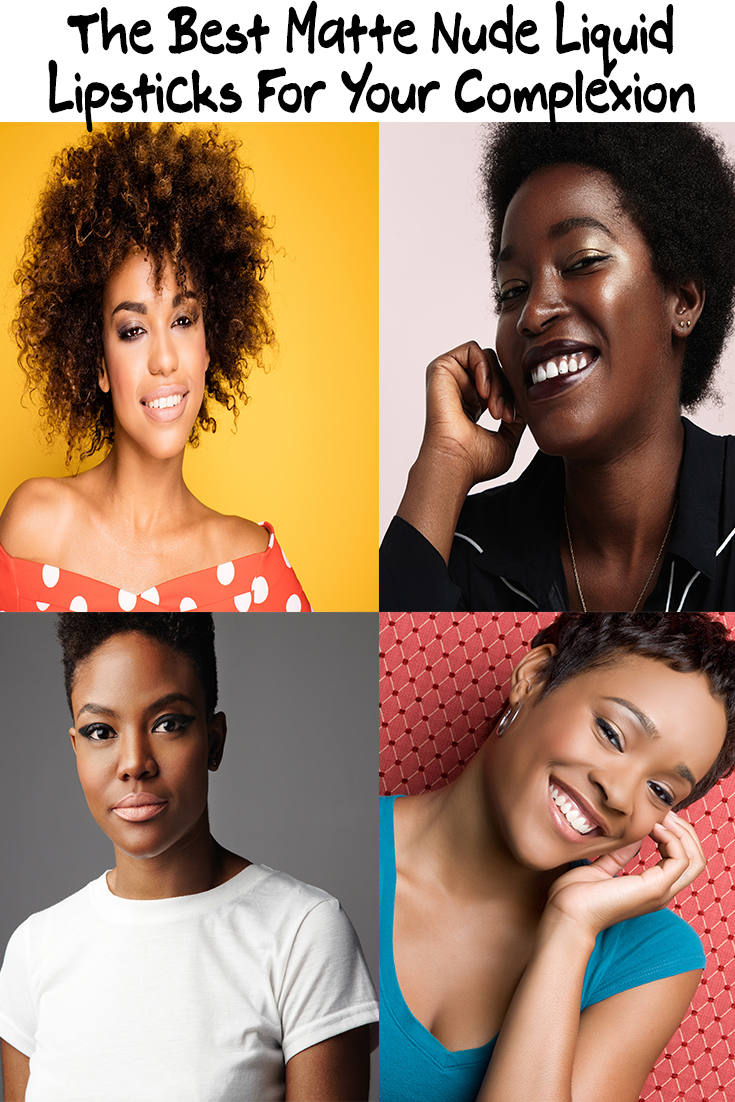 Searching for the perfect matte nude liquid lipstick when there are so many choices available can be a daunting task. No one has hours to spend in Sephora or Ulta swatching lipsticks on the back of their hand, plus it's really not sanitary, just to find the perfect shade. In my book, there is no such thing as makeup rules and a person should definitely do whatever makes them feel comfortable. However, if you need a little advice hopefully with these tips finding a nude liquid lipstick that's not too light, opaque, gray, pink, or beige will be a walk in the park on your next beauty trip.
For Fair skin opt for nude liquid matte lipsticks that have a bit of color. Since matte lipsticks have no sheen lighter nudes will dry down pale and wash you out. This means you may not want to play around with those alternative greys. Instead, play with the more pinkier and rose tones in your lips. Fair pink nudes will give your lips more life try the Make Up For Ever Artist Liquid Lipstick's in Rosewood and Cold Pink.
For Olive Skin Tones
look for nude liquid lipsticks that are darker than your skin tone. You want to play with caramel tone beige lipsticks, peachy nudes, or taupe-y nudes that have mauve and gray undertones. It's okay to go lighter or darker as with an Olive skin tone you have a bit more versatility when it comes to nudes. Try
MAC Cosmetics Retro Matte in Lady Be Good and Back in Vogue
or
Kat Von D's Everlasting Lipstick in the shade Ophelia
. Try to stay away from yellow based nudes that can severely contrast with the green found within Olive complexions.
On
Light Brown Skin 
I love to see darker hued neutral matte liquid lipstick. It gives off that whole 90's retro look. If you're looking for more of a natural looking nude try a pink toned nude that's lighter than your skin tone to give your lips a bit more color. Great shades to try are the
Make Up For Ever Artist Liquid Lipstick in Neutral Beige
,
Kat Von D Everlasting Liquid Lipstick in Noble
, or the
Anastasia Beverly Hills Liquid Lipstick in Naked or Stripped
.
Medium Skin Tones
: For medium brown skin tones I've found that when looking for that perfect nude it's best to play with shades that pair well with your undertones. Look for nude liquid lipsticks shades that will add a bit more warmth to your skin. Makeup artist Ricky Wilson suggest choosing a color that suits that perimeter of your mouth as the lips of those with medium skin toned tend to have darker outer edges. For a true nude try the
MAC Cosmetics RetroMatte in Dash O Spice.
To add a bit of color try the  
Kat Von D Everlasting Liquid Lipstick in Bow n Arrow
For Darker skin tones
liquid lipsticks that have the words "nude" in them just won't do. You want to embrace lipsticks that have words like "chocolate" or "brown" in their names. To give your lips more dimension go with a liquid lipstick that has a hint or bronze or gold.  Try out liquid lipsticks like the
Tartiest Naughty Nudes in the shades Brownie and Grunge
,  
Kat Von D. Everlasting Nude Lipstick in Crucifix
, or the
NARS Matte Velvet Liquid Lipsticks in Arena
.
It has taken me awhile to find the perfect matte liquid lipstick, definitely a few rounds of trial and error, however, if you stick to these suggestions you'll find the perfect matte liquid lipstick in no time. Also as a pro tip, before wearing any liquid lipstick make sure you exfoliate your lips using a lip scrub my favorite is the
Mac cosmetics Lip Scrubtious
, then prime your lips using the
MAC Cosmetics Prep and Prime Lip
. 
If you have a favorite liquid matte nude lipstick let other readers know in the comments below