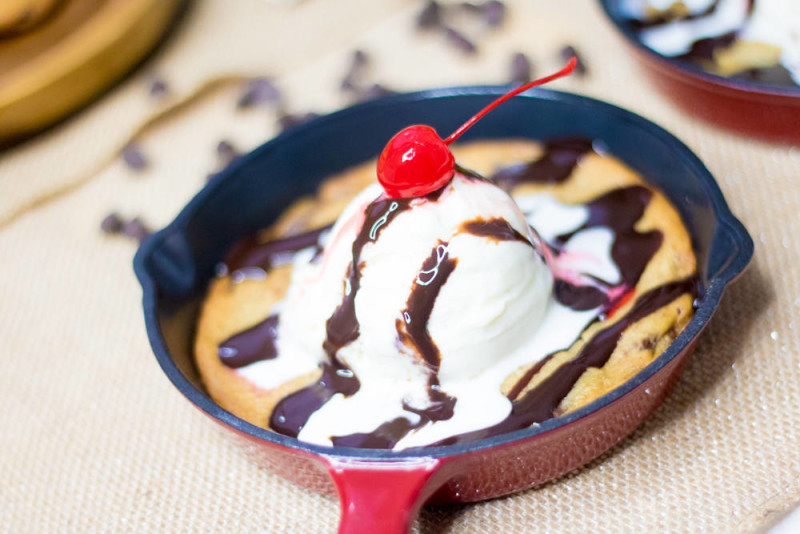 So last year I told yall I was going to do something about my weight, and I did I signed up for Weight Watchers new SmartPoints program and I'm happy to say that I'm doing great! I won't reveal my weight loss just yet because I'm afraid I might jinx myself, but let's just say this new Smart Points program is a lot easier to stick with than the old Point Plus. So I'm not a huge sweets person, but when that craving hits I really want to indulge. I saw a recipe for a Chocolate Chip Skillet Cookie a while back and I've been wanting to try it. Now that I'm on WW I have to be cautious about my points so I revamped the recipe a bit to make it more WW friendly.  Now I'm saying a bit because once I reveal the points you're gonna be like girl what?? Trust me it's so worth it though. Plus, for me being on WW isn't about being on a diet it's a lifestyle change.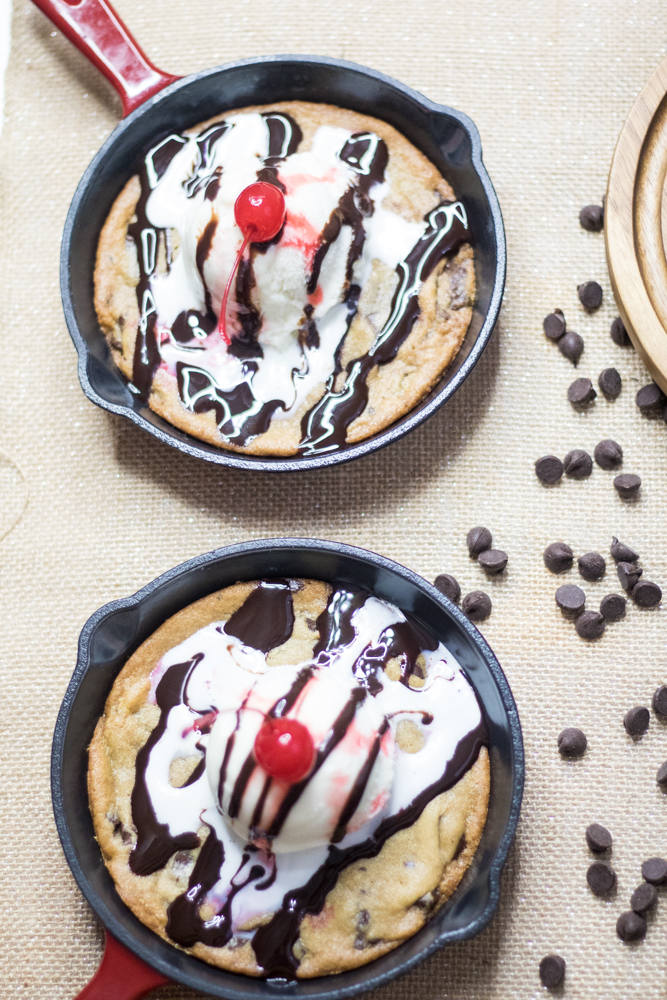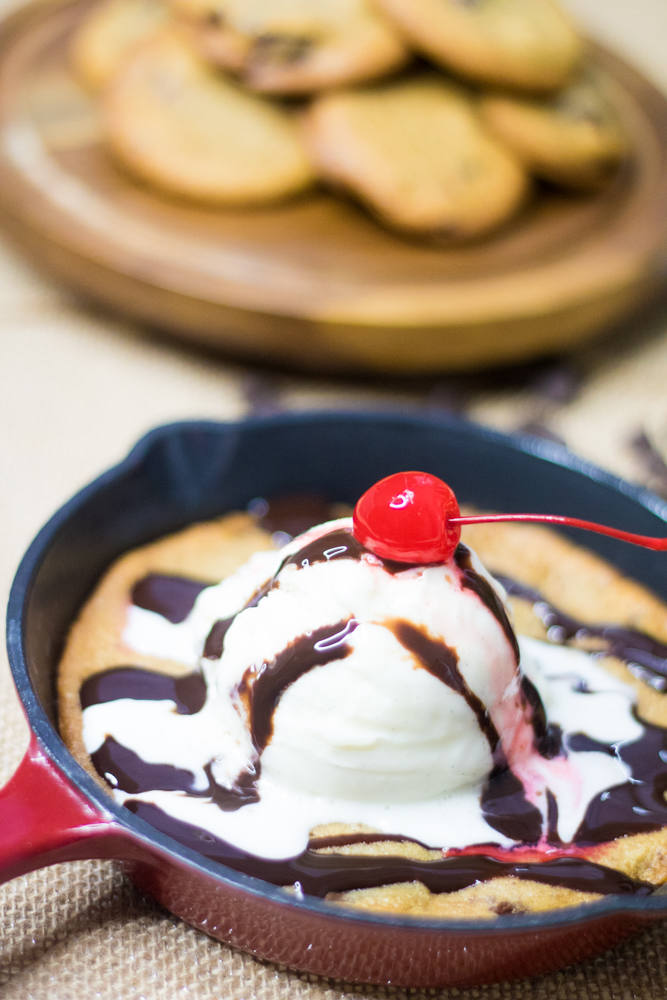 Now before you begin to question my points, trust me I only ate 1/3 of one of the skillets and had to dig into my weeklies though the cookie was so warm and gooey I could have devoured the whole thing. I try to keep that side of me repressed.  Pair this Chocolate Chip Skillet cookie with your favorite ice cream and add your favorite toppings. I went with a low-fat Vanilla Ice Cream and a low-fat chocolate syrup. The recipe makes two skillet cookies and 1/3 of a cookie is 16 points (see told ya).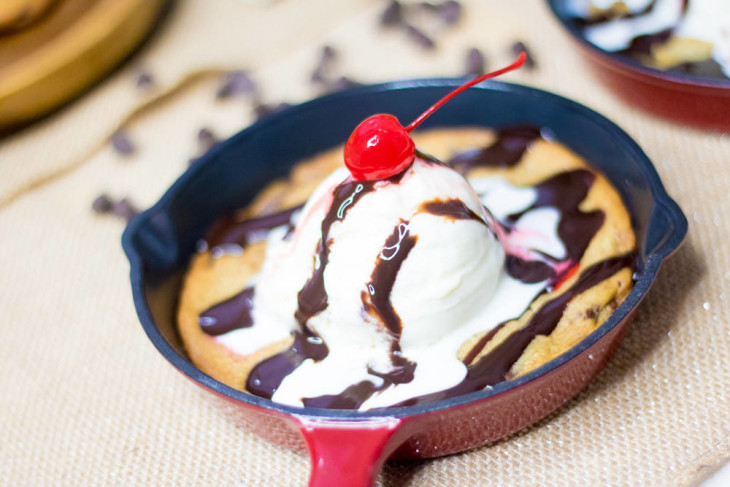 Chocolate Chip Skillet Cookie
2016-02-07 20:15:29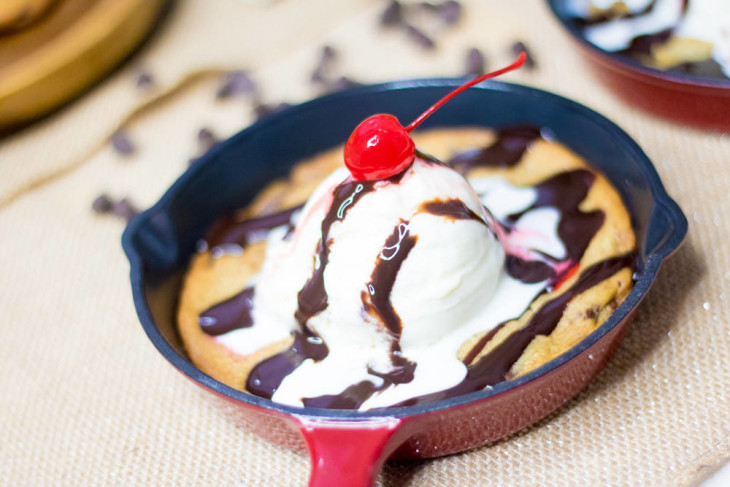 Serves 2
A delicious chocolate chip cookie baked in a skillet and topped all your favorite toppings.
Ingredients
3⁄4 tsp baking powder
9 Tbsp light butter
1⁄2 cup(s) packed light brown sugar
1 tsp vanilla extract
1 item(s) egg(s)
1 cup(s) all-purpose flour
1⁄2 cup(s) semisweet chocolate chips
24t sp Stevia In the Raw Sweetener, Zero Calorie, Granulated
Instructions
Preheat oven to 375ºF.
Wet Ingredients: In a large mixing bowl, add 1 stick of butter, brown sugar and granulated sugar. Using an electric mixer, beat until well combined. Add the vanilla and the egg, stir just until incorporated. Set aside.
Dry Ingredients: In a separate, large mixing bowl, add the flour, baking powder and 1/2 teaspoon of salt, and whisk to combine. Set aside.
With the mixer on low, gradually add the dry ingredients into the wet ingredients. Using a rubber spatula, fold in the chocolate chips and the toasted pecans. Divide mixture into 6, 4-inch cast iron skillet, transfer cookie dough and spread into an even layer. Place in the oven to bake for 10-12 minutes. Remove from oven and allow to cool for a few minutes.
To serve, top with a scoop of vanilla ice cream, chocolate sauce, caramel sauce and a pinch of flaky sea salt.
Bake the large skillet cookie for 35-40 minutes.
www.beingmelody.com http://www.beingmelody.com/