This is a sponsored post written by me on behalf of Sunsweet Growers. All opinions are 100% mine.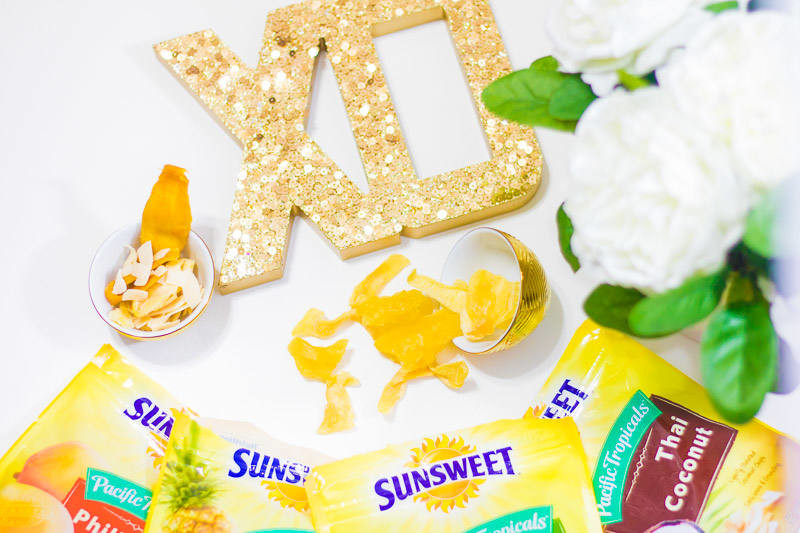 Now that we have an office at work I've been stockpiling my desk with tons of snacks for those days when I'm sitting at my desk sifting through mounds of data. This year I vowed to do something about my health and weight and so one of the first things I did beside dusting off my gym membership was to change the types of snacks I kept at my desk. No more are the days of nacho cheese chips, pretzels, or bags of some type of chocolate mixed with peanut butter. I wanted something that I wouldn't feel guilty about snacking on and something that wouldn't ruin my effort at sculpting a bikini body at the same time. Trust me the struggle is real! I've been eating lots a fruit and other healthy snacks, but since fruit doesn't keep that long I've started incorporating some dried fruit options. Dried fruit is a favorite in our office, everybody has a particular kind that they lean towards. One of my faves is Sunsweet which offers a good variety of great tasting juicy or crunchy depending on your preference dried fruit. They've even added two new flavors to mix!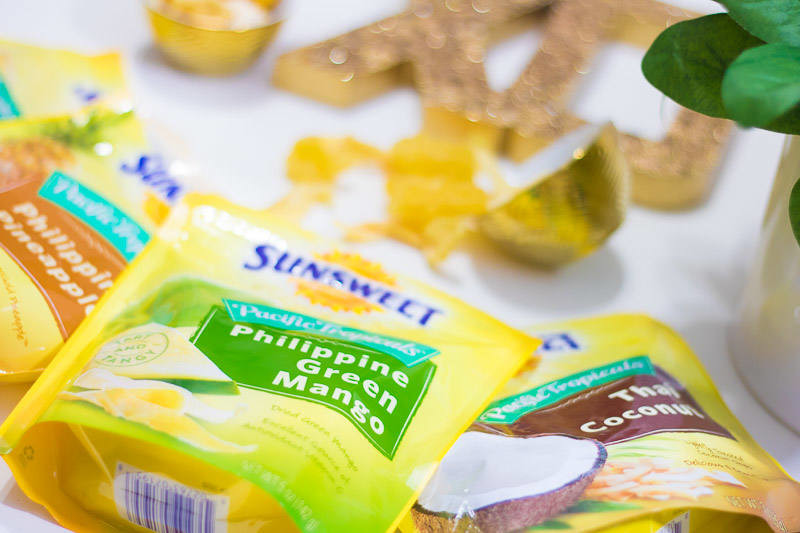 Thai Coconut Chip and juicy Philippine Green Mango are the newest additions to the Sunsweet line and are absolutely delicious. Thai Coconut is something for the fancy folk. It's the coconut we all love with notes of vanilla. Philippine Green Mango is a bit more tangy than it is sweet. The Green Mango is picked right before the mango ripens. You may already be familiar with Sunsweet Philippine Mango which is different from the Green mango in that it's made from Marabella mangos. It's actually America's #1 Mango which is probably why I love it so much. If you love the mango I know you'll definitely be a fan of the Sunsweet Philippine Pineapple. The Philippine Pineapple are like eating fresh pineapple without all the mess. It comes in these thick chunks and taste so good. Sometimes I get lost in the taste and before I know it I've gone through half a bag. 
To celebrate the newest additions Sunsweet wants you to think paradise and pick your favorite Tropical domestic location in their Sunsweet Find Your Paradise Sweepstakes. Is it Hawaii, Florida, or maybe a Carribean Cruise. The choice is yours! To enter just head to Sunsweet's microsite FindYourParadise.sunsweet.com and vote for your favorite location. Your vote is an entry. There are even chances to earn extra prizes like a basket containing the new flavors I mentioned above or even beach gear! I would love to go to Hawaii as it's one my bucket list of places to visit. So grab yourself a bag of the Sunsweet Green Mango or Thai Coconut dried fruit and go cast your vote for your favorite tropical paradise vacation. If you win, be sure to come drop me a note to let me know and keep me in mind while you're enjoying the sun and those amazing views!